By Stuart Bailie
Their fans took an old Al Jolson song and they made it their own. They said they'd walk a million miles for one of their smiles… Miami. They adored the band with their fresh repertoire, their smiles and their moves. In particular, they lit on the singer Fran O'Toole, the boy from Bray whose vocals revealed a love for soul music and whose face was kind and gracious. He looked like the American star David Cassidy. The other band members were half-joking when they said that they were jealous.
Onstage, it was all about the lightness but it was also a serious business. There were set codes of behavior, about talking to their audience after a gig, about how to answer fan mail, about good behaviour in public. They had their own hairdresser. Their manager, Tom Doherty from Topline Promotions even sent the Miami Showband's brass players to dance classes, encouraging them to move it like the Four Tops and to swing and dip their instruments, just so.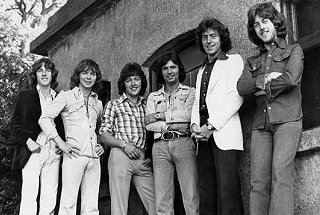 At their prime, they travelled in a bespoke coach with a big palm tree on the side panel and a built-in wardrobe inside where they hung up their Louis Copeland suits. There was a reel-to-reel recorder that ran off a 12 volt battery and they used this to rehearse during the endless hauls across Ireland. Five or six nights a week and maybe another Dublin show at the TV Club in Dublin on a Monday, playing to their off-duty peers and to rockers like Phil Lynott.
There were over 600 showbands in Ireland in the Sixties, playing up to four hours a night, packing the brass and a line-up that was still based on the Dixieland model. Around 1954 the Clipper Carlton from Strabane had dispensed with the sheet music and their seats, adding comedy skits and energy. A year later and Dave Glover was calling his combo a showband but it was the pure verve of Brendan Bowyer and the Royal from Waterford that defined the age. He crooned and he jumped. He threw shapes and he did the hucklebuck.
The Dixies had made it out of Cork and so it was imperative that Dublin had its own stars. The Miami rehearsed in the Palm Beach Hotel in Portmarnock and in the late Sixties they were at the top of their game. Dickie Rock sang the ballads and Sinatra show tunes. Impassioned females would shout, "spit on me, Dickie", happy to get the slightest recognition. Fran would play keyboards and favour the husky tones of Smokey Robinson and Wilson Pickett. Des Lee from Belfast sang pops and horn player Brian McCoy from Tyrone handled some of the country material. Three songs fast, three songs slow and then the same again. Two thousand people in the dancehalls many nights, simple rites of courtship and never the harm in it.
"We entertained everybody," says Des Lee, the saxophone player from Andersonstown. "Didn't matter what colour, what creed, where we were playing, whether it was north or south at that terrible time in Northern Ireland. We looked upon it as giving two hours of fun to people to get away from it."
When they successfully toured America in early 1968 they heard the potential of a pop tune by a New Jersey act called the 1910 Fruitgum Company. It had enormous showband crossover – the stomping rhythm, the big chorus and the audience participation. They made a transatlantic phone call to the Radio Eireann DJ Larry Gogan, presenter of the 17 Club on a Sunday evening. Larry told the band that 'Simon Says' had not been released at home. Des recalls: "We got off the plane on the Monday, we were in the recording studio the next day and the following day that was ready to go, a Number One for the band."
Gerry Anderson the late broadcaster and showband veteran was in awe of the Miami. "They were almost ruthless in pursuing their objective to be the biggest band in Ireland. And they made it."
Dickie left in 1973 and Fran moved to the centre of things as the band renewed its act, getting closer to contemporary pop, even glam. The lapels on the suit jackets got wider, the shoes were taller and the gull wing collars were ready for takeoff. The bass player Stephen Travers joined in the early summer of 1975 and Fran relaxed him into the job with practical jokes and silly games on the road. At the same time, Fran was preparing for a major project, a solo album launch at a Las Vegas music convention in the Autumn. The lead song 'Love Is' was co-written by Des. It grew sweetly and steadily into a gospel anthem and the singer was in commanding form. A hit, surely
Des sighs.
"Unfortunately, his life was taken short."
The Miami Showband Massacre happened around 2am on July 31, 1975. Three musicians were shot at point blank range on the way home from a gig. Fran was hit by 22 bullets, many of them in the head. Guitarist Tony Geraghty was shot five times in the back and twice in the back of the skull. The pattern of the bullet holes suggested that he had put his arms up for protection. There was also a bullet in his scrotum, fired from a revolver at close range. Brian McCoy was shot four times. They had asked their killers for mercy, but none was given.
Two of the band members survived: Des was blown into a ditch and Stephen survived a dum-dum bullet that seared through his internal organs. These jobbing musicians with no involvement in the conflict had become targets. The paramilitaries had literally shot the piano player.
Des and Stephen recount the details of this incident with unending patience. They remember the early morning drive from a booking at the Castle Ballroom Banbridge. It didn't seem like a major deal when they were stopped by men in UDR uniforms for a roadside check around Buskhill. It did seem strange to hear an English army officer with a public school accent in the middle of this but to Brian, this had been reassuring. "It's OK Stephen," he said, "this is British Army."
Yet the UDR soldiers were also members of the mid Ulster UVF with links to the brutal Glenanne Gang. The latter's territory was the murder triangle that extended from north Armagh to the border and west into Tyrone. They had decided to put a bomb in the back of the Miami's van. At least ten pounds of commercial gelignite on a short fuse. The musicians would be killed in transit back to Dublin. The point of all this has never been made clear. Possibly it was intended to further destabilise Northern Ireland, to make border controls more rigid. Perhaps they wanted to make even the humble players look like they were transporting bombs, seemingly part of the armed struggle.
Whatever, the mission failed. The bomb went off prematurely. Two of the paramilitaries were killed trying to hide the explosives in the van. One of these was later identified by a UVF tattoo on an arm fragment. In the original plan, the musicians would have all been killed in their VW van and there would have been no witnesses to the checkpoint and the bomb planting. With these new circumstances, it was quickly decided that Miami Showband should be dispatched with Sterling submachine guns and a Luger pistol.
Des: "I remember as a child watching all the GI and Vietnam war movies. – you lie down, pretend you're dead, hold your breath and that's exactly what I did.  That's what probably saved my life. The ditch was on fire from the explosion and as the fire was coming very close to my body I realized that if I stayed here I'm gonna burn alive. So I had to run up the ditch not knowing was going on. Was I gonna get mowed down? Are they still around?
"The first thing I did was call out the lads names, Fran, Brian and Tony. No response. Then there was Stephen Travers. I got a moan off Stephen and I explained to him that I was going to Newry police station to get help. A lorry came around with a big trailer and I asked him would he take me to Newry police station and he refused. I said, I'll get in the trailer in the back and he refused to even let me on the trailer. Then a young couple came along and they took me into Newry police station but as I was going in, my hand was on the door handle of the car, in case. I was ready to jump out but thank God they did take me to Newry."
Stephen remained on the murder scene for a further 45 minutes while the police carried out searches and worked out that the area was safe. Thereafter he was taken to Daisy Hill Hospital for intensive treatment. The bullet had entered his right hip, collapsed his left lung and exited just under his left arm. One of the killers had almost put another bullet in him but had refrained. A parting comment from an accomplice was "Come on, those bastards are dead. I got them with dum-dums."
Earlier, Des and Stephen had both stepped out of line at the roadside check, to make sure their instruments were safe and to reassure the military that nothing in the van was suspect. This was the saving of them. They changed places in the line when they returned, thus escaping the worst. And while they have been involved in other musical projects and different businesses since 1975, they also concede that they must keep telling their story. It's an essential work of testimony.
Des: "I can't understand that people who were there to protect you, actually planned your murder to the finest detail. I found that absolutely appalling."
There is a monument to the band outside the National Ballroom on Parnell Square, Dublin. Friends of the band will gather there on August 1 to mark the 40th anniversary.  There's now a Fran O'Toole Bridge in Bray over the River Dargle and a plaque outside the singer's old home nearby. On August 2, there will also be a meeting at the site of the massacre. Des insists that there should be proper recognition in the north.
"Where the actual massacre occurred, we've got nothing in Northern Ireland. This was one of the worst tragedies, and it should never be forgotten."
Stephen has responded with an intense book, The Miami Showband Massacre'. At the end of his account he spends five hours in conversation with 'The Craftsman", second-in-command of the UVF's Brigade Staff. It's an abrasive meeting as Stephen brushes aside the UVF narrative that the bomb would have detonated much later when the band had reached home and left the van. But he sees value in the meeting. "My contention is that you must speak to terrorists. Unless you do, you don't understand people. It's not excusing it, but it's understanding it."
The book has been optioned by a Holywood producer and the second draft of the screenplay is complete. Pre-production is likely to begin later this year. Meantime Stephen visits conferences and gatherings at The Hague, in Amsterdam, Omagh and Spain. He doesn't flinch from graphic content and feels that this is defensible.
"Unless we are graphic, unless we are convincing and unless these people face up to the fact that violence will get them absolutely nowhere, then it's counterproductive for every single one of us. If we stay silent then people will say that they didn't know. So that's as much as we can do."
There is ongoing litigation against the Chief Constable of the PSNI and the Ministry of Defence. In the course of all this, Stephen was diagnosed with Enduring Personality Change, a syndrome that was first noted with survivors of concentration camps. He gave evidence at the Barron Tribunal in 1997. Both Stephen and Des are affronted that their testimony to British Army involvement in the massacre has not been reflected fully in the Historical Enquiries Team findings.
Des: "The HET looked into the whole Miami tragedy and they came out with a document. We all got a very, very thick document. Each one got an individual one. For example Stephen Travers' case was totally different from my case. And they come with the whole thing that it was collusion. We are currently going through the High Court in Belfast with our lawyers."
Des believes that the British voice at the checkpoint was Captain Robert Nairac, later believed to have been executed by the IRA in County Armagh in 1977. This was also the view of MP Ken Livingstone, who named Nairac in Parliament in 1987 as being party to the Massacre.
"There's a lot of dispute about that. I am still convinced he was there. But the HET report – we asked them to look into that – they said that they've got no evidence whatsoever that that was the case. But, on the night I remember telling the police that there was a man who stood out for me he had a very, very posh English accent. And Nairac was actually educated in a Catholic college in the UK. He had a posh English accent. Later on, I remember Nairac being on television and that voice – I recognised that voice. But as I saw, the HET report didn't come out with any evidence for that."
Stephen: "I've never said that it was or it wasn't Nairac. The man that I saw appeared to have fair hair. I would never speculate like that. People have come forward – ex British army people – to the researchers from the film. They have given them information which has been followed up but I can't say that …. If it's not something that you can bring into court, I certainly wouldn't put my name to it. I'm absolutely certain without a shadow of a doubt that there was a British army officer there.
"The documentation disclosed in public records shows that there were concerns about an infiltration of the UDR by the paramilitaries and that was years before the attack on the Miami, and nothing was ever done about it. There are members of the UDR who raised concerns about infiltration while they were serving members. I've spoken to a lot of ex members of the UDR and to RUC officers. In every case that I've spoken to them there was this sense of this thing should never have happened and that they didn't want to be tarred with that brush."
For some time after the massacre, Stephen had articulated a message of reconciliation and had affected a relatively normal demeanour. It was the 30th anniversary of the massacre that prompted a change. For the first time he began to regard himself as a victim, with the attendant trauma.
"The study on trauma tells us that most of the effect of trauma is that there aren't any words to express it. I have a background in journalism, I used to own the Irish World newspaper and for a while I was the Editor as well. I've written articles and been the co-writer of a book and now I'm a co-writer of the screenplay of the film. You would imagine that somebody that practiced could articulate how you feel – whether it's a sense of depression or whatever – but there's a study now on trauma that tells us that it's like a child, that there are no words to express how you actually feel and that's just a result of psychological damage."
The Massacre was widely reported and visiting musicians cancelled their shows. A gig by talent show star Lena Zavaroni was pulled by promoter Phil Solomon. For another promoter, Jim Aiken, it became a major challenge to retain international names. Charlie Pride, the country artist was in the ascendant and in 1975 Aiken had secured four dates from a 40 date UK package. However this was now in question. Charlie's band was unwilling to play the dates and the anxieties were shared by his wife and the executives at RCA Records. Jim determined to make an arduous trip to Ohio to meet the singer backstage and to deliver the persuasion in person.
Jim Aiken: "Suddenly we became a place not to go to. I wouldn't say it was anti-northern. It was… we can do without the north. Every atrocity affects you in some way and some in a particular way. And this was a particular way because it was a business that I was in and we foolishly thought that we were immune and entertainers were immune because entertainers weren't attacked in the world, or anything like that. We thought that bringing normality through music was the story. We told the people – come here, everything's not right, but there's music that people want to hear and that's it.
"I had no other job, so I immediately wanted to start again. And in 1976 I tried to encourage people to come and tried to tell people that there was an audience who would appreciate them, that there was an infrastructure that would put on concerts. The only thing we didn't have was restaurants and bars."
Eventually, a date at the Ritz Cinema in 1976 was confirmed and Aiken was in business again.
Charlie Pride: "I couldn't have refused Jim Aiken. He had to take four internal flights there and back, including one in a puddle jumper and then drove miles to the Ohio concert hall to see me."
The showband industry was in decline at this stage. Discos were providing cheap competition and now the northern market had become perilous. The bands were advised to cover up the logos on the side of their vans. It was the same for rock acts, although Rory Gallagher and a few bold exceptions would still play to appreciative audiences in the north. It was always a risk though, as Barry Devlin from Horslips remembers.
"It was a time of your life when you saw headlights behind you at three in the morning and you just never knew who they were. It was kind of creepy. You just didn't know what stuff meant. Up until then, there had been a belief that you didn't shoot the piano player and bands travelled happily – and occasionally a bit nervously – on the basis that it wasn't personal, that the entertainer will always be alright. But that gave the lie to that. It was the end of an age of innocence."
Stephen and Des have an undimmed love for the Miami Showband and their legacy. Des points out that another fan, Louis Walsh even took his own acts to the Miami's tailors. "When I look today and see what Louis has done with Westlife and Boyzone in the white suits – it's just like the Miami."
Amidst the blackness, the talk of collusion and cover up, there is a proud realisation of the importance of music during the worst times. Stephen is emphatic.
"People often say that music was harmless fun. It wasn't. It must have terrified the terrorists. When people came to see us, sectarianism was left outside the door of the dancehall. They came in, they were brought together and they enjoyed the same thing. They looked at each other and thought, there's not much difference here, and nature was doing its course. That's the power of music and I think that every musician that ever stood on a stage, north of the border during those decades, every one of them was a hero."