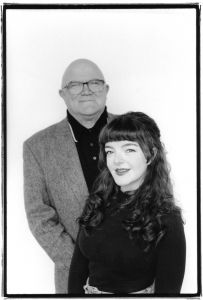 The core team of Dig With It is Stuart Bailie (former Assistant Editor of NME, author of Trouble Songs, co-founder of the Oh Yeah Music Centre) and Betsy Bailie (Manchester School of Art design student, Hive Radio Station Manager/DJ and blogger).
Stuart Bailie is a Belfast-based writer. His book, Trouble Songs was published in 2018. 75 Van Songs was released in 2020. He has been a music industry professional for 35 years, writing for NME, Mojo, Uncut, Q, Vox, The Times, The Irish Times, Classic Rock and Hot Press. Former Assistant Editor at NME, 1992-96. He was a co-founder the Oh Yeah Music Centre in Belfast and was its CEO from 2008-16.
"A titan of the Northern Ireland music scene." – Tom Robinson, BBC 6 Music.
"You tough Nordy c***." – Bono.
Betsy Bailie, Designer of Dig With It, is a freelance graphic designer and photographer from Belfast. She studied Graphic Design at Manchester School of Art. Her skills include print-making, layout, photography and typography. She is currently working at PixelMax in Manchester. Her website is betsybailie.co.uk.
Stuart Bailie says: "In an era of falling print sales, it might seem foolish to put out a magazine. But it felt like a vital idea in January 2020 and it feels even more important now. We're surrounded by immense art and stories that aren't being told. So, we dig away."
Betsy Bailie says: "I've grown up in the local music scene. I've been a teenage photographer, blogger and musician. I'm glad at the chance to use my design skills to create a wonderful magazine to show the love I have for the scene."