When Mick Jones was evicted from The Clash, he didn't get bitter. His response was a quality band, Big Audio Dynamite and a tune called 'The Bottom Line'. The lyric declared that "the only thing to do is climb". And thus he was refortified, ready to rock again.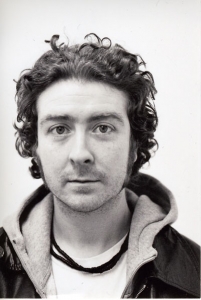 I guess Tony Wright can relate. He played guitar with And So I Watch You From Afar until November 2011. His final gig was at the Ulster Hall, when he was literally carried away by the audience. Apparently the split was not so gracious, but neither party has revealed much in public. Tony has since returned as VerseChorusVerse, releasing a collection of punk covers last year and now there's a self-titled album. The tone is mostly affirmative, the regime is bristling folkabilly and the conclusion is that Tony is largely over it.
Let's remember that Tony was previously active with Pepperbook, Zombie Safari Park and sundry scounge bands. He's an enthusiast, a pocket dynamo and he subscribes to the music community. That's the gist of the record also, nailed on the title track, 'Our Truth Could Be Their Lie'. It's a love letter to the scene, a call for collective action and bold activity. Tony's voice is an odd whinny, but this student of Woody Guthrie and Neil Young knows that the message wins over the method. And when the guy from Mariachi El Bronx blows his trumpet, joy abounds.
There's a lovely homage to Neil on 'Help Myself'. It's an evocation of 'Harvest' with the lap steel, the banjo and the woozy harmonica. It dearly wants to be 'Out On The Weekend', but that's not an arrestable issue. Neither is the stomp and the drone of 'Big Red Van', steering for adventure.
When the power drives diminish, there are a few fragile interludes. Like the booming 'Three', which people may read as a comment on Tony's recent situation ("three against one / ain't no fun, unless you're the three / and that ain't me"). Still, the tribulations are literally put to bed with 'Close Your Eyes, Fall Asleep' as the stings wibble and brows are unfurrowed.
Aided by Iain Archer and Rocky O'Reilly and lifted with a PledgeMusic campaign, 'VerseChorusVerse' arrives at a time when the Belfast / NI scene is hesitant, faltering. Tony thinks otherwise. The climb is go. This record is good for you.