Trouble Songs: Music and Conflict in Northern Ireland was published by Dig With It Editor Stuart Bailie in 2018.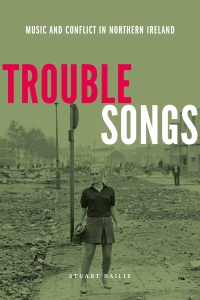 It is available via Music Glue and Amazon.
Some responses to the Stuart Bailie book:
#7 Music Book of the Year 2018 – Uncut
#2 Music Book of the Year 2018 – Hot Press
"Brilliant." – John Harris, The Guardian
"One of the most important books about Irish music ever written." – Eamon Sweeney, The Quietus
"A cracking book, warmly recommended." – Stuart Maconie, BBC 6 Music
"His ear for the humanity amidst the horrors keeps the pages turning… an important social history." – Keith Cameron, Mojo
"Courageous… a social history as much as a musical one." – Freya McClements, Irish Times
"Beautifully written by an insider… a gobsmacking history." – Tom Robinson, BBC 6 Music
"Terrific… with themes more potent than at any other period in the past two decades… human, humorous and educational." – Graeme Thomson, Uncut
This is the story of music and conflict in Northern Ireland since 1968. Trouble Songs is related by Bono, Christy Moore, the Undertones, Stiff Little Fingers, Orbital, Kevin Rowland, Terri Hooley, the Rubberbandits and the Miami Showband survivors. Musicians from punk, folk, rave and rock have responded to violence, bigotry and shocking events. The soundtrack includes remarkable work by John Lennon, Paul McCartney, Sinead O'Connor, the Pogues, the Cranberries and Elvis Costello.
Stuart Bailie, a Belfast-based music journalist and broadcaster, has spoken to over 60 participants and reveals many untold histories. Trouble Songs is an alternative hearing of the conflict, a testament to music's value as a persuader, agitator and peacemaker.