I've just spent a good hour with a needle and some wool, tending to my favourite shirt. It's not something I habitually do, but the garment needs some care and I couldn't manage without. We've done 15 years together. A John Smedley special in apple red. The unimpeachable Dorset style in fine, Merino wool, with the turnback rib cuff and the collar that always sits just so.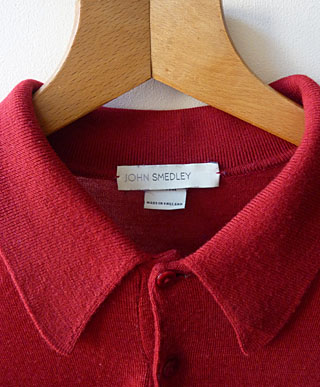 Me and the shirt have done formal meetings and fierce parties. We're travelled a bit and met interesting people. Even when the going has been messy, the shirt has sustained a fibre of grace, even when the wearer was lacking. It's a shirt that gives everybody a bit of a chance.
I bought my first John Smedley shirt about 1986 in Camden. I seem to remember getting it in an early Reiss shop, but such details are elusive. But I'm sure it was a navy short sleeve in sea island cotton, and I soon added a red version of the Isis design. We went to warehouse parties and north London dive bars. It was accompanied by a black MA1 jacket, selvage Levis, Doc Martin shoes and  eventually Weejun loafers.