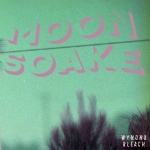 Wynona Bleach led me to learn of saudade – an untranslatable Portuguese term designed to capture a simultaneously melancholy and euphoric nostalgia. According to one particular Portuguese writer it is – "a pleasure you suffer, an ailment you enjoy."
Wynona Bleach make music which shouldn't sound as it does. They nod to faintly miserable bands, most of whom peaked during that most confusing decade (the 90s) – Smashing Pumpkins, My Bloody Valentine, Slowdive and the like. The lyrics are often quite dark, the artwork a touch goth, the videos a little creepy. It absolutely should not be fun.
Yet listening to Wynona Bleach will likely make you feel very happy indeed. It's confusing. But hey – that's saudade.
In fairness – the euphoria is hardly accidental. The album opens with 'Drag', with its enormous sheen-drenched drums then a riff so instant it's borderline ridiculous. All ahead of Melyssa Shannon's triumphant vocals – she's the type of singer who could roar the worst news imaginable – yet you're likely to happily shrug.
We already knew about lead single 'Glimmer' with its laughably awesome lead guitar, while 'Hollow' – another early highlight – is as malicious and angry as this band allow themselves to get.
Then you hear 'Amigo', which – in the context of this initial 15 or so minutes – presents itself as a chance to catch one's breath, opening as it does in jaunty form. But even this seemingly reflective moment ("don't you go falling to pieces" pleads Melyssa) ends in bedlam. They just can't help themselves.
Later, the band land some odd ideas – notably 'Flesh', a weird little rock waltz, during which Melyssa's reckons "you and me, yeah we are getting better all the time". Positivity in a song called 'Flesh' – it's very on-brand.
Previously, on the lyrically upsetting yet inevitably epic 'Aubergines', Melyssa sang "forget the things you've learned, you're numb just to the burns" before promising "I would follow you into your fire". There really are plenty of struggles buried in those lyrics – albeit coupled with encouragement and resolution. It's all a joyous, noisy form of self-help.
It's also an exhausting collection of songs – most of which could soundtrack that aggressively positive yet utterly lovable friend we all have. You know – the one who convinces us to keep partying long after we should have gone home. Not everyone likes having that type of friend, of course – and for some this album might be… a bit much, missing as it does occasional respite. If you're up for it though, primed and ready, Moonsoake is an invigorating triumph.
And anyway – that respite from all the sonic elation does finally arrive. 'Blue Jean' is a gothic sort-of ballad to close the record, a gorgeous duet, arguably Moonsoake's highlight. "Baby when our time's up / all that I can say is I'm in love" goes the simple refrain, subtle strings soundtracking an album finally at peace.
Moonsoake is an unusual record, relentless and certainly memorable. It's often glorious, yet subtly upsetting, simultaneously dark and bright. It's ever the ailment one enjoys.
Rigsy
This review originally appeared in Dig With It, Issue 5. For magazine sales, see here.
Moonsoake is released on Fierce Panda on 18 February 2022.