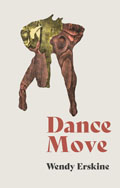 In 1992 Brian Eno delivered a lecture called Perfume, Defence and David Bowie's Wedding. The last part of the talk was about his David and Iman declaring their love, in Florence. This moment also fetched an exclusive media deal for Hello magazine. Eno presented the celebrity manoeuvres of the day in a diagram form. He saw it as a ritualised, kabuki theatre – public and yet strangely private. It was transactional, but little was delivered.
Some of the characters in Wendy Erskine's Dance Move are also looking for a kind of protection from an invasive world. There's an option to retreat altogether into a personality cult, lost in the brickwork of north London. For others, there's the routine of subsistence jobs and food delivery apps. Someone skulks in a doughnut bar, dimly lit like an Edgar Hopper painting. Often there's the arc of a pattern, a glum choreography that Brian Eno could go to work on.
Wendy also finds the defensive moves in affluent parts of Belfast. The swell party is arranged, the guests seem presentable but they are mismatched and tetchy in the marquee. And while the city talks up a bright cultural quarter and urges civic participation, a visiting academic just sees a street that's underwhelming.
Dance Move, Wendy's second collection of short stories, is exceptional. The writing seems crisp and artless but the rhythm swings and you reach moments of revelatory brilliance. You might expect this much after the greatly admired debut, Sweet Home. Happily, the new work matches and even betters it.
There's an epigraph from William Blake as a kind of preset: "Joy & Woe are woven fine." It's the way of the weft, the cosmic balance. So even when Wendy's people are in dowdy surrounds, there's a potential for gleaming hearts. In the opening story, Mathematics, the drudge of cleaning work gives way to transformative love. The quiet life of Memento Mori is another prelude to passionate ways, imperilled by sickness and circumstance.
The people find pleasure in their celebrity magazines and are troubled less by fake tan on the sheets and the half-hearted topiary. The beauty salon, so warmly created in Wendy's first collection, is subject to return visits. And in Mrs Dallesandro, a sunbed reverie flits from middle age, back to a juvenile, backroom liaison that recalls Molly Bloom and Mrs Dalloway.
So, empathy wins and the stories resound. At the end of one difficult awakening, the librarian sets out her thoughts on an imaginary problem page.
"Oh love, is all she can say. Oh love, what a mess."
But the mess is what matters, and other invitations to disarray arrive via music. A daughter's friend twerks on the garden decking. There's a juvenile rave in a Boucher Road warehouse: "All these limbs everywhere, liquid and loose. Even the plaster behind her seems to be pounding." It's the republic of freedom that Madonna famously saluted with 'Into the Groove'.
The funeral of a young suicide ends with a play of Frankie Knuckles and 'Your Love'. The mother is troubled by "sighing, huffing and puffing in a sexual way" but the younger mourners understand. Music also undergoes a weird association when Drew Lord Haigh, a forgotten songwriter from the 80s, is summoned to a Northern Ireland hotel to sing a B-side, 'Nostalgie de la Boue'. Just like Tina Turner and 'Simply the Best', his tune has become totemic of a conflict he barely understands.
Belfast is often the setting for the stories – "a city which isn't a city". But this second collection is more universal, less concerned with the gestalt of any one place. Dance Move sings a sentiment that everyone can recognise. And it sings it well. It's about a mover.
Stuart Bailie
Extracted from Issue 7 of Dig With It magazine. Sales info here.
Dance Move is released 17 February on Stinging Fly in Ireland and on Picador in the UK.