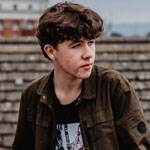 Charlie Hanlon is laughing in the corner of a quiet cafe in Belfast. In a few days time the singer-songwriter from Downpatrick will celebrate his seventeenth birthday, a milestone for more reasons than one.
"It's going to be two years since I wrote 'I Lost Myself'. I remember so clearly writing that song on my fifteenth birthday. I didn't want to have a party, I just wanted to sit with my guitar and record. I stuck a demo of the track on Soundcloud and the next day ATL Introducing played it, I couldn't believe it. I remember asking myself 'how have I blagged this one?'. It was such a feeling, that was the start for me."
A bittersweet love song, 'I Lost Myself' introduced Hanlon as a songwriter of depth beyond his years. In a similar vein to Daniel Johnston and The Mountain Goats' John Darnielle, here is an artist who is cutting and clever, while being totally unafraid to bare his soul. Soon after, more names within the Northern Irish indie scene took notice.
"I was probably too young to release anything, but it was a springboard for me. Mike Mormecha (Mojo Fury, Clown Parlor, TRÚ) offered me some real studio time off the back of that track. He heard something in it, it resonated with him. I had already met him as a fan at his solo album launch a few years ago, but when he heard that song our relationship changed. He knew I was ready to record in a studio and he wanted to produce me."
Over the last two years since the demo of 'I Lost Myself', Hanlon has been working harder than ever. The lofi demos that endeared him to his early audience still appear, but they are rarer now. In their place come tracks like 'Will You Stay Tonight?', a love weary ballad built around guitar loops and Hanlon's stream-of-consciousness verse. Then last August, Hanlon released 'Kids Today', his most realised vision to date.
"Finishing 'Kids Today' in the studio was a bit surreal. I had never made something so polished up to that point. Mike expanded the full band sound, he helped me to explore synth tones and textures. I felt like we were on to something, it was like, 'start the rocket ship, we're strapped in ready to go now!'"
Charlie takes his phone out to check train times. Engaging in conversation with him, it's easy to forget he's not yet old enough to legally drive. During our nearly hour long conversation we touch on his hometown of Downpatrick ("A nice place to try and escape"), the social media age ("Am I a slave to the system with it? Probably! Will I keep using it? Yes!") and finally, the future.
Just how big does Charlie Hanlon want to be?
He pauses to consider before answering, piecing his words together carefully.
"My main goal is to have longevity, I'd rather be in this game for the rest of my life and do it the old-fashioned way, rather than sell a load of records and fade into obscurity. Give me ten people in a room loving the tunes over five thousand people who don't care about it in the same way. It's all about connecting with people. I don't think my view on that will ever change."
Taylor Johnson
This feature appears in Issue 7 of Dig With It magazine. Sales info here.