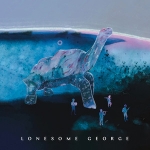 It's an exciting time for the Belfast Trad scene. Not that it hasn't always had a vibrant energy that has you stomping your feet and swaying for hours on end. But these days when I head to a trad gig there's the added element of having no idea what to expect. It's a thrill in itself.
Lonesome George played the Empire Music Hall last Saturday. Thinking back to the concert, I've come to the conclusion that the band has this unique quality of keeping you feeling right at home whilst keeping you guessing.
Their opener, 'The Lover's Ghost', is a song filled with tension just waiting to burst. The band's flautist, Fintan Mulholland, sings an eerie melody with the gravitas of a sailor stranded at sea, coasting along nothing but antagonistic synth drones. It's chill-inducing, and I knew from then on that Lonesome George were going to bring some impactful depth alongside their tunes.
The rest of the band soon joins to launch into 'Shenanigans / Jerusalem Ridge' – it awakens the imaginary sailor in my head from his introspective delirium. Mulholland is an absolute powerhouse on the flute, I half expected to see flames rising from the speed and accuracy at which he played. And the other members of the band, Joe Campbell-McArdle, Myles McCormack, Dermot Moynagh and Catriona Gribben, slip around the lead flute melody like a glove. It's a rhythmic masterclass, the whole band is in the pocket of the song and they won't emerge for the next hour or so.
'Ruairi's Lullaby' is certainly an ode to trad. Its complex rhythms and classic combination of accordion, bodhran, guitar, flute and mandolin had the whole front row swaying, if that song had gone on for half an hour I don't think anyone would have had an issue. It's the kind of song that'll get you twirling around with a stranger in the crowd with its joyful energy.
In case you weren't aware, Lonesome George bring the funk too. 'Heartstrings' is a standout tune of the gig for this reason. It's got this infectious groove to it, some stunning harmonies, and leans heavily into syncopation and offbeats. Hats off to Joe Campbell-McArdle for the guitar and vocal progressions that I still haven't gotten out of my head two days later.
Before 'The Old Response', the band gave a great shoutout to Fela Kuti, Godfather of polyrhythms and raucous jazz. They cite his inspiration in the desire to connect with ancestors through song, a concept that proves itself to be universal in the case of Irish traditional music. Lonesome George prove that a nod to the past can give you the footing to propel towards the future, it proves to be a canvas upon which the band adds their own flair. They mix and match the trusted and true to create something entirely new.
Perhaps the most obvious example of this, and my personal highlight from the gig, was the band's encore, 'Klezmer'. It is a clear creative peak for the band, which builds slowly from a gorgeous trad tune that gradually sees a mandolin creep in with whispers of a minor key. The crowd knows what's up when the tempo builds and the mandolin becomes the star of the song, sways turned into head bobs, then head bobs turned into a sea of jumping and flailing hands as the song took its last dive into gleeful yet minor melodies so synonymous with the genre. My only note for this song was 'KLEZMER TUNE?' as I couldn't help but join in.
Lonesome George made my job quite hard. Every time I opened my phone to take notes, a new hook, rhythm, or genre caught my attention and held me in a swaying motion.  All's well that ends well, though, as Lonesome George had so many memorable moments during their set that it was easy to piece together in my mind's eye. I suppose that's a music journo's way of saying 'go see Lonesome George live, they'll keep you hooked'.
Eleanor Gilmore
(Lonesome George's self-titled album is long-listed for the NI Music Prize 2023)