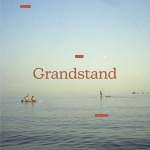 Brand New Friend return with a record that sees them evolve into a new, arthouse soundscape. Their third album Grandstand blends grunge guitar with sunbursts of 00s-inspired garage rock. The title which nods to the iconic sports TV sports programme hosted by Des Lynam, is a perfect allusion to the bittersweet epiphany of leaving childhood behind.
Brought to life by Taylor and Lauren Johnson's vocals, the storytelling evokes memories of growing up on the north coast on tracks like 'Open and Shut'. Here, their narrative creates a vivid montage of grey summers near the sea, streetlight election posters and left-open poetry books.
Standout tracks like 'Lucky' and 'If You're Looking for A Sign, This Is It' embrace catchy and turbulent alternative guitar hooks, bringing to mind The Strokes, Phoenix and Interpol. However, the more poignant 'Talk It Out', 'Hey Blue' and 'The Dream We're In' confront themes of loss and heartache, in a stream that echoes the footsteps of Inhaler and Wolf Alice.
They have shared stages with Snow Patrol and Ash and there's no doubt that Brand New Friend have made an impression on the local scene. Grandstand has the ability to simultaneously gleam about the past and dream about the future. Such is the impact of their songwriting.
Ellen McGinn