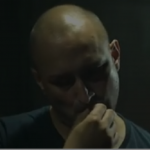 Back in the day, an art combo called the Frank Chickens came up with a performance idea called scratch. The idea was that you shouldn't be fixated with the finished, tidy product. Rather, you deliver the raw heart of your idea, and burnish the details as you go along. Scratch became a core concept of the Battersea Arts Centre and has traveled widely ever since.
Five Days by Joe Nawaz feels like a scratch project. Firstly, because the emotional content – the murder of his father Rab during a visit home to Pakistan – is heavy, upsetting stuff. Secondly, Joe has been working up this material since 2017, putting his difficult experiences out there, thinking aloud about grief, belonging, family and his lineage. His earlier work, Fake ID was a Belfast story like no other. This has developed into Five Days, a piece of theatre at the Lyric that follows the intense arc of parental loss. Joe hears about the killing of Rab in the aftermath of a party and then he takes us through the challenging travel arrangements, the encounters with his 'other' family and a visit to the grave by the slopes of the Himalayas.
There's a passing history of British colonialism in India and the stresses of partition and while Joe doesn't hammer the parallels, we understand how the Irish model also carries the trauma of patch and fix. The smallest stories also resonate, like the autopsy report that notes the contents of his father's final breakfast.
This solo performance is rough around the edges and relies on simple props – the Trimphone, the table and a series of theme cards that are brandished in the manner of Bob Dylan in the film of 'Subterranean Homesick Blues'. One of the most affecting acts happens at the start when Joe takes off his jacket, brogues and tie. He steps into the sandals and untucks his white shirt. He has become a Joe Nawaz that we don't quite recognise. Five Days asks us to consider how that might feel. An important ask.
Stuart Bailie  
Joe Nawaz, Five Days, Naughton Studio, Lyric Theatre, Belfast 14.09.23