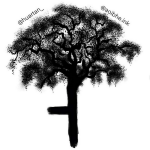 "I'm an Irish woman and I'm an abused child."
On the track 'Sin é Sinéad', dedicated to the late Sinéad O'Connor, a monologue of O'Connor simmers amongst flashing lights, electronic drum beats and the relentless bounce of bass. This is the work of 'tradtronica' act, Huartan. The trio finds liberation in the conflict between rigid boundaries, the sparks that fly when you scrape them together, in both music and subject.
What is it to dance to these words, to see others move in the same way, and to hear the whistling traditional Irish melodies among bass-soaked fodder for the ultimate rave? It's a mixture of emotions you can't articulate, just as multitudinous as it is to feel pride in being Irish while recognising the systematic, often religious, abuse that has taken so much from so many on this island.
Sinéad's words, though spoken decades ago, express sharp deep nuances within Irish culture today. Huartan made it their business to further amplify her wisdom and defiance.
Stiofán Ó Luachráin, Miadhachlughain O'Donnell and Catríona Ní Ghribín, headline this year's Liú Lúnasa concert at Cultúrlann McAdam Ó Fiaich, an Irish language cultural centre on the Falls Road.
I show up to the venue alone, but happily get chatting to some fellow gig-goers… eventually speaking about the tone of Irish music today. One person says there has been something nihilistic about the type of Irish music coming out recently, and we agree there's a fair amount to be nihilistic about.
There is a steady, albeit Stormont-hindered revolution against the erasure of Irish language and culture. pPaces such as Culturlánn serve as a bastion of preservation. The route of the protest demanding legislation to protect the Irish language in May last year started at Cultúrlann McAdam Ó Fiaich.
Huartan perform their own form of preservation through taking ancient traditional Irish songs, along with some spoken archival material, and putting them to electronic dance music.
I was interested to see what Huartan wanted to say to their audience, to their community, and their ability to touch upon capitalism, LGBT+ rights, religion, and colonialism in their 45-minute, fully choreographed set was something to behold. Every minute counted for something.
An anticipatory droning synth beckons dancers dressed entirely in lycra black suits and wearing ram skulls onto the stage at the beginning of the set. Their slow, near-antagonising moves pull everyone in the audience a bit closer to the pit. The members of Huartan soon follow, walking slowly onto the stage, barefoot and stoic. There is something haunting about it, as if they've been walking around for thousands of years, performing the same pagan rituals as in ancient times. Ó Luachráin sports the ram skull, too.
When you hear Huartan, you start to wonder why people haven't been putting traditional music and electronica together more: there's an element of trance about both when done right.
Ó Luachráin is at the helm of the beats and synths on his laptop, while often interjecting on the whistle. O'Donnell provides Irish flute and Ní Ghribín accordion, with both on vocals too. Each has a consistently dramatic stage presence: staring dead-eyed into the audience as if possessed, and we're all loving it. Anyone who grew up with trad music and now enjoys a late night at Ulster Sports Club feels especially at home right now.
Huartan pay homage to electronica in the rises and falls, the steady road to beat drops, the hypnotic repetition of their soprano vocals. They exercise restraint to make euphoric musical peaks pay off where it could easily have gone a bit off-the-rails and not had much narrative.
Ó Luachráin takes the mic throughout the show over the music to speak about issues important to the community, the island of Ireland, and beyond.
"We know who the enemy is and it is no one man. It is a system. A demonic system… and the name of that system is capitalism.
 So to that system and those who would support it we have this message. We are pagan Ireland. And despite your best efforts, we are still here."
Between fist-raising calls to action such as these, is a sense of the ritualistic and theatrical. The ram-skulled dancers return for some more playful routines, and O'Donnell and Ní Ghribin exchange pearl necklaces and throw roses into the audience. Within the giving and taking is a fitting metaphor for the inspiration Huartan draw from Irish tradition, that they wish to share with all who will hear them.
Huartan's set ends with a raucous, joyful rendition of Níl sé ina lá, strobe lights and all. The band emerges from their trance and shares a free-flowing dance and a smile with the audience.
They look stoked to be there, and for just as much as there is to be nihilistic, angry, and vengeful about, there's also a whole lot of joy in being able to express it in solidarity within a community. And a dance under the strobe lights doesn't hurt while doing it, either.
Eleanor Gilmore
Huartan will perform at Electric Picnic (1-3 September) – an Puball Gaelige stage.