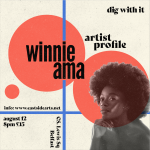 Raised in south Belfast, Winnie Ama currently works out of London. She travels keenly and during a youthful visit to New Orleans, she came to understand and love the jazz legacy.
A recent track, 'Here I Go' is a tribute to family and well-wishers, who have literally put a support network beneath the art. "It's about the friends and the nice words that people have said. With community, you create positive energy. Kind words and true friends build you up. They make you realise the good that is already there in yourself. In the bridge part of the song, I say that words are like seedlings. They grow into a mighty forest that raised me up."
She studied politics, philosophy and economics and York University, also singing in gospel choirs. She took time out in Budapest where there was a random meeting with the Belgian DJ and music entrepreneur, Francis Groove. "I met him in the street he just had a nice face. We became friends. I didn't even know he had a label."
She wrote and collaborated until lockdown, which gave her the chance to focus on her stand-alone music. She was also devasted by the killing of George Floyd and the subsequent Black Lives Matter movement. In a recent RTE documentary, she talked about the strain this placed on friendships.
Winnie is planning a further EP this year and a debut album in 2022. "It's so much fun. I'm living my best life. I actually can't believe it."
In a special interview for Dig With It magazine, Winnie selected her fave divas from the pantheon of American jazz, soul and R&B.
ELLA FITZGERALD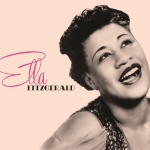 The reason I love Ella is because she was just relentless. She was like a pure tone. No matter what she's sings – whether it's live or recorded – it's literally perfect every time. It's very hard to comprehend how she did it. Two hundred albums, she just never stopped.
I think part of the reason why she never stopped and why she was relentless is that she wasn't only doing it for herself. She knew what she loved and she knew what she was good at, but she always gave to the people around her and the people less fortunate than her. Any other rational person would be like, OK, I need to take a break. But she never did. And I think that's really inspirational.
And her whole childhood. Everything was built up against her: the society she was part of, in America, being female, being black, in the Great Depression, having no real stability around her, building everything from scratch. From the proper trenches. That's fully inspirational. And then obviously her incredible music.
Her scatting is the standard for scatting. If you wanna learn how to scat, you have to do Ella. It's like she's speaking another language with her voice. It's like an instrument. She's inside the music. She is the music.
'Bewitched Bothered and Bewildered' is really underrated. It's quite a long song, but it takes you on a real journey. It feels like a little bit of self-pity and then it turns empowering and positive and uplifting and overcoming. It takes you on the actual journey, that does happen when your heart's broken. You get over it.
NINA SIMONE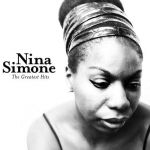 I love her honesty. No filter. Right in your face. You can't avoid it – let's talk about these difficult topics that no one wants to talk about. And it's timeless as well. It's the way she brings her emotions. It's the right approach. Every single word. The phrasing, the wording, the way she lands on every word, is with the emotion – as if she's living that thing she's telling you about. That's something every singer should do – is get inside the topic, no matter how uncomfortable it is.
'Don't Let Me Be Misunderstood' is a masterpiece. Also, her version of ''Strange Fruit' is excellent. And 'The King of Love is Dead' – the day after Martin Luther King was killed, the live version. Next level. It takes you right there. It's as if you were in the moment.
ETTA JAMES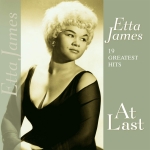 Her mum was a child herself – she was only 14. And Ella started her own thing when she was 12. Which is mind-blowing! When I was 12 years old, I was playing in my garden, putting soapy water on the grass and rolling around on it. She was making mad music and singing her heart out across the country.
The texture of her voice is what is so outstanding for me. It's just instantly recognisable. From the first two seconds, you know it's Etta James. Her mum taught her that even if it's already been done, you can always add your own flavour to it. That's a life lesson. Most things have been done but if you bring your own thing to it, then it's yours. I think that is very inspiring. 'At Last' is my choice.
BEYONCÉ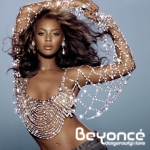 She's undoubtedly a complete icon. To be so much of an icon that your alter ego is an icon – that's a whole extra level! That's crazy. She's effortlessly graceful, she's just so smooth and so well put together. Everything is just so good.
But what baffles me about Beyoncé is how some people actually don't like her! Which I didn't even know until recently. I can't comprehend it. I literally cannot understand what's not to like. Obviously everyone had their own taste but I personally think she's perfect.
She always brings her sassiness. It's like a conversation. All her songs. Like 'Bootylicious': people were saying, oh you need to lose weight. And she's like, this is my body, I'm not even fat, if it's too much for you, that's your problem! And I love that. She was saying that at a time when that wasn't really a thing. Now we have body positivity and all that, but we didn't have it when she was doing 'Bootylicious'. I think it was one of the first times that people questioned the media industry – that they shouldn't define how I look.
RIHANNA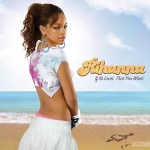 I love Rihanna because she diversified her assets. Like a proper business lady. And if you're a singer or an artist, you are a CEO. And she took it to the next level, as well. She's clever about doing it this way because she's not at the mercy of the music industry, which is so brutal, sometimes. She's got her fingers in so many different pies. She's effectively free. I'm looking forward to her next album.
My friend me her. She was in my friend's family shop (in Belfast). And she never told me until years later! It was an icon and she's met her! I couldn't believe it.
My choice is one of her first ones, 'If It's Lovin' that You Want'. So feel-good. I love the video. It's like high energy. Everything she's done is incredible. I love the innocence of that song – her first real mega-hit.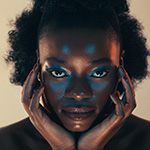 (Winnie was talking to Stuart Bailie and this feature originally ran in Issue 8 of the magazine. Winnie is set to perform on the bill of a Dig With It special at CS Lewis Square, Belfast, August 12. In association with EastSide Arts Festival. Also on the bill: New Pagans and Lemonade Shoelace. Ticket information here).