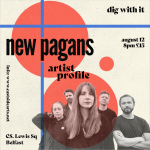 Too bad if you missed the return of New Pagans in 2021. We shouldn't gloat, but hey, it was monumental. It was all the stuff you had yearned for in the silent months before – volume, roaring communion and festival kicks. New Pagans came onto the stage and called it. It was time, again, to be alert. To transmit fierce ideas in a public place. To cook up the synapses and release the joy.
That was the order of their Stendhal Festival gig. No chance for a production fix or a soundcheck. New Pagans rocked up on a Saturday night to the Stevie Martin Stage, just as the dark was looming, the night temperature was falling and the audience was getting loaded. They plugged in the gear, concealed the nerves and played a tune that always excites the people: 'It's Darker'.
The band didn't fully appreciate it at the time, but they created what the writer Spalding Gray called "a perfect moment". Every fragment of circumstance was in the right place. New Pagans were remembering the music the brought them here. They honoured Fugazi, Sonic Youth, Kurt and those early PJ Harvey records. Also, the festival crew was serving them well with decibels, stage lights and hazers. It really was ideal.
Cahir, Claire, Allan and Conor have played in various bands and have encountered many difficulties. So they can manifest ease and cool, even if they are inwardly anxious. Yet after the gig, Cahir O'Doherty started listing all the errors and stuff that might have improved the live show. But then he realised that he should back away from the critique. Even he came to admit that Stendhal had been a glorious comeback, an affirmative jolt.
Also, the astonishing part of the gig wasn't really about the playing. It was Lyndsey McDougall, big boots and giant voice, hair in disarray. Daughter of a preacher man, she was spitting out alternative histories. Channeling the heroine voices of Lily Yeats and Charlotte Perkins Gilman. Remembering the Donegal Industrial Fund and wise to the power of Kim Gordon. Singing about the call of emancipation and the forces that would constrain it. Some of this came out in clear, reasoned lines but she was not averse to the wild authority of the roar.
All this from an artist that had not been exposed to rock and roll until her late teens. Raised in Enniskillen, she had been taught that the devil worked his infernal power through music – that the form had been his job in Heaven before he moved to the dark side. So she had given this stuff a swerve. When she first heard popular music it was practically illicit. And so there is uncommon perspective in Lyndsey's art. She doesn't have the grammar of rock and roll in her bearing. She moves like a stranger in this music ­– oddly spasmodic, sometimes quiet and still, mostly compelling. An original force.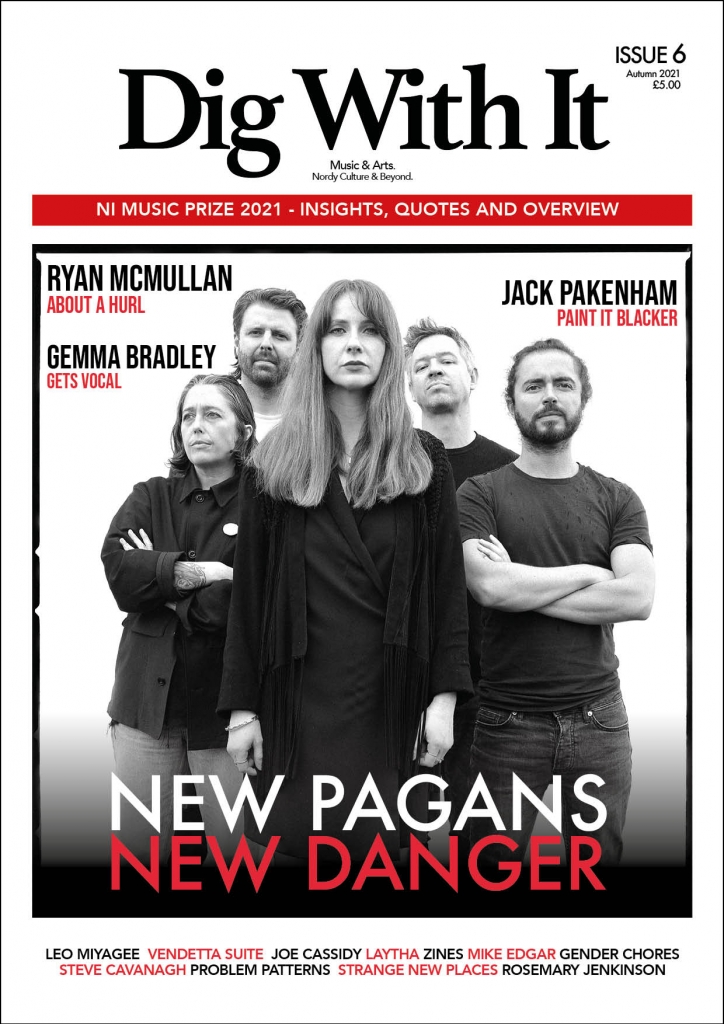 Lyndsey and Cahir O'Doherty are the appointed talkers. They first met in the Cellar Bar at Draperstown over ten years ago. Cahir was onstage, fronting Derry act Fighting With Wire and this writer was introducing the gig for a radio show. Since that auspicious evening, they have become a family, joined by the arrivals of children Maisie Eliza and Odhrán Cahir. They converse like an excellent tag team, doubling up on wit, smarts, idealism and scything remarks.
We talk about 'It's Darker', originally inspired by a nasty encounter at a party, when a boorish guy shouted down Lyndsey, refusing the validity of her thoughts. But like many great songs, it has evolved. When they played it it at Stendhal, it was like a purging of negative voices, a repudiation of the trolls, the deniers, the departments of misinformation, the brute discourse in the world. 'It's Darker' is now an important alarm call. It names the demons and it resonates, massively.
Lyndsey: "That's what's lovely about songs. Sometimes when we write them, we don't really know what they're about. It's not 'til you've recorded it and you're listening back, you go, ah, that's what that is. It's like that saying: you can't see the wood when you're in the trees. But you just go with your gut, your instinct.
"The songs have evolved personally, what they mean for me. So obviously, the audience is gonna feel that and take it on. Sometimes people think it's about something completely different that what it was originally about. It doesn't matter. It's their songs now, really."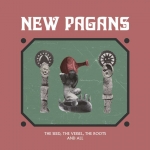 First album, The Seed, The Vessel, The Roots and All was a scattershot work, recorded over time in various places and lashed together as a lockdown project in an apartment kitchen in Belfast. Still, it's much-loved. Cahir wanted New Pagans to be "untainted by the horrible swamp of the music industry" and the mission has sustained.
One of the early champions was John Kennedy from Radio X, already a fan of the singles. And then it happened that John was called to deputise for Tim Burgess on a series of three Tim's Listening Party events on the momentous series on Twitter.
Lyndsey: "And he chose us. When we got it through, we really didn't understand the significance of it. Charlene, our manager said, you need to take this really seriously ­– this is actually your biggest audience that you're gonna get. So we did take it very seriously. We took days of preparation.
"The weirdest thing was Conor and I did it together, in different homes, doing the tweets. If was as if we'd played a gig afterwards. The response from people and that energy you got, it was fantastic, really good. It's such a genius idea. It was Tim being really lovely and his fans actually going and buying the vinyl and following us and supporting us. It's been really good."
Cahir: "He contacted us that night via Twitter and just started chatting. He opened a dialogue with us. About a week later he says, I keep going back to your album, I really love it. He started tweeting about us on his own account.
"And then he said look, I know it's a long shot but I'm doing a couple of shows in Ireland, would you guys be available to support? Obviously!  And then he said, would you like to play Beautiful Days Festival? He curates a stage at that. And I was like, yes to all of the above! He's such a nice guy and he's been really supportive."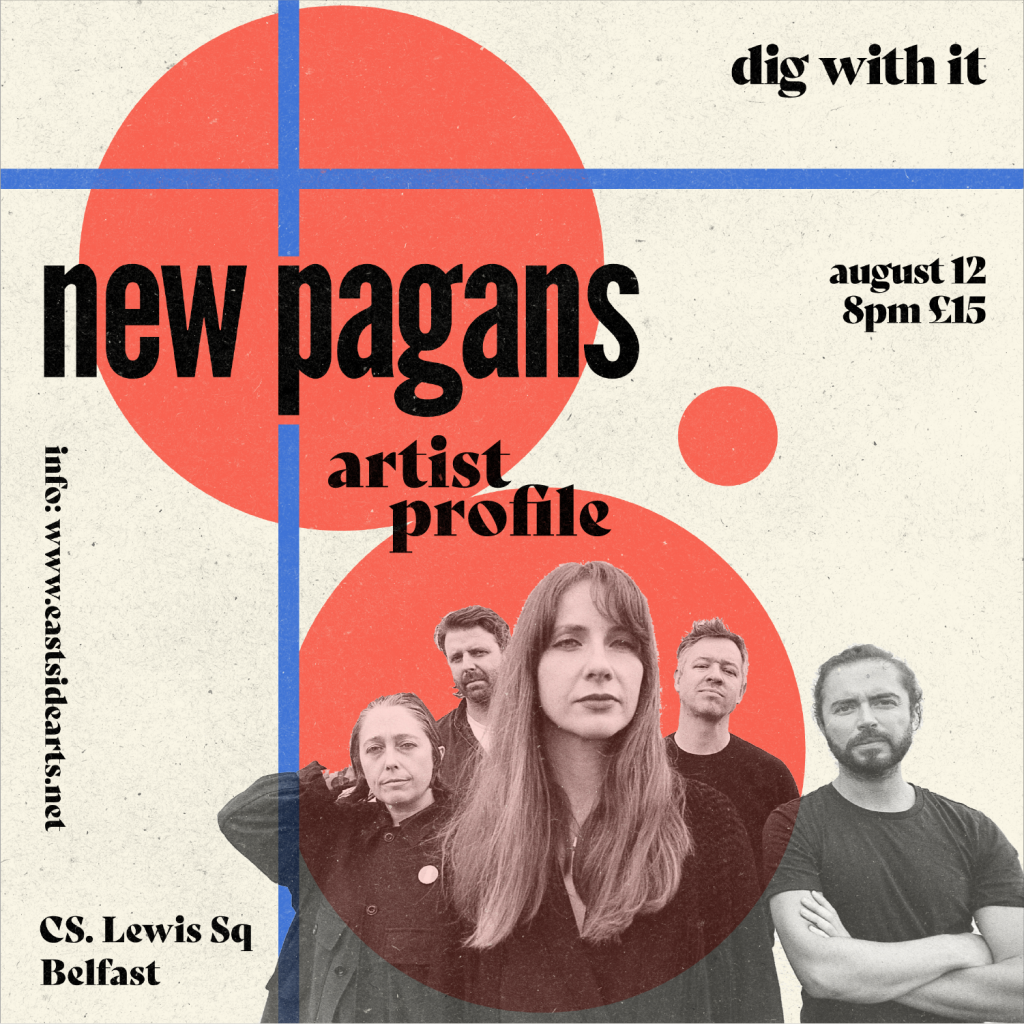 A handy time, then, to plot the second album?
Cahir: "We're still in the process of writing. We're nearly done. The whole point of building the studio was that we were able to work, at our own pace and work with some mixers that we're particularly interested in. And hopefully that can happen. The first record was such a thrown-together album, over a long period of time. It was a stress.
"It's kinda testing the water. I'm our own worst critic. I just spent the last four or five days sleeping in that room, on a spring bed. With Conor and Allan, talking about drums, trying cymbals and testing the mics in the room."
Cahir: "Now it's like a songwriting factory. In one room we work on music and put together a rough arrangement. And then I'll send that to Lyndsey.  She can come up with melody lines…"
Lyndsey:  "So I've learned how to get into that zone quicker. I've had to. Cahir hasn't been away. He used to go away all the time with Frank Turner. So I had space on my own, even if the kids were in bed. That's when I wrote. So now I've had to do it during the day. But surprisingly. we're getting better at writing. You hope that would happen anyway."
They talk about the method of Frank Turner. Cahir and Lyndsey feel they can learn from that work ethic, that independent status.
Lyndsey: "Our manager Charlene always says to us, 'if a big label came to you and offered you half a million pounds, would you take it?' And we're like, no we wouldn't!  I really hope we wouldn't. We just don't think that it can work any more. For us, anyway."
The purchase price is withheld but the value is immense. All this and more, in a Pagan place.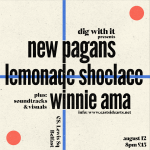 (This feature is an extract from the cover story of Dig With It, Issue 6, which appeared in October 2021. Magazine info here. New Pagans will headline a Dig With It live show at CS Lewis Square, Belfast, August 12. In association with EastSide Arts Festival. Also on the bill: Winnie Ama and Lemonade Shoelace. Ticket information here).