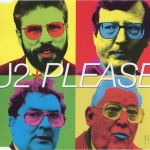 John came on from stage left and David made his appearance from the other side. They walked cautiously, past the microphone stands, the amplifiers and the effects pedals. The pair met in front of the drum riser and with some ceremony, they shook hands. David crunched down firmly, but John was also a practiced gripper. There were a few more reassuring pats, taps and exchanges and 2,000 school children roared over the awkwardness.
It was momentous enough but then Bono stepped in from behind, took their nearest arms and raised them over his head, like prize-fighters. Encouraged by the cheers, John Hume and David Trimble raised their spare arms so that the three of them traced out these emphatic V shapes. The international news cameras were reeling while the stills photographers grabbed the next day's cover shot. The world was presented with the vision of two guys in their relaxed-fit shirts, dad ties and pleated suit trousers, winging it with the singer of the biggest band in the world. Bono was more recognisable with his spark-plug physique, the patrol cap and his Fidel Castro chic. It was the strangest confederation of characters. For weeks now, people had been recklessly hurling the word 'history' into their conversations. But here it was, May 19 1998 at the Waterfront Hall in Belfast, one of those actual moments.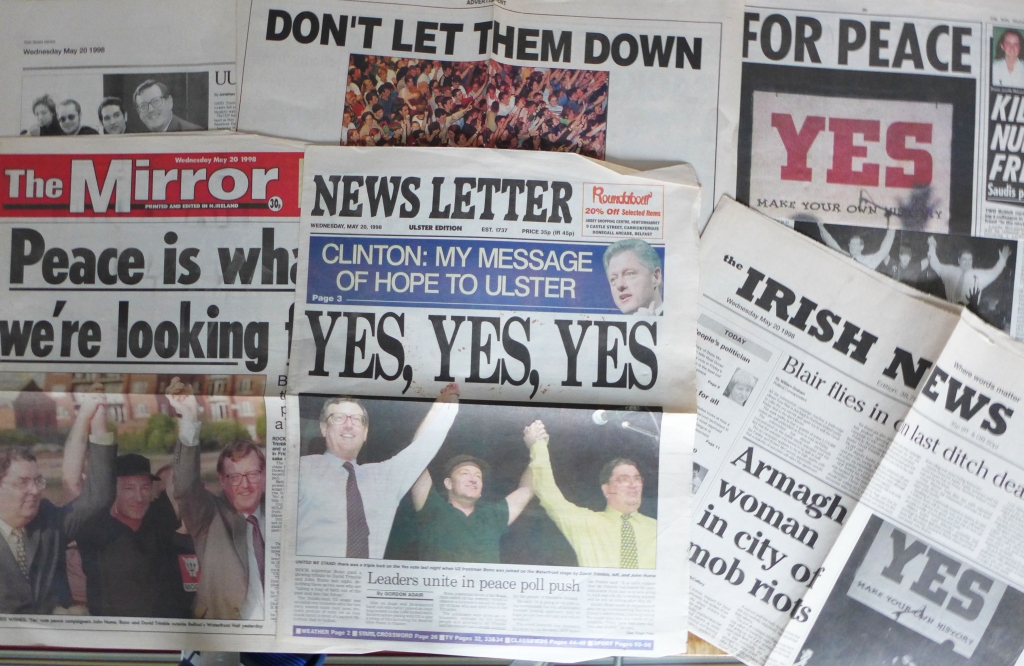 It was remarkable because David Trimble and John Hume were leaders of the largest political parties of Northern Ireland: Ulster Unionist and SDLP. They represented the less extreme ends of the debate and yet they had never shaken hands in public before. Not during two years of talks with US Senator George Mitchell. Not even on the delivery of the Good Friday Agreement, April 10 or on those few weeks of fierce and dirty campaigning afterwards. Now here they were, with three days to go until the agreement referendum vote and the Yes deal finally got a shake.
The context was a rock'n'roll show. U2 from Dublin, the band Ash from Downpatrick, plus Trimble and Hume. It was a self-conscious exchange of north and south and perceived religious persuasion and politics. If it didn't balance, it would fall. The Corrs rang up at the last moment and offered to play but, sadly, it would have shifted the scales adversely. Meantime, there was an ongoing worry about the import of popular music, about loose minds and attitudes. This was new territory for the political parties and the risk was considerable. A flippant phrase or an incriminating press cutting could do damage.
The Yes team was already practicing a series of rebuttals. They worried that rogue stories of Ash and some youthful drug misadventures might surface. There was the issue of the U2 song 'Sunday Bloody Sunday' and how that might be played out as a Republican anthem. Would Bono be perceived as a wooden horse? Earlier that day, the Ulster Unionists' senior campaign officers had also met at their Glengall Street headquarters and they had aired extreme misgivings. But Trimble held his resolve and the show was still on.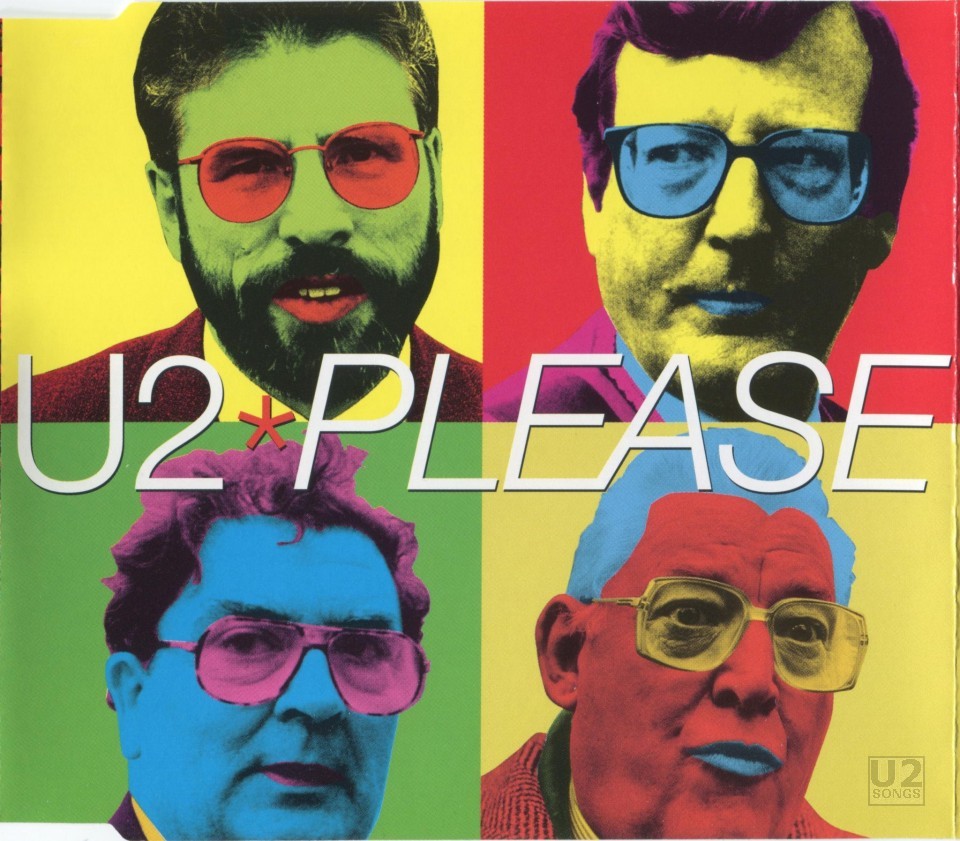 Sammy Wilson of the DUP had made capital of the U2 connection at an anti-agreement rally in Banbridge. In his imagined Bono setlist, he was dedicating 'Acrobat' to David Trimble and his 'political gymnastics', while 'Helter Skelter' would be a critique on his crashing popularity. 'Running to Stand Still' would be thematic of the Yes campaign while 'Hold Me Thrill Me, Kiss Me Kill Me' was an indicator of the Unionists, getting cosy with the Republicans, Gerry Adams and Sinn Féin.
The Belfast moment at the Waterfront was absolutely going to be stage managed, and Bono had some input. David and John were not going to speak from the stage. It was all about the visuals and the symbolism. Their suit jackets would be too formal, so they would be set aside. They were to approach this evening like a music event. They needed to steel themselves for the blinding spotlights and the disconcerting noise and to look upwards, reaching for the people in the back row. Simple as. And then Bono would prep the audience for their appearance:
'Two men who are making history, two men who have taken a leap of faith out of the past and into the future…'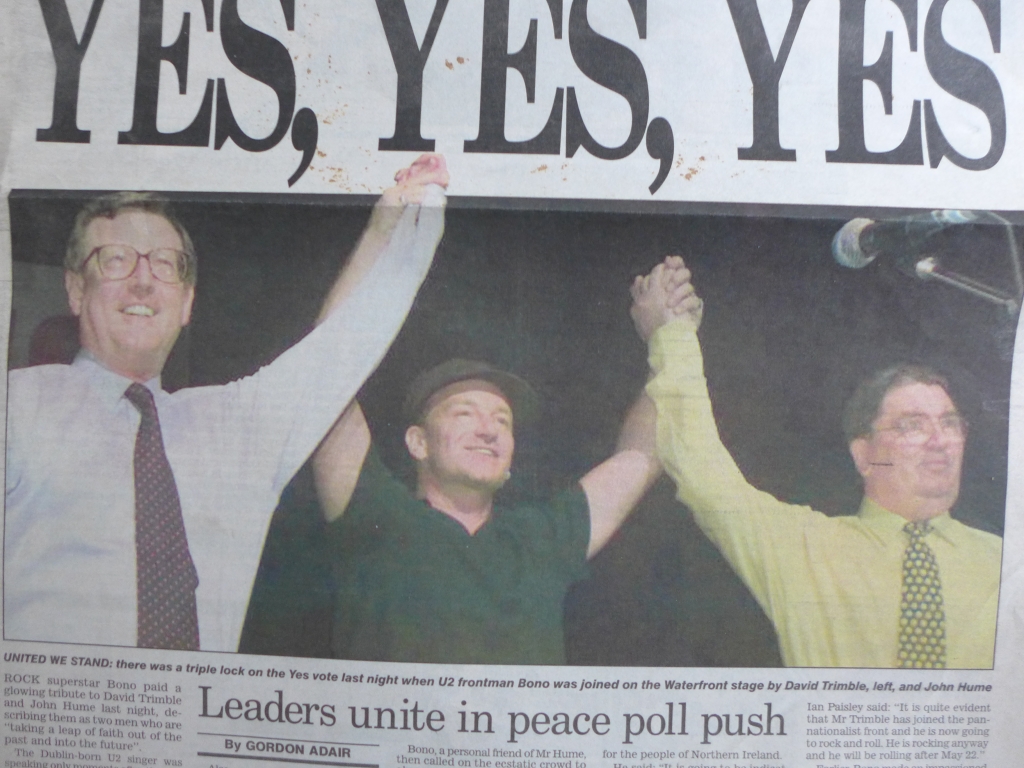 Various people had sounded out Bono about a likely referendum and the Yes campaign. The SDLP had mutual connections such as the film director Jim Sheridan and the barrister Hugh Mohan. Then again, John Hume and his wife Pat were personal friends. There was a growing expectation that Bono might do a press conference, at least. Jim Sheridan was in Belfast to support the agreement on Thursday May 14. He met Tim Attwood from the SDLP at the Wellington Park Hotel and when he learnt of the difficulties, he passed on Bono's number and urged Tim to make an urgent call. There was no signal inside the hotel, so Tim stepped outside and rang. The response was positive.
'I know John a little bit,' Bono recalled a few days later. 'We were asked to help out with the Yes campaign and I felt that I didn't want to be part of any one community. I just feel that's not what U2 are about really. So I said, if you can bring together John and David, we'll do something. I was very surprised when they both came back and said that they wanted to do it, to be honest with you. We could do a gig. So Ash stepped in, they're a boss rock band, they're just on it. And I think that most importantly, the people need to see these two men together. Forget us, we're up from the south and we wouldn't dare patronise people up here, but it was still nice to throw in our tuppence worth.'
Tim Attwood then called David Kerr, Director of Communications for the Ulster Unionist Party. He was at the party's headquarters on Glengall Street. David remembers feeling incredulous.
'My first reaction was, "Are you serious?" We had nothing left in the tank. I just said, "Look, I think it's a brilliant idea". I literally went from one office to the boardroom. David Trimble was there with Ray Hayden [his media relations advisor] and a few others. I said, "This is a brilliant opportunity to reset the public focus in the final week of the referendum campaign. It's the best opportunity we have to bring people out who are at present disconnected from politics and who may not vote, or actually worse than that, can be persuaded to vote against it on purely moral grounds". David accepted the logic and Ray agreed.'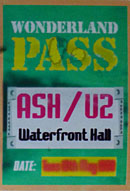 Upstairs at the Waterfront, Ash joined Trimble for a press conference. Charlotte, their new guitarist, was also present and they had assumed some extra stature. Tim, normally bashful, spoke well. 'We really, genuinely believe in this. People get involved in politics because they want to improve their image or to get publicity. But this is something we believe in.'
David Trimble emerged differently also. He revealed a fondness for Elvis, alongside Strauss and Vaughan Williams. When the newspaper guys asked him about the last gig he attended, his comeback was delayed. And then he remembered. It was Ben E. King, some time ago. Yet he also spoke eloquently about his eldest daughter Victoria, how she was very much looking forward to the Waterfront gig later. That's what everyone should have been able to do during the previous 30 years, he supposed.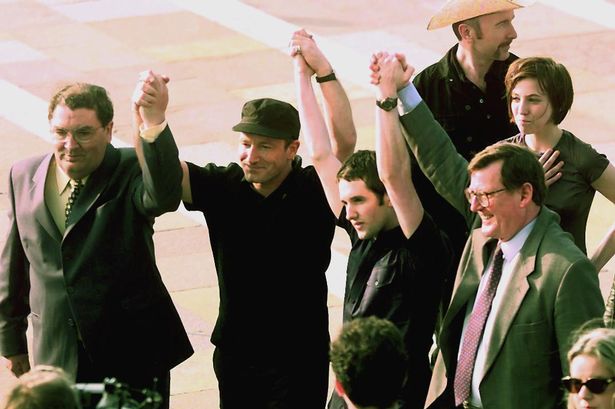 'David was a difficult man to try and prep for press conferences,' says David Kerr, 'He usually had an MO that went something like, "Look, I know what to say myself". I was genuinely really worried that he was going to make an idiot out of himself or say something really daft. When he said actually, I'm a big Elvis fan, I almost fell over. I did not see it coming, because I knew he was an opera fanatic. Obsessive about Wagner and all types of classical music but at no stage, in the time I'd worked with him, had I ever realised he had any interest in any type of popular music, never mind Elvis. I could see Tim and the others starting to look at him and go, "Well, maybe you're more interesting than we thought you were". And then of course, the mood lifted.
'You very rarely ever saw a softer, human side to him in any type of context. Maybe he was slightly socially awkward about doing it, but when he did, it was very powerful for him.'
David Kerr is sure that the event was pivotal. 'I'm not someone who's prone to revisionism. We had been sitting at about 67%. Had we ended up with that type of vote, we would have had a problem, straight away, with what I would call the legitimacy of the Yes vote. It would have been hard to say it was genuinely cross-community, that it had the confidence of both communities. That concert pulled 80 to 100,000 votes into the ballot boxes. It got people to vote who normally never voted. In the final analysis of that concert, it was a truly historic moment, certainly in the history of Northern Ireland. I have no doubt in my own mind that rock and roll drove the referendum vote over the magic 70% mark.'
Stuart Bailie
This is an abridged chapter from the book Trouble Songs: Music and Conflict in Northern Ireland by Stuart Bailie. Book information is here.