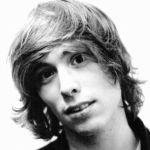 What a great, hurtling debut this is. Endless shouting and emoting. The urgency level does not relent. Big tunes, related by the criss-cross vocals of Taylor and Lauren Johnson. They namecheck Neutral Milk Hotel They know their Front Bottoms from their Elbow. They have some of that emo vulnerability and Taylor puts out wounded epigrams in the Morrissey manner, but essentially, Brand New Friend are over-brimming with the fizz and the precocity of youth.
It's a record that bats out 13 songs with little ceremony. It is neither self-conscious or overwrought. Producer Rocky O'Reilly celebrates ten years at Start Together studios by massing up essence of teen spirit, wonky synth lines, guitar crunch and that keen line between honest amateurism and contrivance. It worked for Ash, Owen Morris and '1977' and 'Seatbelts For Aeroplanes' clicks favourably into that zone.
You may already know 'I Was An Astronaut' and the essential refrain, "you're just like me / you're hanging on and hung over". It's a call to community, witness to a vivid, generational mess. Some day, when they look at the millennial experience, they may cite BNF as a band that defied the supposed inertia and impotence of their age. Because this is a record that will not be pacified. In 'Hate It When You Have To Go', the illumination is tungsten and florescent but the hopes are cosmic:
"There's lights in car parks that we pretend are stars
And I purposefully make wishes through the windows of our car."
It's Billy Bragg, looking for another girl in Barking, Essex. Or Brian Wilson, rhapsodising in his room in Hawthorn, California. The author of 'Girl' is smitten by Joni, riding her bike to school while the guitar plays dampened chords like The Cars or The Fountains Of Wayne. They got it going on…
Too much effervescence might cause the interest to drop but BNF vary the tone at significant moments. 'Milk Chews' is an indie-rhumba on the edge of a romantic fail. Taylor sings hoarse and lost. He's Jonathan Richman in 'That Summer Feeling', caught between sweetness and decay, momentarily losing heart. Lauren is lead sister on 'I Love You Goodbye' and her relative cool adds balance to the bro's emotional pitch.
Altogether this record has bravura and belief. 'Seatbelts For Aeroplanes' is an elevated party soundtrack. Gotta admire their altitude.
Stuart Bailie
Brand New Friends
Seatbelts For Aeroplanes (Xtra Mile)