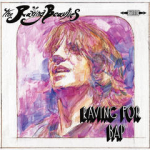 We miss Bap Kennedy. There was a tone in his music that will not be replaced. It was an authentic part of the man and there was a grain in his voice that related like Hank Williams, Townes Van Zandt or Gram Parsons. Fathoms of blues. Untold stories between the cracks in the words. His lyrics hinted at the deeps but he wasn't inclined to put it all out there. You had to trust Bap, and we did.
I used to see him perform with Energy Orchard at the New Pegasus in north London, 1988. They were a displaced Irish band in a fusty venue on Green Lanes. When they played, the venue was busy and most of the people there were also immigrants with cracked histories, sad eyes and a bit of drink in them.
But they were uplifting nights because Energy Orchard had the songs and the chops and Bap rallied all the souls when he sang about the waterways and the passage out. These were sentimental tunes about the beautiful girl and the leaving of Beechmount and the cost of a livelihood across the Irish Sea. Paul Brady and Christy Moore were writing those songs also, but that did not lessen the ache. And of course there was the ultimate touchstone of 'Astral Weeks', Van Morrison's album about the roving condition. Bap sang 'Walk In Love' in a simpatico style. He was searching a direction home but 'Hard Street' was essentially a tough passage.
Energy Orchard channeled it well for a time and then Bap lit out alone for Nashville and the essence of Hank, the Hillbilly Shakespeare. The connection was well met and 'The Way I Love Her' was proper, lovesick blues. Steve Earle was helping out and Nanci Griffith sang a while and the wells of melancholy fetched up many good songs. 'Lonesome Lullabye' was rough comfort. He also co-wrote with Van, sang with Shane MacGowan and there was beat literature in 'Moriarty's Blues', a treatment on the ever-rolling Neal Cassady.
Bap did make it home and into a profound relationship with Brenda Boyd. He started to slough off layers of reserve, sang about space travel and the rescued Chilean miner Jimmy Sanchez. He was happily realised as an artist and a man in love. The cancer came and he blogged about his lot with great poise and honesty. His fans put his music all over social media and the guy came to appreciate how many people were listening and believing. We lost Bap much too soon, but the music offers a deal of consolation.
Brian Bell and The Raving Beauties understand this. Their recordings have a lift and stylistic verve, but the original heart still pushes blood through those chambers. Such a songbook, and doubtless many other artists will visit it over time. This is a beginning, of sorts.
(You can buy the five track EP – 'Raving For Bap' by The Raving Beauties here. Cover art by Kenny McKendry.)
Stuart Bailie