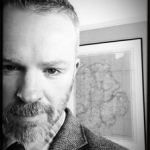 When the writing is in him and the urgency is on, he's busy at 6am and aiming for 600 words before the day starts, proper. That's when the other job takes over yet when JD Fennell is back in the evening, he's got the headphones on and the writing recommences. "You're in for the kill," he figures. "It has to consume you."
When there's an exceptional flow, he can push the word count over 1,000 words in a session. Such moments have been welcome because JD's second book, The Red Storm was focused on a May 2018 release. Ideally, there was a year to get it there but life threw the unexpected stuff around and so the regimen was eight months, seven days a week, even scrimping on Xmas R&R. Still, that was just about a workable schedule ahead of the edits, revision, proofing and then an excellent visit to Clay's where the finished book was produced and the scent of printer's ink carried a top note of achievement.
In terms of his writing method, JD Fennell regards himself as a planner. There's an alternative, but he's not swayed by this. "You get people – they call them pantsers – who when they write, they look at the page and wait for inspiration. They see where it takes them. I couldn't even possibly think about working that way. I plan because I have to work full-time. It's tricky."
Sleeper, his debut, came out in April 2017. The character Will Starling was active in wartime London, 1941. There was danger, espionage and loose manoeuvres. Will has survived into the new book, alongside his colleague Anna. There are covert moves in France in 1943 and a return to London to take on the insurgents. There is mention of a seemingly far-fetched piece of weaponry that was actually inspired by the inventor Nikola Tesla and his theoretical 'death ray'. Such is the fun prerogative of an author. "I recreated and made it real," he says. "There's quite a big twist at the end. Those who have read it were a little shocked."
Belfast friends know JD as Davy Fennell. They share youthful stories of a city that seemed locked into sectarian conflict. Partly as a result, the cultural life was intense and conditioned by dark humour and random kicks. All of the subcultures connected in messy clubs like the Plaza and the Delta, where the soundtrack included Grandmaster Flash, the Sisters of Mercy, The Pogues, and the Weather Girls. Everyone mixed in. Davy's contemporaries in those clubs included soundtrack composer and DJ David Holmes plus Therapy guitarist Andy Cairns.
"We were effectively surrounded by a lot of very creative people. Either in the way they dressed or the way they thought. It was an incredibly happy time for me. I made life-long friends there, I had so many great nights. It was a wonderful time and I still think about it a lot. It's important to me. There must be a book there…"
Like many of that generation, Davy lit out for England, aged 19. He arrived in Brighton via Reading and was an early adopter in the tech and software industries. He signed up to a Creative Writing course at University of Sussex and left with an MA and an early draft of the Sleeper book. "l was the last person in my year to come up with something. I didn't have a clue what to write and in the end I wrote something that I wanted to read. – A high-octane adventure. A thriller."
There were pitches and rewrites and a useful connection at the London Book Fair in 2013. An agent was now giving him advice but his was still a step away from the DHH Literary Agency and a new imprint, the Dome Press. "Keeping the faith is a good description, because you have to have faith in yourself. For me, writing is all about storytelling and I knew I could tell a story."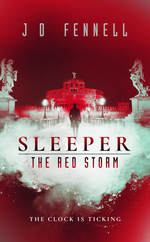 Most writers have a scrounge existence. JD Fennell is not dissuaded.
"I'm doing what I always wanted to do. I feel privileged that I've been published and I've got this second book coming out. I'm lucky and I'm happy. I would like to be in a position where I could earn a decent salary so that I could write all the time. That would be a dream. That would be success for me. It's a pipe dream. But it can happen."
(The Red Storm by JD Fennell is released by Dome Press on May 25)
Stuart Bailie