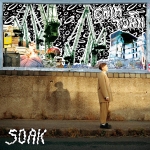 SOAK
Grim Town (Rough Trade Records)
Grim Town is home to the poor, the medicated and the cracked glitterball. The inhabitants are spiked with anxiety and beaten with loneliness. Grim Town is twinned with Llareggub, the backwards location that Dylan Thomas wrote up for Under Milk Wood. The train announcement informs the traveller that prospects are poor and "sustenance will not be available".

SOAK's second album is about leaving the teenage life. Last time around, the music was inward facing and related in murmurs and half tones. Now Bridie Monds-Watson is an adult with the chance to exit the little town blues, to be expansive and free. And certainly it sounds more assured. The chorus lines resound and the author is abroad in a middle city apartment, wanting better prospects. That's what you're hearing on 'Knock Me Off My Feet', a remembrance of youthful kicks in Derry, a farewell to the city walls and a promise to boss it. The synth burbles like The Cure on 'Inbetweendays' and all is grand.
However, the exile is not always fun. 'I Was Blue, Technicolour Too' is an assortment of party fears – the heat, the drugs babble and the paranoid androids. SOAK relates a personal moment but also inscribes it with the mood of an era:
"The off license sign reads
We're sold out of empathy
For the pity party
Is underway."
On 'Valentine Schmalentine' our narrator is up for the occasion but the love isn't reciprocated and the comedown is severe. That's a thematic riff on 'Grim Town'. The grinding vacancy of those New Year chimes on 'Missed Calls' and the child's realisation that divorce will amount to a double Christmas on 'Fall Asleep, Backseat'. The expectation only brings hurt.
But still the record aims to beat the problem patterns of 'Déjà Vu', to graduate beyond 'Life Trainee'. And it reaches a beautiful rise of empathy and lift with 'Everybody Loves You'. The singer is out of the relationship, harder and less receptive. But then the choir arrives and summons sweetness and delivers a keen turnaround. It's a dialogue of self and soul, a luminous moment, a ticket out of Grim Town.
Stuart Bailie