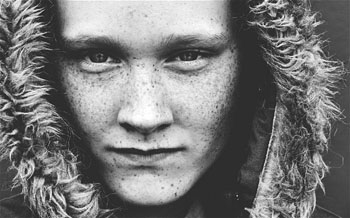 Bridie Monds-Watson played the Black Box in Belfast on the occasion of her 18th birthday last May. We sang our best wishes to her and she smiled, but it was plain that the artist known as SOAK was not happy. It was the night that she officially became an adult and it was a threshold that she wasn't ready to cross.
A year later and she's not come over yet. Her songs are about the primacy of youth, the impact of every instance. There are no analogues. It hits or it hurts. Bridie sings about the wrench of school friends being parted, about the sound of parents screaming at each other through the floorboards, about joy rides, bullies and bell jars. Her songs are emotionally true. Her debut album is a wow.
You may know 'Sea Creatures', a seemingly sweet tune that is actually about homophobia in the playground. Bridie is consoling a friend, drawing a line between the pair and those heartless predators who don't know what love is. She dreams about the two of them leaving town or that their enemies will simply disappear. There are sympathetic strings on this version of the song now but once it was just the singer, a guitar and a bossa nova groove. The first time my friend heard the song, he reckoned that it was like Janis Ian's 'At Seventeen'. Same rhythm and comparable sentiments. You get to hear rare confidences. Missives from the heart of the teen conundrum.
People also wondered if Bridie had been here before – some manifestation of dharma, Derry-style. She seemed preternaturally wise and her character was so powerfully formed. She could manage the hecklers and the stalkers. There was innocence and experience combined. Bridie was funny also and her music was informed by the parents' record collection: Joni Mitchell's 'Blue' and Pink Floyd's 'Meddle', but enhanced by Grimes, Justin Vernon and more.
On 'B A Nobody', she defends a life unplanned and the value of introversion. It's a call to her own parish, lost in the forest of status updates and gurning emojis. In contrast, SOAK is quiet, assured. She tells it thus on her debut album, with ten songs, some instrumental breaks and a hidden reveal. It lasts just over 40 minutes and while veteran SOAK-watchers may mourn the exclusion of baby songs like 'Fingers Crossed', 'Trains' and 'Snow', there is much to celebrate.
She is disturbed by ghosts and lost to sleep. On 'Shuvels' the only answer to it all is a lonesome wail. It's like Bon Iver, hid away in that cabin in Wisconsin. Or Morrissey just back from the darkened underpass, making art out of the hurt. And still she resists the conventional exit. On 'Oh Brother' she looks out anxiously:
"Pretend we are who we used to be.
Before we forgot how to dream."
It's all ahead of Bridie. Not necessarily bad, we suppose. For now, the remembrances, the moments, the feels, the dreams.
Stuart Bailie
SOAK
Before We Forgot How To Dream (Rough Trade)