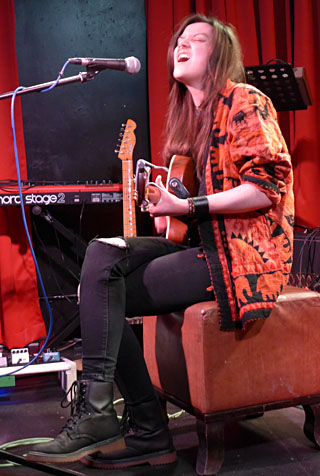 Naomi Hamilton sings about the zen illumination of sunsets and freckles, peppermint and a name that fizzes on the tongue. She is Jealous Of The Birds. All the senses are mustered and mixed. The songs tend to pivot on a moment of overload, when things are beautifully or sadly, all too much.
And, hey, this is her first gig. Her jacket matches the vermillion of the stage drapes. She plays in open tuning, she says little, but she whistles when it fits. It's partly a folknik sensibility with hints of whimsy and punk. Like Karen Dalton in Café Wha, or Kurt Cobain, lost in the pines.

This from a young artist who declares that "poetry is medicine". There's a bit of a crowd tonight, arriving early and expectant. And true, it is a privilege to witness. Like Soak, she has a strongly developed sense of self. Her stories are compelling. She may be an amateur botanist, since many of these songs are verdant, blooming, cross-pollinated. Lilacs and bluebells, sensation and hue.
'St Anne's' is a reverie that starts by the cathedral but then washes out to the sea, under an expansive sky. 'Dissolve' is about early, amazing love that has since passed. She sings about his soft skin and the scent of his hair. People are hushed. It sounds like the greatest confidence.
A valuable first gig, then. Jealous Of The Birds offers poetry to a prosaic scene. Naomi is saturating the colours, exploring new tones, challenging us to think and feel freshly. Behold, a hummingbird.
Jealous Of The Birds
The Bar With No Name, Belfast 
(a Hidden Machine / Chordblossom production)
08.05.15