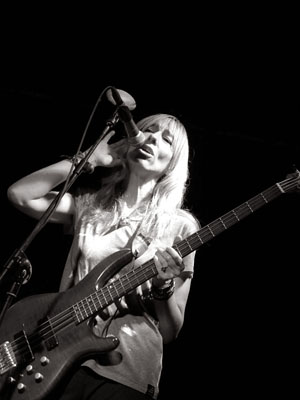 Cáit O'Riordan gives it attitude and plays Shane MacGowan songs. Last time she did this in Belfast was probably 1984 when The Pogues rattled about the slummy old Crescent Centre. I remember there was a stage invasion and the band looked anxious. Two minutes later and all of the musicians' booze had been hijacked by punters, thirsty like a gang of devils.
Great times and those first two albums were the best. Cáit had a perfect sneer and she played these stomping bass lines like she was Marshall Grant, accomplice to Johnny Cash in the Tennessee Three. She was a feature of that formative sound – showband, punkabilly and Irish. She also compounded the band's gender chaos, notably when she sang from the Jeannie Robertson songbook. 'I'm A Man You Don't Meet Every Day'. She was Jock Stewart. She shot her dog. She was badass.

Cáit exited soon after, just as the Class A lifestyle added a dangerous spike to the band story. After, she co-wrote a bunch of songs with her then partner Elvis Costello and during one productive weekend, they dashed out an entire album for lucky old Wendy James.
She's playing the Black Box in Belfast on a Saturday afternoon because the Cathedral Quarter Arts Festival asked her to. Simple as. Her proper vocation is a PhD in Dublin but this is a fun diversion. The chance to revisit tracks like 'Boys From The County Hell' and the majestic spook of  'Haunted'. Her pals Harry and Rod are fairly new to the scheme, but they follow the swing and they roll with the MacGowan method.
'Drunken Angel' by Lucinda Williams is a fond dedication to Shane. There's a new punk line drawn from 'Haunted' (recorded for the Sid And Nancy soundtrack) into 'Self Conscious Over You' by The Outcasts. Cáit seconds her affection for the Good Vibrations label later when she bats out 'Big Time' by Rudi. Belfast approves.
She smiles plenty these days, and recalls the joy of hearing 'Body Of An American' on The Wire, at the heart of Ray Cole's wake. She has made her impact. In O'Riordan's personal narrative we will also hear from Mark Lanegan and Placebo's 'Nancy Boy'. It all works fine.
Cáit concludes after 'Rainy Night In Soho'. Even in this rough state, the song still provides charm, heart and sustenance. There's is power in the Poguetry and Rocky O'Riordan is undefeated.
Cáit O'Riordan
The Black Box, Belfast
02.05.15