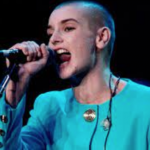 It's still the most badass performance I've ever seen. Sinead O'Connor at Madison Square Garden, New York, 16 October 1992. She was party to a celebration of Bob Dylan, alongside Lou Reed, Neil Young, Pearl Jam, Tom Petty, Stevie Wonder, The Band, Johnny Cash, June Carter and loads more. The plan was to sing Dylan songs to mark his 30 years as a recording artist. It was a generational moment, a stellar come-all-ye. Everybody on the stage got their applause and their place in the constellation was approved.
Sinead was scheduled to sing one of Bob's spiritual songs, 'I Believe In You'. This was from Slow Train Coming, an album that her brother Joseph had brought home in 1979. She had loved the record since then. Kris Kristofferson made the introductions on stage and there was a cheer across the hall. But this was tempered very quickly by intense abuse and a low, booing sound. It was a horrible tone that came from deep inside the haters. It was like the sound of an abattoir and it didn't let up, not when the band started to play the song intro, twice. Sinead fronted it out, staring into the belly of the beast, a crowd that was ostensibly about Sixties protest but had grown into a bunch of reactionary boomers. Sure, some of them still cheered, but that other sound rolled underneath it and the collective noise was frightful.
So Sinead told the band to quit. She had an alternative plan. Instead of singing Dylan's song about spiritual comfort, she declared 'War', a Bob Marley creation that in turn had been inspired by a speech from Emperor Haile Selassie I to the United Nations in 1963. She ripped out her earphones and she told it thus:
Until the philosophy
which hold one race superior
And another
Inferior
Is finally
And permanently
Discredited
And abandoned
Everywhere is war…
It was magnificent. She went through the other lines and then improvised her her own comments about child abuse. After all, that had been the source of the crowd hatred. Two weeks before she had torn up a photograph of Pope John Paul II on Saturday Night Live, and told the TV viewers to "fight the real enemy".  He point was that child abuse was endemic within the Church. Few believed her and the Dylan fans shouted her down because of it. But she said her piece and she looked the haters over with contempt become making an exit. Kris Kristofferson gave her a hug of solidarity and then she vomited at the side of the stage.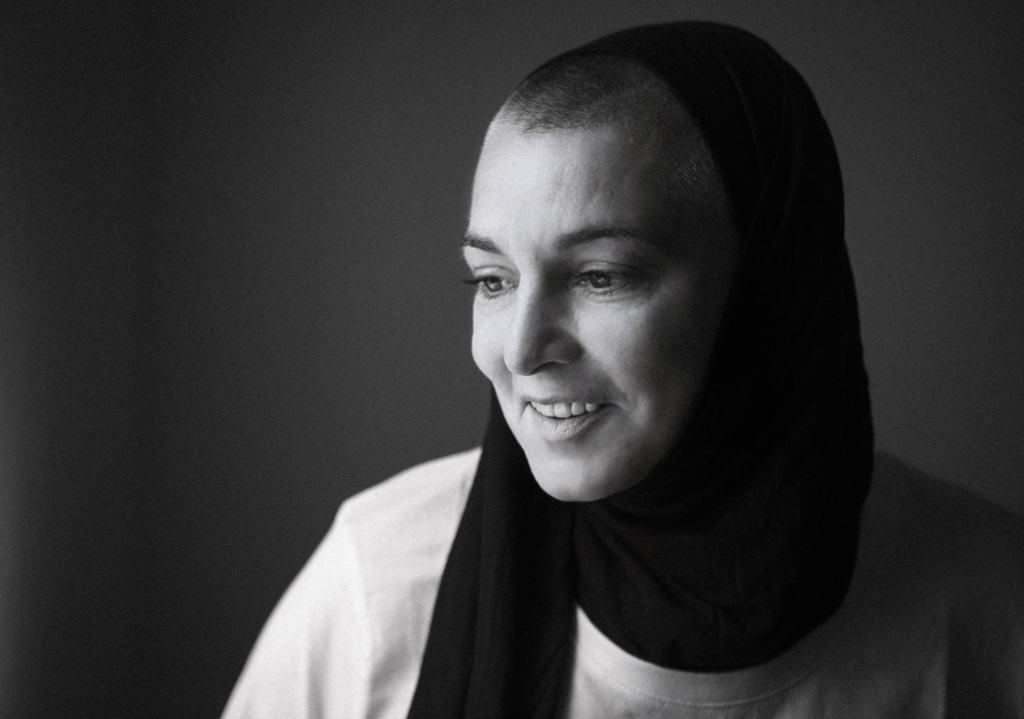 Sinead O'Connor is back with us, singing 'Trouble of the World', looking for freedom on the far side of despair. Her voice is exceptional, like it always has been and she's making her case for Black Lives Matter. She wears the BLM legend on her shirt for the  video shoot as she walks through Peckham, South London. The singer looks battle-worn but not defeated and she holds up the image of Mahalia Jackson like a religious relic. The song is testament to a life of weeping and wailing. But eventually, Sinead tells us, there will be the best reckoning.
'Trouble of the World', like many gospel songs, is marked by slavery and intense hurt. It arrived in the hymnbooks in 1934 as 'Soon Ah Will Be Done'. Then it was transfigured by Mahalia, who sang it in the funeral scene of the film Imitation of Life in 1959. It was the breaking point in a story about racism, deception and awful regret. She stood up in the choir stalls, channeled all the grief and let it be known that she was Queen of the Spirituals. Sinead is in no doubt either.
"I've been listening to Mahalia and similar artists for years and years and years. I wouldn't know her entire catalogue but she's fucking mind-blowing. I love Sam Cooke's gospel stuff with the Soul Stirrers. I've been listening to that for about 20 years. And an amazing singer called R.H. Harris – who is probably the best male singer you've ever heard in your life – and never heard of."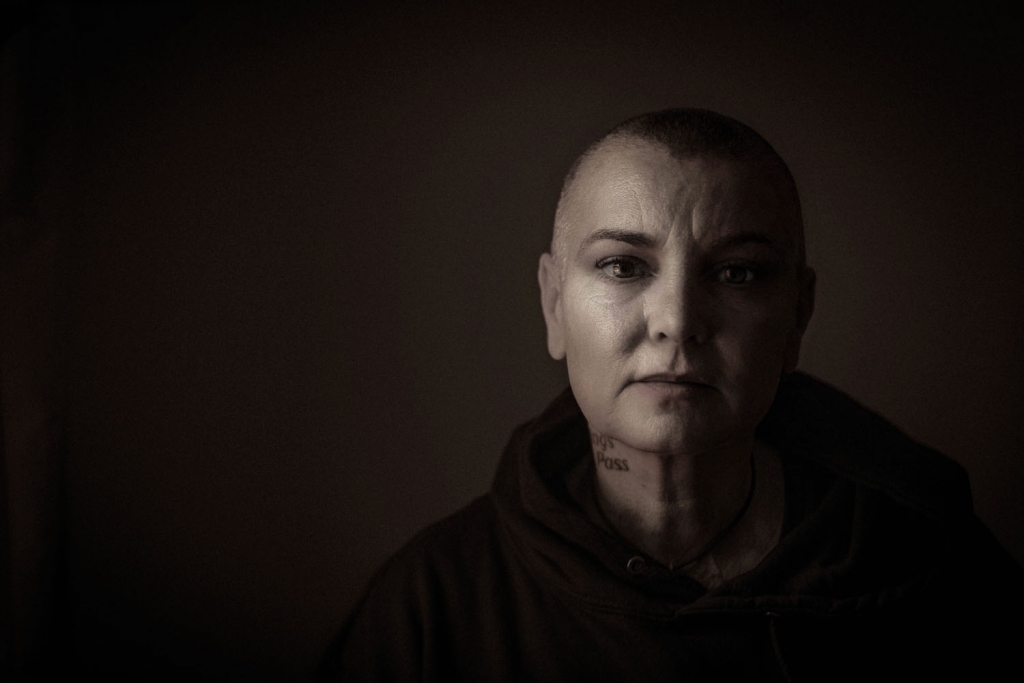 In 'Trouble of the World', Mahalia is looking for deliverance through death. How did Sinead approach her own version?
"I think the character in the song is trying to give themselves hope in a hard time – when life is over, there will be a beautiful paradise. But the way I see the song is different. I see it more as talking about this Earth. Mahalia embodies with certainty that there is a journey and there is a destination, which is paradise and we will get to that. Obviously she's talking about dying, but to me, it's more about how the world is going to become this godly place. The certainty that it will happen. That's what Mahalia and all these other artists like Curtis Mayfield embodied. Not just a hope but a certainty, y'know?"
Has your own sense of certainty been challenged recently?
"Well, the darkest hour is always before the dawn. I've always understood that whether personally, or en masse, human beings often have to be taken to the very edge of a cliff before they realise that they don't wanna fall over. Sometimes we have to be taken to the very edge of the darkness that we're capable of before we realise that's not the road we wanna go down. We're all in our own way responsible for what's going down. Whether it's because we've doing nothing about it, or whether we voted for so-and-so, or didn't bother voting at all.
"I know this sounds very corny, but even my 16 year old son said to me the other night, 'you know, we're all one soul'. That makes scientific sense to me. The Hindu people believe that we're all attached by this invisible cord. And if that's true then we need to start acting like we're one soul, and acting as one. But for many reasons we've been conquered and divided – whether it's by religion and politics or whatever the hell it is."
Sinead was a surprise guest at Shane MacGowan's 60th birthday at Dublin's National Concert Hall, 15 January 2018. Her choice was a lesser-known tune called 'You're the One'. She invested so much heart into it, revealing the lost value of the Shane song. Also, it was clear that her skill had not left her. She had a rare power to be inside the song, just as she had achieved in 1990 with 'Nothing Compares 2 U' and on so many other occasions. She let herself be possessed yet she was artfully in possession. Afterwards, David Holmes came over and insisted that she should make a record with him in Belfast.
"So I've been running up and down to Belfast for a couple of years. We're just slowly chipping away at an album."
And progress is decent?
"Yeah it is. We've got five tracks down. Now I've got to write five more. My writing process is kind of slow, as everyone can see. But I'm trying to get my finger out of my ass, basically and come up with five more songs. But the songs that we do have, they're real special, so it's trying to come up with songs that meet that standard. Not just any old shit, y'know?"
There were Sinead spottings on the Ormeau Road in Belfast. Were you there often?
"I was staying up there about two years ago. I spent the whole summer working with David. Belfast is my favourite place on earth, basically. It's so peaceful, I love it. I really went there to kind of retreat. I more or less kept myself to myself. David had a little house on Galwally Park and I stayed there. It was lovely and I just wrote songs. I had been unwell until not long before that, so I was just recuperating.
"David is entirely responsible for how the thing sounds. I sent him the Mahalia version. There's a couple of different versions. I sent him a particular one – the one with the piano – and he's responsible for the rest. My only instruction to him was that the essence of gospel is organ. You've gotta have organ in it. Otherwise, he put the whole thing together. He organised a remote recording. The musicians were all in Detroit apart from the piano player (Keefus Ciancia). David paid for the record to be made as well – he felt that passionately about it."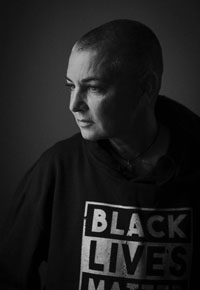 A working title for the album is No Veteran Dies Alone, a reference to the Chicago hospice where Sinead volunteered in the early summer of 2016, not long after she had suffered an episode of severe mental illness. Music and recording is also part of the rehabilitation, although Sinead is not entirely sure how the record will sound when it emerges.
"I often get stumped when I'm asked to describe music. 'Cause if you could describe music, you wouldn't need music. And then a lot of the way I write is quite subconscious – the albums pretty much make themselves. So I can't tell what moods there will be or not. It's really cinematic, obviously, with David involved. I guess we're gonna go for some 'up' tracks as well as some 'down' tracks. That's as much planning as we have. I just let the songs come out whichever way they want. I find out later what the fuck the album was trying to do itself. It's like an entity of its own, almost."
By rights, Sinead should have been touring across 2020 to promote the 30th anniversary of her second album I Do Not Want What I Haven't Got. The plan had been to perform the record in sequence – a piece of work that has sold over seven million copies. It would have reminded audiences of her voice, influence and rebel credentials. The early shows were keenly met and when she played the El Rey Theater, Los Angeles on 9 February, Kathleen Hanna from Bikini Kill made a detour to watch the show, later posting a shot of herself, enthralled on the balcony. Did they meet afterwards?
"I didn't meet her – I didn't know she was at the show. I would have loved to have met her – I'm a massive fucking fan or hers. We did find each other on twitter and then we email each other very occasionally."
How does it feel to know that people have taken inspiration from your music?
"Yeah, funny you should say that. Last night I was watching this beautiful experience, Public School 22 from (Staten Island) New York. There are two sets of footage. One is of them performing my song 'Jackie' in their classroom. Which was fucking incredible – a little 10 year old drummer goes nuts and throws his sticks and starts running about the room. But I actually had them on stage with me one night and we all sang 'Jackie' together. And that was incredible 'cause they lost their shit when I came to meet them. It was like, oh my God, I didn't realise I was an influence. This was a bunch of 10 to 12 year olds kids. That was incredible. I love the rare times when you have your work on the Leaving Cert or on some exam at college or whatever, I like that.
"It is lovely to know that you've been an influence, but it's hard for me to grasp that fact that I could have influenced Kathleen. Because she would be a big influence on me."
Meantime in Ireland there are acts like Susie Blue and Pillow Queens who carry the torch…
"You know this is a crime and I should be jailed for it, but I've got older and I've stopped listening to music, other than Hindu chants or Islamic chants. Which is really awful. I need to start listening to music again. I used to be obsessed with listening to music until about five years ago and then there was a whole load of shit went down and I had a hysterectomy and wasn't well for about five years and I didn't even look at a guitar. And then I felt so kind of aged, frankly – 'cause all I wanted to do was to listen to something really peaceful. So I'm completely fucking out of the loop on everything. I need to be dragged into a room and forced to listen to everything."
And faith – does it give you the strength to work through the murk of 2020?
"I think they we're heading somewhere very good as a human race. It's birth pangs. It's very painful being born. But at the end you get a beautiful baby. I think we're heading somewhere beautiful and peaceful obviously, but it may take some time to get there and there may be some fighting on the way there, you know. It's why I wanted to reintroduce Mahalia and artists like that. They embody the certainty that we're gonna end up living peacefully together."
Stuart Bailie
(This is extracted from a longer feature from Issue 3 of Dig With It magazine. See here for online sales.)