"We've started a collective called Reckless Abandon," says Rocky O'Reilly, boss of Start Together Studios. "And the whole concept is just robots shooting lasers over Belfast – just let's fucking blow stuff up. The first is our band Vivid Dreamer, which is me and Ryan (McGroarty). We had The Simpsons on a loop in the background. We were picking lines from the show and turning them into songs and playing synths. Pure escape from running a business in the music industry.
"And then the character goes off on all these mad adventures. There's conspiracy theories. There's all this other stuff. Now we're excited to push some of that energy out. For us, it's like small successes. We wanted to do vinyl with it. If we sell 100 vinyl then we do a show. It will be amazing. And then on to the next."
Reckless Abandon, Rocky explains, is an antidote to over-thinking and a common tendency for musicians to obsess over marketing, strategy, social media, all the tiresome stuff. So the Vivid Dreamer album was written and lashed together in a week. It's a marker, a throwdown, a tonic.
"Ryan and I work in the studio with lots of artists and we see how people get really stressed out and worried about releasing music. They worry that their story's not developed enough. So they just never release music. They work tirelessly on songs and then they just sit there and rot. And we have both been going through that with artists that we love. We're just so sick of it, essentially."
Rocky sounds forthright, revived. He's back in his Gordon Street base after three months, checking out the rooms, circulating the air, visualising the new era.
"I wanna write and record and release and collaborate more. The other side of it is we wanna help young musicians at the studio. We want to get artist through the door and help start their career. We've snapped ourselves back into focus on both of those things. So more than changing, it's almost like a reboot."
He is rightly proud of an earlier 2020 release, 'The People Could Fly'. It's a collaboration between Rocky and rapper Tribe One from Atlanta GA. The pair have reconvened their 2014 project, Malibu Shark Attack! It's about the synths, transatlantic respect, signature hip hop and a searing connection to Black Lives Matter. The track was finished in a rush and delivered on Juneteenth – June 19 – to mark the emancipation of slaves in America and to support the international revulsion over the killing of George Floyd and many others. Proceeds have been donated to The Black Lives Matter Global Network, The NAACP, The Bail Project and The Atlanta Solidarity Fund.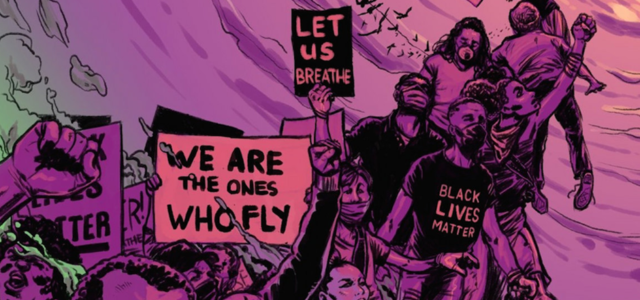 Tribe One explains it thus:
"This song is dedicated to the memory of my friend Chinedu Okobi, who was killed by police in October of 2018. I met him at Morehouse College in our freshman year and we bonded because we were both from the San Francisco Bay Area and hip hop fanatics. He died on the street where I used to walk to the mall and ride my bike to the comic shop and where many of the formative experiences of my childhood took place. He was being arrested for jaywalking and he ended up being tased to death. I fully support the brave, powerful and righteously furious people protesting for equality and equal treatment. For the demilitarisation, defunding and reformation of the police. And for the acknowledgement that Black Lives Matter because until they do, all lives don't."
When Rocky first sent over the instrumental track, the working title was 'Holy Good Fuck'. Tribe One took the sentiment and made it articulate. He took the title from a 1985 Virginia Hamilton collection of African American folk stories. Some of the slaves in the main story had an ancient magic that allowed them to transcend and fly. The story works on a similar, mythological level to the Irish story of the Children of Lir. Intense suffering, escape and singing.
"You're sort of taking it all in," says Rocky, "and it's beautiful and it's artistic and it's creative and then you get hit with why it was written. The weight of it is just unthinkable. He had the first line of that song for years. And then he said he had to get it out of him – it was almost therapeutic for him. And as soon as he sent it to me I knew we just had to move one it. You can't sit on something like that. That is the message."
Stuart Bailie
Extracted from a feature in Issue 2 of Dig With It magazine, July 2020. To order, click here.
The Vivid Dreamer album is available on Bandcamp