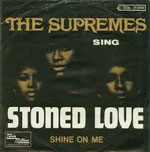 #1. The Supremes – Stoned Love
'Stoned Love' was the final US hit for The Supremes. Diana Ross had left by this time, but Jean Terrell was entirely capable. Actually, her voice has a richer timbre than her predecessor, and with the help of Cindy Birdsong and Mary Wilson, the song builds into this fierce expression of hope and deliverance.
The way that it surges and flutters is perfection. No other record moves me so entirely. You can dance to it and it takes to this unique, beautiful place. 
Kenny Thomas wrote the lyrics and while they don't look amazing on the page, there's a yearning sentiment that Frank Wilson finessed.
Vietnam was surely an issue as Kenny figures that "a love for each other will bring fighting to an end". Bands like the Rolling Stones were priming this new decade for cynicism and defeat, but The Supremes sang it like they believed it to their souls. The original theme was "stone love", like a layer of granite, imperishable. But the change also works, because now the feeling is transformational and gone.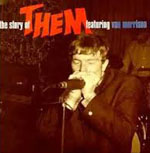 #2. Them – Route 66
Two thousand miles of motorway on Route 66. Many towns and chances for messy behaviour. And by the sound of it, Van Morrison and Them wanted to throw nights of filth and hallionry at every stopover. They play with pungent intent. There are rough notes and rumblethump dynamics. Van invites us on a lurching progress from Chicago to LA with an accent that often forgets to be American and settles on a default of spidey, East Belfast.
The tune was recorded at Regent Sound, Denmark Street London – an apparent "shithole" where the Rolling Stones had recorded a mildly posh version of the same old old jazz standard a year before. There's no comparison. As the historians tell us, Them invented punk rock a dozen years before the event and here's the proof. And when Them finally did make it to LA, they blew all the money from their Whisky A Go Go residency on the bar tab. They made a new mate there called Jim Morrison. He was a grass-head, but Them turned him onto hard liquor.
"We killed him," says Jim Armstrong, laughing.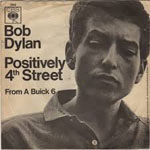 #3. Bob Dylan – Positively Fourth Street
Many of my best times in Belfast have been under the influence of Terri Hooley. When the party's been done and consumed, when the talk has gone beyond loose and is trespassing on the borders of incoherence and Hooley is gassing like a sainted tramp in a crewneck sweater. His wisest notes and most effervescent philosophies all arrive at this moment, just as the memory bank is fit for robbing and only the spare change remains in the morning. You want music to enhance it. We riff and free associate as we haul the tunes from the shelves and bark the words and trade vinyl selections like a busted tag team.
Always there is a Bob Dylan moment and most times it is 'Positively Fourth Street'. Sneering and petulance and self-regard from an artist on the edge of his meth-and-majesty phase. A guy that's outgrown the folk scene and is nazzed off with the begrudgers and backstabbers. Al Kooper plays facetious finger stabs on the keys and Mike Bloomfield is the appointed guitar mangler.
'Positively Fourth Street' is the song you play when you exit an old part of your life, when you deny the small horizons, the haters, flakes and the useless incumbents. You set up the Bob record, you enlist Terri to help sing those perfect truth attacks and hey, we got ourselves an exorcism:
"I wish that for just one time you could stand inside my shoes

You'd know what a drag it is to see you."
Stuart Bailie