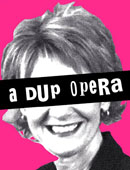 Abomination at the Lyric Theatre in Belfast was astounding. Actual words from local politicians set as an uptight libretto. Homophobic lines of the cheapest order transposed into high art. Central figures from our recent history talking of supposed gay cures and justifying their comments as "scriptural".
And ultimately, this most judgemental onstage character was before us, in flagrantate delicto with a young lover while the supporting cast surrounded the Biblical offense with fluttering, angel wings. The capacity audience was sucking air and wowing. Much of the content had been testing but the creative response was all skill and verve.
For many of us, it was an introduction to live opera. Perhaps this wasn't a definition of the medium that the purists would find acceptable but no matter. The core of the narrative was a series of live conversations between Radio Ulster's Stephen Nolan and Iris Robinson of the Democratic Unionist Party in 2008. Homosexuality, she insisted, was an abomination. She had the back-up lines from her Bible and a psychiatrist who might set the sinner-practitioners on the righteous road.
These transcripts bolted the drama together but the Iris sentiments were supported by a DUP chorus line of Ian and Sammy, Jim and Jeffrey. Giant-sized newspaper quotes flashed on the back wall and were pasted into the score of the Belfast Ensemble. The repetitious swirl of Sammy Wilson in 1992 was memorable, upsetting: "They are poofs. I don't care if they are ratepayers. As far a I am concerned they are perverts."
This was a key programming moment in the Outburst Arts Festival and a chance for Conor Mitchell and the Belfast Ensemble to finesse a piece of work that had been piloted as a scratch concept last year. It was pertinent, purgative theatre and it sold out over five productions. It felt like another strike against the monolithic power of fundamentalist politics in the north, aiming at fault lines of intolerance and hate, alert to a wider context of street attacks and verbal thuggery.
Musical broadsides at DUP policy have been operational here since at least 1978 when The Outcasts sang 'You're A Disease'. Then, it was Belfast teenagers railing against the party's council policy of chaining up playground swings on a Sunday. In the song, such religious demagoguery was contagious and punk rock was the best inoculation. But the Footloose syndrome survived into 1993 and flourished in Ballymena, where the DUP-dominated council banned a gig by the Electric Light Orchestra. Councillor Roy Gillespie explained thus: "Rock music is mostly known by the four D's: devil, drinking, drugs and debauchery."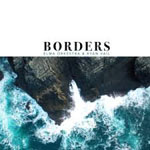 Unsurprisingly, the DUP tried to exclude Jerry Springer – The Opera from Belfast in 2005. As a payback, Abomination took those cues and furthered the disruptive line. Meantime the BBC radio networks are playing a piece of music called 'Arlene' by Ryan Vail and Elma Orkestra. It's the closing track of 'Borders', an album that won the Northern Ireland Music Prize on November 7. 'Arlene' was their response to a Patrick Kielty TV documentary, My Dad, The Peace Deal And Me. In the course of this journey, the presenter asked DUP leader Arlene Foster how she might countenance a united Ireland. She told Kielty that "I would probably have to move". Which are the parting words of the album – the pitch lowered, the voice mutated, the rancor amplified.
Hand Models have previously sang about skate shoes and bananas. Their music is wry and exciting and all those hours of listening to The Pixies have been put to good use. But without much warning in 2019 they came up with a song called 'Last Leaves On A Tree'. The premise was that young people were packing up and leaving. Only a few remained, the "last leaves" of the title. Gay friends were taking the train to Dublin, where they could marry and pay four times the rent. "If he stayed in Northern Ireland he'd be breaking a civil law," Gareth wailed. The video cut up images of Belfast rallies, religious fire-starters and finally a series of musicians from Wynona Bleach and Problem Patterns who denounced our biggest political party in unconditional terms. "F**k the DUP," they chorused.
The Love Equality movement also united the northern subcultures. 'People Like Us' by Susie Blue was a powerful rebuttal of the idea that LGBTQ+ was merely a lifestyle choice. Gender Chores sang about consent, reproductive rights and issues pertaining to a non-binary worldview. They favoured a DIY fuzz, a blizzard of words and philosophies. "Foster love and legislate," they proclaimed on 'Legisl8'. Their 'Womansplain' EP was pebble-dashed with rage, with songs like 'STFU' and F**k The Patriarchy'.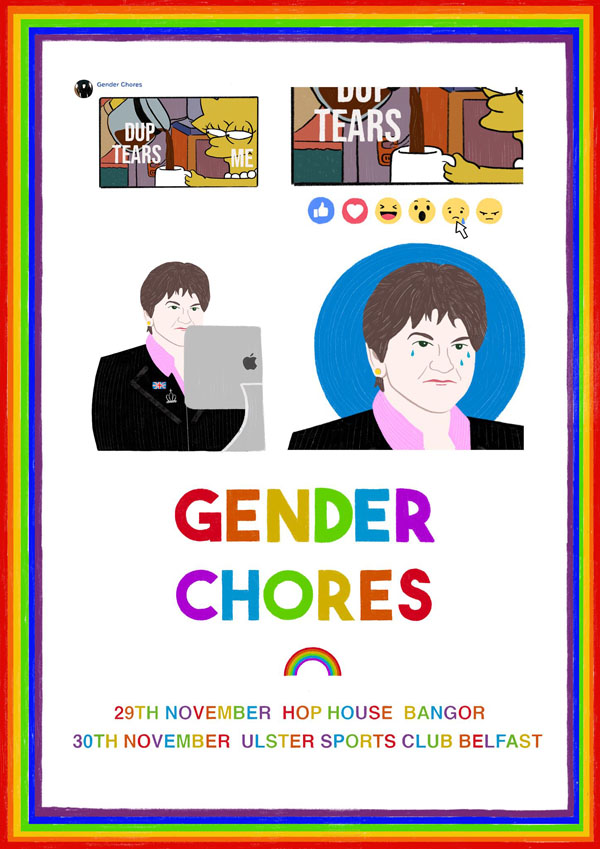 October 21 brought a deal of marriage equality and reproductive rights to Northern Ireland but the artist community is not relenting. 'Abomination' is set to travel. The new single by Gender Chores is called 'Toast Sandwich'. The promotional artwork is a meme from a Facebook group called  Ireland Simpson Fans. Lisa is drinking DUP tears for sustenance. Below it, a cartoon Arlene weeps. "We love a good anti-DUP rhetoric," says Sam.
Stuart Bailie
(Author's note to self: future stories on this theme must also consider the output of Kneecap).