Bridie Monds-Watson was in her Manchester flat on Wednesday October 19 when management rang. It was a request from U2. Could she add her vocals to a track that would feature during the band's performance the following night? It was for a section in the gig about women of the world, taking over. Sure, she said, and recorded her part two hours later. Next evening, she was in a private viewing area at the Arena, listening to her own voice over the speakers and getting a namecheck from Bono.
"Amazing. But just weird."
Noel Gallagher was also there and so they said hello.
"Are you a lesbian?" he asks.
"Are you?" says Bridie.
"And then after the show, Bono wanted to walk offstage with me. Again, it was weird. But really cool. So I walked offstage with him, around this arena, back to their escort car. I was walking to the car with Bono's arm around me – a rock and roll, weird thing. And Noel Gallagher was also getting in a car. 'It's the lesbian!' he says. "
Bridie laughs.
"And then they all get in the cars and I walk back to my friends."
Such things happen when you are a recording artist called SOAK. When your debut album, 'Before We Forgot How To Dream' gets shortlisted for a Mercury Prize and wins the Northern Ireland Music Prize in 2015. When you tour the world for three years and then take time out to recuperate and then gather all the ideas in the notebooks into a second collection of songs. When you decide to leave your hometown of Derry after visiting friends in Manchester and you drive down the Glenshane Pass with the car all loaded up for the ferry, and it feels like another scene from the greatest film.
The first new song is called 'Everybody Loves You'. Bridie sang it on the Late Late Show and put the f-bomb into the broadcast. The record is beautiful, a reassuring hug, a call for empathy in a nasty world. The lyric is a conversation between a frantic soul and a grounded, loving character. It represents the different parts of the singer's personality, "all those anxieties but confidences as well".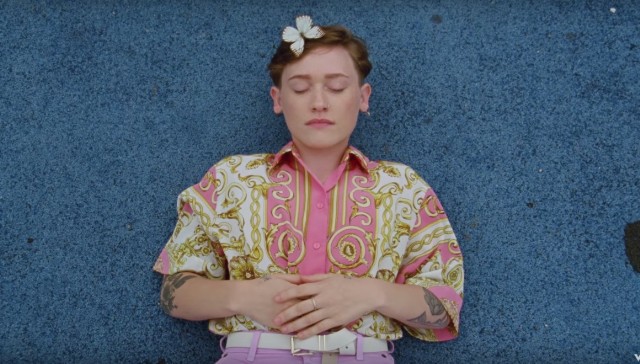 Bridie was diagnosed as dyslexic when she was five but she's not been diminished by this or any other setback. "That's my vibe. If I'm told I can't to something then I have to do it. I just strive to do it, more."
She was writing seriously at 13 and an astonishing performer since her mid teens. Early songs like 'Sea Creatures' – the story of a homophobic incident in a school playground – had substance and soul. From this outstanding start came a resolve to write even better.
"On the first record, I mumbled some of the lines because I didn't want people to know what I was saying, and this time around everything I say needs to be said. I'm proud and excited to say the things I have to say. They need to be said."
Notably, Bridie has lent her voice to the marriage equality debate, writing a letter to the NME during the referendum in the Irish Republic. Does she look forward to a change in Northern Ireland?
"Big time. The time will come it's great in that there's still so many people that aren't letting it slide. There was such a push down south and there's people working on it here as well. Everybody I know wants it. It's possible and like anything we want, we just have to stop asking for it and demanding it. And it will come."
Stuart Bailie
(This feature was originally published in the Mirror, December 7 2018)