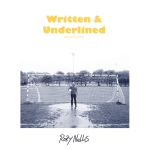 "I wanna make loads of money," howls Rory Nellis with a handful of gravel, a hint of age, "to justify all this time."
His opening outburst on this new record exists alongside the type of sustained feedback / acoustic strums combo which made multi-millionaires of the Followills. Just 20 seconds in and Written & Underlined sounds very bold indeed.
Previously, Nellis downplayed his own ability. 'There Are Enough Songs in the World' was the lead single and title track on his previous record, during which you got the impression he'd happily permit taking or leaving what he had to offer. This time around – throughout an expansive, sublimely produced, detailed and thoughtful collection of songs – he's given up on indifference, choosing instead to attempt and drag you right onboard.
It helps that every word is believable. On 'Video Shop' – a straight-up, unashamed country ballad – Rory speaks for us all.
"I wish that I could go back in time – and take it less for granted." Of course you do!
Later, he'll unveil the joy of simple pleasures – specifically escaping this decade's horror with a cosy movie seen so many times one can "shout out all the good lines". Again – we all know the feeling. Comfort in the snatches of familiarity we have left.
'The Fear' is wonderfully confused, dinky and sweet despite the song's theme. Rory's declaration "we're all in this together… everything is going to be alright," feels unconvincing, which we can assume was the intention. Later, on 'Old Town Revelry' there's real heartache, encouraging the finest vocal performance of Rory's output to date.
Finally, 'Be the Sea' guides us towards some kind of conclusion. "Be the sea, stronger than oxen….be the cheetah, gone in a second."
As advice, it lands as if from someone who's been there, done that – yet barely survived. The poignancy – especially throughout the "another day, another chance gone begging" refrain – helps make this the standout on a fine album. The stand-out from Rory's notably solid output to date, in fact.
It's an incredible end to an engaging record both musically and lyrically. Perhaps the lack of a proper playlist friendly hit – of sorts – could keep Nellis a relative secret, shielding him from the huge acclaim he deserves as a songwriter. But this is a record with a long tail – charm and subtle charisma ensuring it will age very well.
"I wanna be remembered… in time" sang Nellis, back on that opening track. In fairness, that at least feels like a given.
Rigsy
Q&A with Rory Nellis
On the title track, 'Written & Underlined', you consider giving up on music. How come?
That's a bit of a narrative of the whole album. It's where I was in my head four or five years ago. I was thinking that that time to push it properly has passed – I've missed my chance there. 'I'm too old, basically', was what I thought.
Then in 2019 I went to Nashville for a week. I played the Bluebird Café. It was a life-changing experience. I realised then that I could do it. I could stand up against these other songwriters and hold my own.
That was an epiphany moment and I decided I wasn't too old to give it a good go. And then me being me, I decided that if I'm gonna do it, then I'm gonna try and do it right. So I threw everything into doing it and doing it properly. I had a new-found desire to make this my job.
'Video Shop' is one of the stand-out tracks on the record. Very powerful and there are references in the lyrics to life during the pandemic.
You can actually hear my voice is quite emotional. I was welling up myself when we went to record the vocal. That's real. It hit me like a freight train. It all came flooding in.
You mention some characters in the song – Mark and Jack. Are they real?
At the start of the pandemic, my friend Mark dropped around with a home-baked sourdough bread. Everyone was baking. They say it's as easy to make two as it is one. So Mark and my son Jack had a chat over the wall in the garden. Mark's a DJ. I've known him from school.
You finish the record with 'Be the Sea'. That's quite the farewell.
Funny enough, I had 'Bumper Sticker as the finale, in my head. Which is why it's nearly the finale. And then when we came to mix of 'Be the Sea' and the way it came out, with all the vocals and the big strong, loud ending, it was obvious. It sort of wrote itself in that way, in terms of the order.
A beautiful surrender, you might say.
Yes, there's a sort of an 'into the sunset' kind of vibe to it.
(Rory was talking to Stuart Bailie)
This review is featured in Issue 7 of Dig With It magazine, out February 4 2022. Please support the efforts of Dig With It by buying the issue or subscribing. More information at this link.