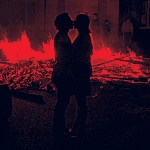 You hear the crackle of a Palestinian ambulance driver, reporting from the worst of it. There are voices from Ukraine and Afghanistan. Later, a French speaker will ask you to chose a direction – "Enfer ou paradis?" Will you tolerate this very hell, or struggle for a higher position? In response, the new David Holmes record is reaching for love and transcendence in the face of unrelenting dread.
Blind on A Galloping Horse wants us to sing a new song, to keep the channels open. It's his first solo record in 15 years and it follows from his soundtrack work on This Is England, Michael Winterbottom's recreation of Tory avarice and filthy practice during the pandemic. Now we have an alternate vision. Which is why 'Necessary Genius' calls up the radicals, dissenters and outliers: Bernadette Devlin, Angela Carter, Tony Wilson, Nina Simone, John Coltrane, Serge Gainsbourg and Jane Birkin. The catechism includes refugees and freedom of choice. Sinéad O'Connor is a departed friend, spirit walker and an enduring conscience. The Blue Meanies are not on the list.
The opening track, 'When People Are Occupied Resistance Is Justified' carries those voices of humans under duress. The sentiments are not expressly Irish, but as with Lankum, Kneecap and Blindboy, there's an extra empathy for the colonised, the walled-in and the excluded.
Elsewhere, the tunes are sweetly stacked and the drums rumble – spirit of Shangri-Las, grieving and not holding back. On 'It's Over, If We Run Out of Love', Raven Violet sings with the clarity of youth and co-writer Noel Gallagher guides the chorus home. There's a remembrance of Andrew Weatherall and his unreleased song, 'I Laugh Myself To Sleep', which has the wonky invention of an old Haçienda fave. Across the record, there are Manchester echoes, particularly New Order, circa Power, Corruption & Lies.
Attention tilts from the global to the micro, from the authoritarian 'mare that is 'Tyranny of the Talentless' to the personal development of 'Emotionally Clear'. Either way, awareness is critical. Hence the album title, a Belfast expression about seeing though smokescreen, pretence and doublespeak. Even a blind man on a galloping horse can see what a revolting mess we're in. What more can a poor boy do? Quite a lot, y'know. Here is a soundtrack for the fightback.
Stuart Bailie