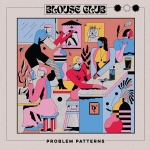 *Dial tone*
'Hello, you're through to Blouse Club!'
Given the way Problem Patterns sell their imaginary ad company on the song 'Advertising Services', from their new LP, also titled Blouse Club, it's not exactly what you'd want to hear on the other end of the phone line.
Blouse Club is made of money, it's a squeaky-clean enterprise, it's everything you're not. But it's also, of course, a farce: an ironic criticism of wealth hoarding, greed, and hustle culture that has run 98% of us into the ground. On their debut album, Problem Patterns literally makes it their business to come after the institutions and doctrines that have failed us, and there are many.
The queerpunk feminist band first emerged onto the scene in 2018 with their debut single 'Allegedly', in which they condemned victim-blaming and rape culture in the wake of a high-profile rape trial in Belfast. The quartet (Beverley Boal, Bethany Crooks, Ciara King and Alanah Smith) have been continuing punk's tradition of racuous activism ever since.
Singles released previously that feature on the album include 'Y.A.W', a dark and brooding track that carries the all too relevant message 'She shouldn't have to be your girlfriend/ She shouldn't have to be your lover/A woman's worth should not come down/To how much you wanna fuck her'.
There's also 'Terfs Out', which takes aim at transphobia and dangerously reductive forms of feminism. As well as 'Poverty Tourist' and 'Who Do We Not Save' which bring another side to the band's message in their lamentation of poverty and those who profit from it.
Blouse Club is impressive for the weight that it carries on its shoulders, Problem Patterns leave no stone unturned in the task of speaking truth to all who seek to oppress. The record also has an unwavering heaviness of sound, it has sludgy and luscious (trust me, the two can co-exist) instrumentation that powerfully compounds their warranted rage. Engineer Niall Doran of Start Together Studios does a stellar job of capturing the band's energy by unleashing it full blast.
On 'A Bad History of Men: Part II', vocals are delivered with rhythm and cadence straight out of the Adam Horovitz (Beastie Boys) playbook. Its subject is the threats that women who make music face from men:
'Sound engineers putting their hands on me, I'm not getting taken seriously
To the man who couldn't stand it when we got rewarded and decided to attack us'
There's also 'Big Shouty', which calls out the condescension and belittling that women in music are often subjected to:
'Don't tell me how we sound/ Like a band I couldn't possibly know /And then get angry when I do'.
If I had a penny…
Through their condemnation, Problem Patterns also find reclamation of themselves, their identities, and sexuality. 'Lesbo 3000', with its tongue-in-cheek title, tackles the serious issue of men who fetishise lesbians and see them as some kind of conquest. 'Picture of Health' is a reclaiming of self-image, and a mantra-like reminder to have compassion for your body. It's what gets you through this life, after all.
'Pity Bra' is a sweet, soft and hilarious spot on the record. It's a spoken-word retelling of  Problem Patterns' encounter with Carrie Brownstein and Corin Tucker of Sleater-Kinney at a concert. It's every Sleater-Kinney fan's dream interaction (sans the unintentionally accurate throw of a T-shirt at Corin's head). It is also clearly inspired by Sleater-Kinney in its harmonies and riffs, evoking the sound of records such as The Hot Rock and All Hands on the Bad One.
On the opposite end of the scale we have 'Domestic Bliss', the final track of the album. It's an absolute eruption of a track that will remind you of the likes of Lingua Ignota, as well as some of Jane's Addiction's darker offerings.
Outrageous and outraged, Problem Patterns' long-anticipated debut album fights the good fights with wit, depth and joy. Joy within the band for the solidarity that they find in each other, but there's ample joy for the listener too. Problem Patterns are not screaming into the void, they want you to know that you're not alone. You too can scream and sing and shout as loud as possible about the structures that seek to divide us… and what's more punk than that?
Eleanor Gilmore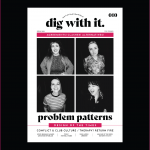 Dig With It Issue 10, with a cover story on Problem Patterns by Kristen Sinclair is available here.
Blouse Club is released on 27th October, via Alcopop Records. They are also shortlisted for 'Best Live Act' at the NI Music Prize 2023.