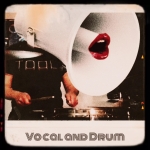 Two years ago, Acoustic Dan gave us the Smick Folk album, a screeching, scatological picture from the disadvantaged slopes of Belfast. There were many 'c' bombs and a loathing of grift culture at Stormont. When he sang 'The Well Below the Valley' he drew a line back through Christy Moore and Planxty to an older, weirder Ireland.
He used his Facebook platform to test out tender sentiments like 'The Sleeping Bag Girl' – stories of drug abuse and spiraling self-harm. Acoustic Dan sent out unvarnished reports from the city parts that knew trauma but was unfamiliar with any peace dividend. He loved the Woody Guthrie method and he used it well.
Now we have an exciting swerve, an album called Vocal and Drum. There are eight tunes and all it hurtles past in a quarter of an hour. The acoustic guitar has been rested. Gerard Skelly plays nervy syncopations on the snare drum and occasionally recreates a big rave breakdown on a simple kit. Dan answers with skittering, rhythmic lines that recall the proto-rap performances of Gil Scott Heron or The Last Poets, especially the latter's rage in Harlem, 'This is Madness'.
The record is themed around an infernal day. Dan descends into Belfast's Corn Market, where the hate preachers are hating and the post-Covid delirium is worse than before. "All the fuckin' headers are back in town," he declaims on 'Madness by Day'. There's a companion piece, 'Jungle by Night', when the author walks home after the late shift on a Saturday:
"There was a smell of good weed or raw piss,
As I watched two lovers kiss
Just outside the glowing lights of City Hall
He stuck his tongue down her gub
And she tugged on skin-tight jean balls."
This is Dante on downers, Baudelaire on the Buckfast circuit. 'Day Ticket on the Glider' is sheer percussion and 'Politicians' is a 25 second gag reflex. The writing is desperate and the laughs are bitter. But still the heart prevails and Dan has already nailed up a cosmic insight on 'Stardust', the opening track. "We're all made of stardust but so is shite," he figures. "Now get some perspective on your life." Amen.
Stuart Bailie
(Bandcamp link for Vocal and Drum)