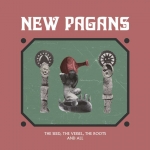 By Lyndsey McDougall
I have always felt an affinity with songs that reference motherhood, both its absence and presence. I knew I wanted to have children at some point in my life and at times this dominated my thoughts. It also influenced the decisions I made about my future, relationships and creative practice. The primal urge of wanting to be a mother consumed and terrified me for years.
When I first heard PJ Harvey's song 'Down by the Water' I felt comfort in her expression of maternal horror and grief. Harvey Illustrates a woman lamenting about drowning her own daughter, entwined in a reference to an old American folk song 'Salty Dog Blues'. "Little fish, big fish, swimming in the water. Come back here, man, gimme my daughter". I can only theorise its meaning but the song appealed to the part of me that believed I couldn't have everything, if I wanted to be a good artist I couldn't also be a good mother.
This mindset was a result of my learned experience living as a young creative woman. Most of the artists and musicians I idolised didn't appear to be parents. On reflection I was misinformed, mothers did exist within the creative industry but it wasn't something they usually flaunted, probably for a variety of very justifiable reasons. However, when I began to look closer at the art and music I loved I discovered creativity, relevancy and potency thrived alongside motherhood. I distinctly remember the relief I felt when I discovered my favourite artist Louise Bourgeois (1911-2010) had three sons. Bourgeois' work is emotive and intense, her drawings and sculptures are the most primal, beautiful formations I've ever seen. Beginning in the mid 1990's Bourgeois produced a series of spider sculptures stating that the spider represents the mother. Through researching Bourgeois' life and work I came to understand that I could try for both parts of me, the mother and the artist.
In 2017 I gave birth to my daughter Maisie Eliza and then in 2018 to my son Odhrán Cahir. I can verify that nothing can prepare you for the onslaught of love and sleep deprivation that comes with having a child. During the night feeds it felt like being trapped between two worlds, in some kind of strange trance. Unexpectedly, I felt more creative than ever and managed to scribble down some New Pagans lyrics between feeds. I also found great comfort in the artists who had already explored motherhood. The Yellow Wall Paper, a gothic novel written by Charlotte Perkins Gilman (1860-1935) helped me feel less isolated, Kim Gordon's autobiography gave me hope but it was Björks' album Medúlla that intrigued me the most. Björk became obsessed with 'muscles, blood and bones' after the birth of her son. She details how the process of labour made her feel extremely conscious of the primal force within us all . In order to emphasis this physicality Björk created an album of predominantly human voices, a raw and powerful a cappella work.
I'm thankful that being a mother hasn't hindered my creative practice, by surrounding myself with inclusive and supportive people I've been able to continue making art and music. I realise not everyone is fortunate enough to have this opportunity but in my opinion none of us should have to choose between being a parent/carer and doing what makes us feel fulfilled. Being a mother doesn't define me but it's certainly not something I'm going to hide, I'm proud to be a mother and an artist."
Lyndsey McDougall
Lyndsey is a visual artist (lynsdeymcdougall.com), singer/lyricist in New Pagans and co-founder of Máthair.
The New Pagans album, The Seed, The Vessel, The Roots and All is released on the Big Scary Monsters label on March 19. The new single, is available now.
This feature originally appeared in Issue 3 of Dig With It magazine. Subscriber information here.