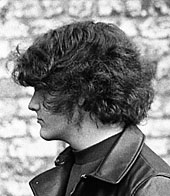 "I hear them say, get out of their country

From the same ones who owe us six counties

I don't remember a witch hunt for Kneecap

Course not – 'cause they're not fuckin' black."
Enola Gay – 'Birth of a Nation'
An intense song came out of the Black Lives Matter demonstrations in Belfast last June. Hundreds of protesters made their case at Custom House Square on June 6. The public space was marked out in socially distanced boxes but still the law handed out fixed penalty tickets and Community Resolution Notices. The mood was a composite of rage and frustration. Three days before, a crowd had gathered outside the City Hall with the same intent. On both occasions a BLM refrain had been raised: "there ain't no black in the Union Jack". Video clips were swiftly dispatched on social media and due uproar followed.
And so Enola Gay wrote about the many contradictions of the moment. They considered the patriotic backlash and the raw grievances. They sang about George Floyd and the distress of Irish history. They were furious that a poet with South African roots, living in Portadown, should have been demonised for her words while a hip hop crew from West Belfast could say the same thing with little censure. Their new song was called 'Birth of A Nation'. It was quite something. Spirit of Chuck D, fury of Zack de la Rocha plus strains of inflammable Irish punk. Guitarist Joe McVeigh explains:
"That song originated from the City Hall protest. A friend of mine was filmed, sharing her experiences as a young black woman growing up here. This video was then cut down and it was spread about by hate groups. All they cared about was that line about the Union Jack. They didn't care that she had been raised around this environment that made her feel unwelcome. She was vilified online and it was at that moment I thought, I wanna write about this."
"It was written out of frustration," says vocalist Fionn Reilly.
Joe: "As Imelda May said, perfectly, you don't get to be racist and Irish."
Even more contentiously 'Birth of a Nation' had stolen its title from the 1915 film by D.W. Griffiths. The title for America's first film feature had originally been The Clansman. It was a depiction of the Civil War, the Reconstruction and the Ku Klux Klan.
Joe: "It's drawing a parallel between how media was portraying things. How it doesn't really ask questions. They were portraying black males as thugs. And that was just echoing the plot of that film. A film that was made over a hundred years ago. The President at the time (Woodrow Wilson) had a private screening in the White House. And then a hundred years later, you had President Donald Trump telling white supremacist groups to stand back and stand by, when asked to denounce them. So it just echoed so much. It's drawing that parallel on so many levels."
Fionn: "It's also drawing parallels with Irish culture. Showing solidarity with the movement."
Joe and Fionn first met properly at a Chemical Brothers gig in 2016. They talk earnestly about "being honest with yourself". Fionn speaks less but with weight and emphasis. Joe has the riffs, the concepts and the method. He recalls that the early band get-togethers were all about determination and self-reliance.
"That was the main thing. We were, 'let's do stuff that we would actually want to listen to'. This is basically life advice, but to be as authentic as possible. Not everybody's gonna like that, but you do. You just put a mirror up to yourself and everything around you. Try to do something different. You know what I mean?"
They say they have tried to fetch some positives out of the lockdown experience. They've been testing out new "sonics" and equipment. They enlisted a new bass player, Adam Cooper, last May. They've been thinking hard about rebellious acts that have been tamed and "pigeonholed" and want to avoid those historic mistakes. But still, their admiration for Dublin's Girl Band is absolute.
"Look at all the bands," Joe says. "The Fontaines, Just Mustard, The Murder Capital – even Idles said it themselves. The first time you hear it, it just hits you in the face. Their debut album, I would say it is one the same level as Nirvana's In Utero, in terms of just a raw reflection of someone's mental health, just being against the wall. You just hear it. It's like nothing you've ever heard before."
Let's talk about the band name Enola Gay, then. The name of the B-29 US Superfortress Bomber that dropped the atomic bomb on Hiroshima in 1945, killing upwards of 70,000 people. Also the theme of a strangely haunting synthpop song by Orchestral Manoeuvres in the Dark in 1980. So what gives exactly? Joe takes a breath.
"The name Enola Gay, that's a big deal. When I was a kid my mum would be driving me to primary school and she had this 80s mix tape. And OMD would always come on. I would always skip to it – for what I thought was a very uplifting and joyous synth line. It wasn't until I was older that I found out what Enola Gay actually was. That I was having this social commentary on one of mankind's biggest atrocities. It just really struck me. And it's that conflict on an emotional and visceral level that has worked its way into our music. Time and time again. I try to get that deeper meaning to motivate me as a songwriter. To have that deeper meaning."
The band has been party to a techno remix from Mount Palomar and they're preparing new releases such as 'Sofa Surfing' and 'Through Men's Eyes'. The latter song relates to a notorious rape trial and the rage is evident. Once more, Joe takes the lead with the explanation. "It's not just an anti-rape song, it's an anti-system song. It's an anti-lad culture song. It's striking the problem from its core. Which is men."
Another challenge is to sustain the musical pressure during fractious times.
"We have a lot done. A lot of songs. And we're proud of every single one of them. When this all does blow over, we put our foot down."
Stuart Bailie
Enola Gay feature in the sxsw online programme on March 17. More info here.
A version of this feature will appear in Issue 4 of Dig With It print magazine, out March 19. Sales info here.