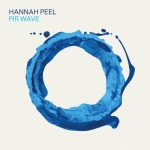 Hannah Peel is no stranger to world-building. Her work is ambitious and future-facing, blending elements of classical composition, contemporary pop and ambient electronics in order to reinvent genre. Staying true to her artist ethos of blending the old with the new, her forthcoming record Fir Wave is a reinterpretation of the work of Delia Derbyshire and the Radiophonic Workshop from '72.
Specialist library label KPM granted the Emmy-nominated composer with access to the celebrated KPM 1000 series Electrosonic. Through resampling, Hannah has created digital instruments; blending the experimental electronica of the 70's with her own contemporary edge to create connections that mirror the Earth's geological cycles.
"I'm drawn to patterns around us and the cycles in life that will keep on evolving and transforming forever", she says. "Fir Wave is defined by its continuous environmental changes and there are so many connections."
'Wind Shadow' is a stirring cut of angelic anxiety, orchestral experimentation and glitched-out bleeps and bloops that create a sense of ancient futurism. Malfunctioning electronics develop into a mutated 2-step on 'Emergence of Nature', it's mid-point largeness and vivid palette drawing comparisons with the classical associated ambience and emotional energy so beautifully captured by artists like Aphex Twin and – closer to home – Bicep. A flurry of future-facing electronica that would work just as well in a low ceiling, low lighting basement as it does in its conceptual form.
Time and space seem to stand still as we float through the sci-fi 'Patterned Formation' fantasy, its hypnotic tones and vibrations creating a sense of weightlessness. There is a sadness to 'Carbon Cycle', like a heroic fight that will inevitably end in death. The cycle itself has been a source of inspiration for a number of electronic artists recently – most notably Bristolian producer Hodge and his Shadows in Blue record on London label Houndstooth – which lends influence from the plethora of plants he grows in his garden. Here, Hannah captures that same awe-inspired naturalism, but with a splash of blissful despair as it suddenly hits 20 degrees Celsius in early-March.
"I'm finding it harder to express all those huge feelings in words and lyrics like I used to", says Hannah, speaking about 'Ecovocative'. "Instrumental music can conjure so much more and with this new track, I wanted to evoke those patterns in nature, celebrate the detail, the changes in light, play with primal shimmering energy, using obscure bells and the bubbling beats of electronic music. It's a track that celebrates the grace of biological life; its seemingly higher power constructed perfection and innovation. The sequence builds into the kind of rhythm you might hear being drummed on a subway platform, cloaked in Japanese new-age and 70s ambient serenity that lend its hand so beautifully to flora-soaked world building.
The album's title track takes its name from the ecological process of wave-generation: when a fir tree falls in a forest, a gap is created which exposes trees to damage which eventually die, but at the same time young trees start to grow in the wind shadow, protected by the survivors.
The instinctive, collaborative process is captured sonically by Hannah; marching band percussion and oddball synth lines enveloping in contemplative emo-electronics, before reaching an IDM-infused climax – weirdo-noise, blissed-out ambient and heart-string tugging guitar licks oxymoronically combining in its own rendition of 'Reaction Diffusion'.
Andrew Moore
(This review features in Issue 4 of Dig With It magazine. Sales info here)