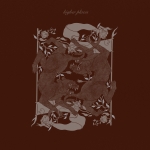 Following on from last year's release Into the Depths of Hell Joshua Burnside returns with a 'sister' album Higher Places which features a collection of B-sides, remixes and demos, all of which suggest a rising up from the darker sound of that original release.

"What if it's all gone the other way and hell is above us?" he queries on the ethereal, piano-inflected sounds of new track 'Higher Places', with its echoes of José González or Bon Iver and warm otherworldly vibe. That same atmosphere is captured on the alt folk-inflected opener 'The Only Thing I Fear', swiftly followed by a remix of the track by uladh. which adds slow stuttering beats to create a more submersive, driving mood.
On Higher Places Burnside embraces the more traditional folk sound that he explored on last year's EP Far O'er the Sounding Main and it is a style which suits him well. He captures an essential, almost ancient ambience on the demo of 'Nothing for Ye' which is echoed in the lilting, foot-tapping pleasure of 'Don't Come Again', both of which showcase the warmth and versatility of Burnside's vocal performance.
New track 'Never Was Never Were' is a jangling percussion-driven delight, blending propulsive Latin rhythms with a more traditional folk melody. Warm brass, a loose swirling arrangement and Burnside's assured vocal come together create the album's stand-out track.
The demo versions of the confessional 'Whiskey, Whiskey' and the existential 'Driving Alone in the City at Night' feature pared back arrangements of just lilting vocal and subtle, strumming guitar. This delicate sparseness serves to draw attention to the heartfelt lyricism, wry humour and pulsing quiet power of Burnside's song writing.
On Higher Planes Burnside sands down the sharp edges of Into the Depths of Hell to produce a rich and rewarding addition to his body of work. If there is one complaint to be aired, it is that the album comes in at just under the 30 minute mark and you will wish it was twice as long as that.
Higher Places is a subtle album, but one that compels you to listen and to listen closely as Burnside deftly balances silence and sound to create a beautifully intimate experience.
Cathy Brown
JOSHUA BURNSIDE'S GUIDE TO HIGHER PLACES
When did you decide to have a sister record to follow Into the Depths of Hell?
I think it was always part of the plan. I had these tracks and I thought, if I don't put this out, it will be just added on to the collection of songs that just pile up on hard drives and then never get heard.
'The Only Thing I Fear' was recorded around the same time as the album but it wasn't written at the same time as the other songs. Thematically it was a wee bit different – kind of an older song. It sort of fitted with the album but didn't fit on the album. Same with a couple of the others – 'Never Was Never Were' and 'Higher Places'. I wanted a very strong, over-arching sound to Into the Depths of Hell. So those songs didn't really fit on it but I still liked them. Enough for people to hear.
Tom Waits had that collection of unused material. He called it Orphans.
It was brilliant! Brawlers, Bawlers and Bastards. I loved the Bawlers.
You reference the Flann O'Brien book, The Third Policeman on the song 'Higher Places'. Have you read that recently?
I read it a few years ago. Mainly because my partner Emily is a big Flann O'Brien fan. I picked it up and re-read it for the second time over lockdown. I felt like, on the second reading of it, things make more sense. Maybe because we live in stranger times, that the second time I read the book it resonated with me a lot more. Because of the uncertainty and the times that we live in. And the chaos. It just hit home.
I love all of the metaphysical stuff. The boxes inside boxes, the never-ending sharp sword and the all the bizarre physics in it, that relate to infinity. Stuff that scientists are still thinking about now, in quantum physics. He was pondering about in this really, in of silly way. I just love that.
Joel Harkin does a remix of 'The Only Thing I Fear'. How did that happen?
I've got to know Joel really well in the last few years. He would come down to the folk club at the American Bar. He's a great dude. He's one of the funniest characters around. And a great songwriter as well. I didn't say anything about doing a remix or anything – he just sent that over one day. He said, what do you think of this. I said, this is brilliant. Exactly the sort of vibe I wanted.
On 'Whiskey Whiskey' you sing about your fear of flying. Don't you feel nostalgic for the days of air travel?
That's one thing I do not miss. And actually, because it's been so long, I'm dreading my first flight. The fear of flying seems to get worse every year. If I could get a boat and train everywhere I'd just do that.
On the demo version of 'Driving Alone in the City at Night', it sounds like an era is ending. You're in a ghost town. Things are changing for the worse. Or just possibly, for the better.
With the timing of that last album, all those tunes was sort of quite apt in a strange way. I never planned to write a really gloomy album about bad things happening but it kind of came out at the right time. Now I'm looking forward to more positive stuff. I'll try to, anyway. I might write an album of love songs or something – just to try something new.
And of course, you'll play those songs to a live audience.
I can't wait to perform for people again. There's a big hole in my life. Before, it was a great ego booster to get on stage and do your thing and get applauded and then chat to fans after gigs and stuff. To have that missing means you have to rely on other ways to improve your mental health. You can't rely on that. It's kind of a fickle thing anyway. It's a shallow way to keep your self-worth intact. It's good to get away from that a wee bit.
The song 'Nothing for Ye' is about the musician's license to be broke. You virtually have to take a vow of poverty these days. That's what the parental advice says in the lyric. You might as well sign on the dole…
My mum probably wanted us to be doctors. We grew up In the country and thought you're a success if you moved to the city and became a professional. I came from maybe a working class, farming background. And the idea to get out of the country and move to Belfast or somewhere else and become a professional, that was what they deemed success, I suppose. I am kind of joking in the song and I know that my mum probably would be pretty proud of me.
 Future projects?
I'm working on a lot of musical projects that are keeping me pretty uplifted. I've just finished recording an EP with Laura Quirke from Lemoncello. I've been a big fan of her music for the last few years. So to do some recordings with her, it was a real treat. I'm bringing out an EP with her in July.
Also there's Seacht Líne, the instrumental, trad, post-rock stuff with my brother Conor. That's been a lot of fun as well. Just concentrating on my work is the only way that I can see through this. I've done a few songs with Ciaran Lavery and Joel Harkin. Just trying to write and record with as many different people as possible.
(Joshua was talking to Stuart Bailie)