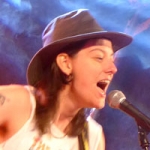 There's a moment when you walk down the slope of Ballymully Cottage Farm and you hear music in the bottom field and the heart swoops. Hey, a music festival. In a favourite location. With good bands, in the company of people you care for, in the brief Irish summertime.
Yes, there are changes. More sanitation posts, a track-and-trace protocol and an assigned place – a pod – for your own posse. There are no catering vans and so the aroma of woks, coffee grinds and fried onion is still absent. There's a one-way system for the Portaloo station but everywhere else there are grinning faces, gratitude and disbelief.
We believe it when we see ROE on the stage. She wears her hair in bunches, she's dispensed with the solo shtick and the Kaoss pad, while a real-time rhythm section is easing into a fresh idea. It's like September at school when people return as changed personalities with individual rites behind them. There's a need for adjustment, but also a tremendous jolt of the familiar.
ROE has new songs like 'Read More' and 'Alarms'. The tune that reflects the development most is 'I Can Change'. There's an urgency and a stuttering beat that's like a young Elvis Costello, keen to assert his story. Meantime we're delighted to hear the empathy of 'Hey Thomas' as live music is our friend again, accentuating the good.
No Oil Paintings are contesting a few issues with technology and an understandable lack of rehearsal time. It's all tolerable and 'Rise' eventually leaves the ground. "We're very glad to be doing this again," they say, with some understatement.
We pass the intervals waving at old pals and admiring the logistics. Stendhal mainman Ross Parkhill had wanted to invite 439 guests – one for each day of the music lockdown. Ultimately, 250 got the call-up. The festival plans a proper tenth birthday series in July and August, with participant numbers rising to 5,000. It's a bold commitment in this uncertain, messy epoch, but tonight's trial run is a determined one.
Ports have been away longer than most – that excellent album was five years ago. "Jeepers, it's mad blowing away the cobwebs," Steven confesses. Yet they revisit 'The Few and Far Between' and that big reckoning of wind, waves and the human spirit. It's reachable still and a new tune called 'Swimming Pool' has an evolving, sad grace.
Naomi from Jealous of the Birds wears a vest and a wide-brimmed hat like she's just returned from some challenging outback. Maybe she has, although her output of poems, photos and paintings suggest that the travails were internal ones, wrestled out the wilds of South Belfast.
She too, has a reconfigured band, and new ways to hear 'Plastic Skeletons' and 'Parma Violets'. The latter tune is released into the chill of the night, another apposite moment of consideration and hurt. Naomi's rise has been interrupted by events but 'Tonight I Feel like Kafka' is a reminder that the music survives and the metamorphosis shall be done.
Stuart Bailie
(For updates on Stendhal plans for 2021, see stendhalfestival.com)