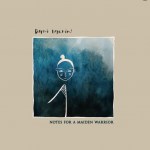 Dani Larkin's debut record, Notes for a Maiden Warrior is an album in two halves. The first, based around the theme of the Warrior, represents the dark side of the moon. It explores the archetype of Ulster as the warrior province, home to Cú Chulainn and his superhuman abilities. Larkin reinterprets this image in her songs, presenting the warrior's strength through reflection and resilience. The second half, Maiden, is sleepy and sincere. It plays with ideas of light and feminine energy, showing strength through vulnerability and a celebration of love and kindness. Notes for a Maiden Warrior draws on ancient, otherworldly tales as a study of tenderness, pain and learning.
Larkin's Armagh-Monaghan borderlands inform the sense of duality of the record, with one foot planted in each. Similarly, the ancient Irish concepts of the underworld and the supernatural underpin the LP, with the lines between the tangible and the mystical blurring with uncanny ease.
The opening songs set the tone for the first half with their brooding banjo pulse and eerie harmonies. On the beautifully menacing 'Bloodthirsty', ethereal voices accompany Larkin's vocals like a ghostly choir coming in and out of earshot. Known for story-driven songs, Larkin does not disappoint. 'Aoife' is truly spellbinding; her gentle howl is like an incantation as hypnotic percussion builds to a crescendo, taking the listener through battle with the song's mythical namesake. Frantic strings create a similar effect on 'The Red (Maca's Return)' before bringing the Warrior section of the album to a whispery close.
The warm shift in atmosphere is apparent in the second half. Ushered in by the gentle plucking of 'The Magpie', contemporary folk meets Celtic ambient over the course of six minutes. 'Samson and Goliath', a previously released track and live favourite reimagined for the album, invokes both Biblical imagery and provides a subtle nod to Belfast. Over hints of trad, Larkin declares, "I'm no Samson / Goliath can bring me down / I'm no Samson / Smite me where I stand / Take my crown", subverting the warrior image of earlier tracks but suggesting a quiet perseverance.
Larkin's love songs are beautifully sparse; the stripped-back plucking of 'Love Part One' melts into the layered harmonies and strings of the second. Her words are an enchanting poetry. 'Three Wise Women' is almost spoken word, with Larkin's frolicking harmonies mirroring the beings she describes as they move through the forest. "We howled into the pale moonlight / and went diving for ancestors", she enunciates with almost unnerving clarity.
Notes for a Maiden Warrior is a haunting collection of songs to be listened to around a campfire. It may be an album of folklore, fairies and romance, but it is firmly rooted in the Irish landscape. She has surely delivered one of the most outstanding releases this year.
Kristen Sinclair