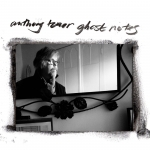 ANTHONY TONER
Ghost Notes, Vol. 1
RONNIE GREER & FRIENDS
Blues Constellation
There was never an Irish radiogram that didn't stack up 'Sample Charlie Pride' and 'Jim Reeves – 40 Golden Greats'. If you left the house you'd hear the same on Downtown Radio which powered up in 1976, playing 'Okie From Muskogee' to a listenership that bypassed the satire and banged out time on the steering wheel of the Vauxhall Viva.
It's a generational story that the children have willfully forgotten. But not Anthony Toner. His new collection, 'Ghost Notes Vol. 1' revisits the haunting. And fair play, he reminds us that 'Scarlet Ribbons' was an excellent, weird lyric with an unearthly pay-off. Jim Reeves sang it simple and unfussy and Anthony respects that. Also the poignancy of 'I Know One' is fondly redone as Toner plays piano and becomes the dependable loser from the Charlie Pride songbook.
You wouldn't want to hear a whole album of it though, so Anthony obliges with Neil Young's 'Sugar Mountain' and a lovely moment from the first Rickie Lee Jones album. 'On Saturday Afternoons in 1963' was sad and distant, tracking just after the elation of 'Chuck E's In Love'. With a contrary move, Anthony supplies a chugging groove and guitar delicacy that recalls Ry Cooder.
So the playing is elegant, the microphone is close and at times the fingers buzz without apology on the frets. Longstanding Toner fans will enjoy the acoustic grace of it all. He uses uncommon tuning to approach Van Morrison's 'She Give Me Religion' and an appointment with the muse. We might quibble over parts of the content – Steve Earle sang 'Goodbye' with the stink of rehab in his hair and awful remorse in his nervous system. It's not easy to hear it otherwise. But overall, 'Ghost Notes Vol. 1' is rightly intentioned and the title already has a waiver clause for future editions.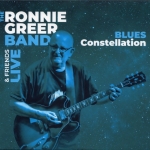 Anthony also features on the new Ronnie Greer live album. 'Blues Constellation' was recorded at the Island Arts Centre in Lisburn and his band is suitably alert. He favours the swinging, urbane blues strain of BB King and T Bone Walker and he's aided by artists who can provide essential lightness. John McCullough, a stupendous keyboard player and blues scene redoubtable, is a boss feature on 'Stormy Monday' and the Jimmy Rogers stomper 'That's Alright'.
Ronnie is a generous band leader in that he gives space for his colleagues before his own dexterous moments. Ken Haddock, another undervalued artist, sings a treat. Finally there's a Herbie Hancock blow-out to establish the jazz side of Ronnie's domain – extra merit to all those decades in faithful service.
Stuart Bailie
ANTHONY TONER
Ghost Notes, Vol. 1
www.anthonytoner.net
RONNIE GREER & FRIENDS
Blues Constellation
www.ronniegreer.com