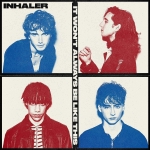 Ryan McMahon has the best lockdown hair in Inhaler. Lank yet a bit elegant. Ryan doesn't speak that often but when he does, it's cool and declarative. No confidence issues with the guy. He's not like the drummers you often meet. And now he's about to lean forward on the sofa, centre-left of the band formation and he's going to say stuff about the new record that will cause his colleagues to laugh, at the loose audacity of it all.
"This last year has been like the poker game in Casino Royale," he insists.
"Like how?" you ask him.
"Basically, it's my way of saying you never know what cards you're gonna be dealt. Someone might put something in your drink. You don't know how you'll recover from it but, we've basically just been doing what everyone else has had to do. Just play the cards whatever way they've been dealt to you. Taking it each day as it comes."
Ryan is thinking now about the exceptional career curve of Inhaler. A baby band from Dublin, going international, playing loads and engaging with the business. School friends from St. Andrew's College, supporting acts like Noel Gallagher while also hauling in the new fans that care less about the legacy bands in their big cars.
Every young musician has reason to feel frustrated by the pandemic and their due deference to the continued health of their elders. Ryan is no exception. Inhaler were being applauded in Tokyo and selling out the Troubadour in Los Angeles, anointed by the new media (over 20 million streams) and backed by the traditional business. Ryan was just fitting into the rock and roll lifestyle when it was abruptly taken from him.
"I think we were very used to having a loose structure – but a structure nonetheless – when we were on tour. We knew where we had to be at what time. We knew we were going to be somewhere. And then to go from that to waking up every day not knowing where you'd be tomorrow evening. Probably in your bedroom. Alone. That was a dramatic thing for us, particularly as a live band."
He's still processing the change. Ryan is away from his happy place.
"We had gone from being joined at the hip every single day, and seeing each other every single day for three or four years. And then for all that to dramatically stop. And for the world to shut down. We were asking ourselves an awful lot of questions because of how unsure and uncertain we were at the time about the future of the band and the future of our lives."
I've watched Inhaler twice in Belfast. They supported Touts in March 2019 and while there were a few gauche moments, there was also a deal of charisma that can't be procured. The sound seemed to reach back through the era of Interpol and Killers to the originals of the species – to the radiance of Ian Curtis and the knowing hauteur of the Bunnymen. There was suss and innocence in equal parts and you could hardly dislike it.
Six months later, they returned to upstairs bar of Voodoo as headliners. The ceremony was on and Inhaler was it. Singer Eli Hewson had intuited how to lean into the microphone, just so. He had an unhurried style, like the words were strange surprises as he uttered them. He looked a bit like Jeff Buckley, for sure, but he had that sensuality about his voice also. Especially when he moaned, "are we close to the end?" on 'Cheer Up Baby'. Meantime the songs had a pop vernacular, an invitation to sing along. We assumed, with some sadness, that Inhaler and Voodoo might never be acquainted again.
Elijah talks fondly of his days on the road with Derry's Touts. "It was our first proper tour. They really taught us a work ethic. I think when we went on the road, we were just not ready for that. For three guys who were younger than us, to be playing like that I think really inspired us."
His speaking rhythms are softer also. Like Ryan, he's thinking about the new dispensation and the duty of an artist to reflect it, somehow.
"I think we've not just changed as musicians but changed as people. Probably a lot of puberty involved. We've grown up and matured. I think before the lockdown when we were a bit younger, a lot of the songs were inspired by the things that you want talk about when you're a teenager. Like the girl you like or stuff like that, that's maybe a bit more instant. When the lockdown happened, we got a chance to make those subjects a bit broader, and talk about our generation, not just ourselves."
There's a theme in rock and roll mythology about the mysterious, lost record. The Who abandoned their Lifehouse project and The Beach Boys discarded Smile. Prince was bedeviled by The Black Album and the bootleg industry that followed it. The Stone Roses put out their self-titled debut in 1989 but it was effectively their second, since an earlier effort had been axed. Often the missing record survives like a kind of ghost, informing the new music, allowing a creative leap or even reproaching the artists that have left it behind. And while it might be rash to include Inhaler with the aforementioned, part of that syndrome applies. Basically, they ditched a long player. Eli explains:
"I think before that it was just going to be a compilation of singles, because, that's just the nature of how we were going about our business. We were on tour and then in the studio for a couple of days recording the next single and then we were back out. It was kinda like Elvis back in the 50s. He didn't know what an album was. It felt like that. But the lockdown gave us an opportunity to really think about a narrative. It's not a concept album by any means, but it still has an overall feeling and its more an album now."
Five new songs were introduced: 'Slide out the Window', 'Totally', 'In My Sleep' 'Who's Your Money On' and 'When it Breaks'. As it mutated, the band traded thoughts on Zoom meetings, patched out new ideas and concluded, reluctantly, that some live favourites weren't making the cut. The tonality was different. While was an unfortunate outcome for the likes of 'Ice Cream Sundae', a song that will orbit the playlists streams of Spotify forever as an orphan. When I mention this loss, Eli looks a bit sad.
"Thankfully it's not like the old days. You can just listen to it, anyways. It doesn't make a huge different to people who love the song, thankfully. But to us we're constantly writing music. We just felt that in some cases, we wanted to move forward and with 'Ice Cream Sundae', we think it's served a great purpose. We've got songs on the record that we think are just stronger and we're more excited about and deserved a position on the album.
"It's just based on the feeling of it and when it was written and what it was written about. 'Falling In' is another one that we loved that we had to keep off the album. It was a different era of Inhaler and I think like Rob said, it had its own time."
There's a tune – you might call it an interlude – on the record called 'What A Time To Be Alive'. The title promises a big statement, an all-revealing gestalt. We shall save the experience for the individual listener, but safe to say it's not what it might promise. It's a tease. A deal of bathos. Inhaler like this listener reaction. They laugh and shout over each other.
"That's the interlude!"
"Hah ha!"
"That's the fake news!"
"I think you're dead right," Eli concedes. "We just didn't have the next lyric."
Stuart Bailie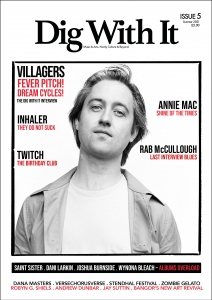 (This is extracted from the full Inhaler feature in Dig With It magazine, Issue 5. To order the magazine, see sales info here. We accept international orders.)