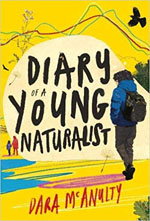 The intellect is acute, the conversation is rich and Dara McAnulty is free with his ideas. Yet as you walk around Castlewellan Forest Park on a Sunday that's lit and fresh, you also concede that the naturalist has eyes and ears for other, important stuff.
The first bumblebee of the year follows a lumbering flight path and the joy is unreserved. A robin redbreast is reliably bold and Dara greets him like the best pal. There's another bird high in a tree above the rhododendron and he riffs with his mother about the likely type and the cause of his business. This 15 year old is powerfully tuned into animal song and the seasonal swoon of the flora. He also talks of Norse mythology, Irish place names, megaliths and how rodenticide can end up killing birds of prey – the raptor species that he adores. These were part of his early education of a naturalist, a delight that will not leave him.
He speaks with the clarity of youth and in 2016, this translated into a blog, Young Fermanagh Naturalist. Many readers signed up, and thousands followed him onto Twitter for immediacy, heart and poetry. Now there is a book, Diary of a Young Naturalist, a calendar year that starts in Fermanagh in March 2018 and signs off in his new home by the Mournes. He loads up on whooper swans and a murmuration of starlings. He helps deliver the People's Manifesto for Wildlife, gets acquainted with Extinction Rebellion and writes about his experiences with autism/Asperger's. Family members are conscripted into the narrative in a way that will please readers of Gerald Durrell.
All of this fills you up. He is unusually sensitive to colour and he partakes in an early school strike against climate change. There's an enthralling otter visitation on the Lagan Towpath and much Blakean wonder. Also, we learn that Dara has been gifted a love of punk rock by his parents. Hence, another kind of awakening from The Undertones, The Buzzcocks, Blondie and The Clash. Should we be surprised?
"It resonated with that anger and that need for a change. A change in the world that I wanted to really be. These people pouring their rage and their anger and their passion for songs."
And how does Dara feel just now?
"A couple of years ago I was not in a very good space. I was completely feeling horrible about myself. My entire life felt like it was crumbling around me, I was being bullied incessantly and it was just like, punch after punch after punch… that the world was giving to me. My only real escape was going out into nature and closing off to the world with headphones, listening to punk music. Those were my two ways of closing off from the world and trying to form that protective barrier and shield around me. I eventually found a good enough tactic for dealing with bullies to the point where I just didn't care any more. And now in my new school I actually have friends now, which is something I never though I'd hear myself say. And everything feels great now."
(full interview in Issue 1 of Dig With It magazine. Buy the magazine here).
Stuart Bailie