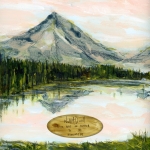 Niall McDowell is making country queer in their new EP,  It Was An Honour To Be Nominated. It's a heart-on-your-sleeve, Joni Mitchell-esque romance songbook. Listening to this EP right through in a single sitting felt like I found a new love, built a life with them and then lost them. It was a hard but worthy task.
"I have been working on these songs over the course of the past two years, and I'm very proud to finally have a small body of work that exemplifies my ever-changing style as an artist."
This sounds to me like we may get a lot of different styles from this new artist who only just started to release music during the Big P that will not be mentioned. There was a lot of time to find ourselves as artists during this which seems to have not only allowed people to create the material to release but has also allowed the artists that have been pumping out tunes for years to finally step back and see themselves with fresh eyes and for me this was a silver lining to a bad time. Niall is one of the artists that has grown from this moment, who was afforded the time to create, and thank God for that or we wouldn't have these tunes in our ears.
Being queer in music and feeling like you have to make a certain kind of music is hard. It's tough to centre your music around one part of yourself but it's also tough to not write about something so important. But to simply just be queer and be open and create your art is enough. We don't have to shout, sometimes the softness of our voices is the loudest thing in the room and these songs hold this quiet strength. The aspect of grief and loss is one that I relate to heavily and these songs have a frequency that resonate with me as a music lover not just as a fellow queer musician.
Niall is a new of member the Oh Yeah Music Centre's amazing program for artists, Scratch My Progress and is planning to record another track with them following the same vibe as 'Brokeback' and 'It Was An Honour To Be Nominated', which I assume we all agree is a very good train of creativity to follow. Niall is focusing on recording right now and has told me there is a possible album in the works, but like most indie artists the struggle to get the resources to record such a massive body of work is hard. The plans have been laid and I'm excited for them to pan out.
Soft Gut songwriting camp has been something I have heard only great things about and Niall being part of this only further solidified my feelings about it. Niall has collaborated with both ROE and Ciaran Lavery at the camp and there is maybe a little bit of a plan for some more work with Ciaran that could result in a co release between the pair.
Niall is influenced from all angles but they recalled the first time they saw Mitski in the Workman's club in Dublin. "It was a sold-out show and even though her management told her she had no fanbase in Dublin she wanted to play there it was the first time I saw a show and thought, I should be doing that."
I also asked them what their 'guilty pleasure' influences are. "People don't actually believe me when I say I listen to country, I love Shania Twain she writes in a pop format, but country is definitely my 'guilty pleasure' because everyone is just so weird about it"
I think asking artists what their ideal venue and their ideal line up is can show us a deeper insight into who they are as a person just for the fact I don't think anyone would guess mine. So I asked Niall this question and they had this to say: "Olympia Theatre. I've seen so many amazing shows there and it's a beautiful venue, Sheryl Crow, Angel Olsen, The Chicks and Mitski to bring it full circle." A gig for the ages, I think.
I myself find it hard to pinpoint my musical style or genre so I won't pigeonhole Niall into one either as I can hear a lot of influences in their music so I am extremely excited to hear what is next for this artist. The album is demoed, the drive is there, and the artist is ready. All we have to do is wait and see.
Susie Blue
(This article is extracted from Issue 9 of Dig With It magazine, released November 2022. See here for online orders.)