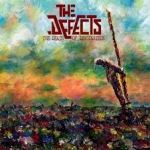 There's a track on the new Defects album called 'Chokehold'. It remembers the death of Eric Garner in New York, 2014, a savage moment in the Black Lives Matter story that registered in the music of Beyoncé, Kendrick Lamar and many others. The song is horrendously relevant again, a fact that's no comfort to any artist with a piece of conscience. For the Defects, who came out of the Belfast punk scene 40 years ago with 'Brutality', a song about the mishaps at the RUC Castlereagh Holding Centre, it might seem like they're going over familiar ground. But still they roar and protest, because that's the spiky prerogative.
Respect to the Defects and their fourth album since their reformation in 2010. The new record stays loyal to the Lemmy-Lizzy-Ozzy bequest. They fume about culture battles and war pigs. Guitars clang, Buck sustains that scowl in the throat while drummer Glenn Kingsmore continues to write pithy lines like escaped tabloid terrors. 'Pawn Takes Queen' is a revenge rite, a bill of non-compliance. In the video, there's a paramilitary press conference, severe heat and the promise of "infinite resistance". Again, these senior rockers are expressly on point.
On the grouchy 'Scroller' they shout at clouds and review the passing nonsense online, pausing only to remember the musical bite of Richard Hell and Johnny Thunders. There are tetchy times on '0.0045', a rebuke to the streaming services, "the slayers of innovation". There's an invitation to join in the chorus and it's a tempting ask.
It's a fierce era for protest music, and The Defects have not shirked from the task. Kind readers, it's time for some 'fex education.
Stuart Bailie
THE DEFECTS
The Death of Imagination
(Punkerama)