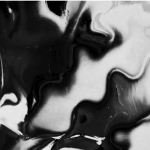 A film projector in an attic, adjacent to a window, opposite a motorway. Three film students united by sound and vision, by chord and close-up. Jean-Luc Godard and Thurston Moore. They are Chalk, they are based in Belfast and they are here for the foreseeable.
"We can't quite believe it ourselves", says Chalk frontman Ross Cullen. "None of us have ever been in a real band before, it's just something we thought we'd try because we all like similar music. That's all." However innocent their intentions, Chalk have catapulted themselves from art-adoring hipsterdom to national recognition in the space of a year. It's been a rocket-fuelled ascent from Bandcamp releases they hoped their friends and family might check out, to airplay on BBC Radio 1 and BBC 6 Music and ringing endorsements from some of the UK's biggest indie tastemakers (Steve Lamacq, Jack Saunders and Lauren Laverne are all fans). Sonically they are abrasive and guitar-fuelled, walking a tightrope between avant-punk and techno. There have been comparisons to The Fall and Dublin's Gilla Band, and they are not unfounded.
Formed by Ross, drummer Luke Niblock and guitarist Benedict Goddard, it was a fairly innocuous start for the band, as Luke explains; "Ben and I met at a film studies course at Queen's University. I knew he played guitar and he knew I played drums, but nothing really happened until we found out that Ross was into similar music to us. Parquet Courts, Gilla Band, stuff like that. We just started jamming, it was very art-punk at the start, then we began incorporating more industrial sounds to our songs. Then we found techno and gothic music, which all seemed to fit together, but it was a slow process."
The three members of Chalk have a telepathic understanding. I realise this is the first interview with a band I have ever conducted on zoom where each member can talk in complete sentences, without a single interruption.
Benedict: "We knew what we wanted to do with this band. Chalk play in black and white, that's who we are, that's what we look like."
I mention Ian Curtis and his bandmates silhouetted on The Epping Walk Bridge in Kevin Cummins' now iconic Joy Division shot.
"That's exactly it! That's what it's about. We're film students, it's one and the same for us. We've made all our music videos ourselves on a nothing budget, but we worked so hard on them."
The music videos created by Chalk are visceral and beautiful. We see candlelit women from the 1800s, sparse dark landscapes, empty beaches and decay. It's a cohesive and immersive world, which hints at gruelling preparation.
"We were prepared in the sense that we knew what we wanted the band to be, but we didn't expect anything from it," begins Ross. "We were really overwhelmed. I don't think the guys would mind me saying we weren't even practising together when things started moving. We had to shift into a different gear, start to explore the live sound."

Luke nods in agreement, "We weren't prepared for any adulation, but we were working really hard in the shadows, particularly on the visuals, which will only get bigger as the band gets bigger".
"Also," adds Ben, "you have to consider all that support from Radio 1 and 6 Music…Steve Lamacq raving about our debut single, the messages from people in places we've never been, we thought that may come years down the line, but not so quickly. Everything happened over a very short space of time and that only happened because we're perfectionists about things."
I wonder where these perfectionists want to go next.
"The world!" says Ross, animated by the prospect of taking a bite out of the globe.
"Especially Europe. Somewhere like Berlin, where there's hundreds of nightclubs and sweaty bars."
Ben adds, "One of Luke's favourite films is called Victoria and it opens in a Berlin nightclub, that's us. That's easy, we knew that from day one. That vision connects us and it connects people who love the band. They know we should be playing somewhere like that, it's easy to see. It was one of the first things we all said about the band and agreed on straight away."
"I'd like us to incorporate more dance elements to our music too, it's a universal language. All our songs have a four-to-the-floor kick drum, because anyone can understand or feel that. Everyone gets it. We'll probably keep doing that, hopefully play some festivals next year, I guess we'll find out."
Chalk is a band already free from the shackles of conformity. They are uniquely and unequivocally themselves, and soon the world (or at least a nightclub in Berlin) will know about it.
Taylor Johnson
(The Chalk track, 'Conditions ' is available now. The band plays The Great Escape festival, Brighton, May 11-12 and then the Black Box, Belfast, May 18. This interview is extracted from Issue 10 of Dig With It magazine. See our online shop here.)