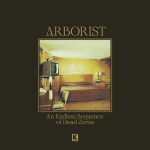 "Sometimes these are the best dreams I've ever had," goes the opening lyric on Mark McCambridge's latest album under the name Arborist. "….but they're not real, I understand."
There has always been a comforting stoicism within Arborist. An indifferent shrug to acknowledge the trauma that is life in the 21st century. None of his songs are particularly optimistic, but there's enough subtle humour and sonic warmth to make everything feel okay…ish.
To date, the Ballymena native has gifted us two borderline masterpieces – Home Burial (2016) and A Northern View (2020), both setting the bar impossibly high. Remarkably then, it's actually quite easy to argue that this record – a stunning collection of songs – is Mark's finest work to date.
Recorded with unrehearsed session musicians in a Virginian studio, the album indulges both Mark's creative precision and a band's sense of spontaneous adventure. That opener, 'Dreaming in Another Language' evolves towards a lawless instrumental workout, but all the while anchored by a monotonous bassline. It's the best of both worlds – and an exceptional start.
Later, there's hypnotic repetitiveness. On one song, Mark pitches solutions to a lengthy list of imaginary problems: "We could pull it apart / we could poison the dart / we could break the bastard's arm…" only to conclude – a total of 14 times – "but that seems unkind." It's an incredibly unnerving lyric yet appears in what's practically a lullaby.
Which is weird, right? A bit like calling a jaunty little ballad, 'The Weeping Rot'. Or having a woozy clarinet accompany a story of "propping up dead bodies to sing to them" – as happens on 'Dewdrop, Cherry Oak'. Mark uses the word 'droll' to help explain this type of song writing – which understates it a tad.
Previous to that, there's a song called 'Matisse' which defends giants of conceptual art and literature. During which, for example, it's argued that Duchamp is perhaps not taking the piss by just doing what he wants, and "if you think that this looks good / You should've seen it in his head."
By the end of this song, the focus has shifted towards music – "If you think that this sounds good." Mark sings, "you should hear it in my head."
If he is referencing what we're actually listening to, that proposes quite a conundrum. As in, just how much better could this record be? The ambition, the sheer majesty – surely it exists entirely beyond any mere ideas, freed from the songwriter's consciousness? Because if An Endless Sequence of Dead Zeros album was improved upon even a fraction ­– it'd be a timeless classic, as good as music can get.
Rigsy
ARBORIST Q&A
The music on this record features moments of unpredictable improvisation and unusual rhythm ­– especially on the opening and closing tracks. Is this a specific influence coming to life?
The tracks which align closest to those two are by the likes of Wilco, Bill Fay and John Cale. There is definitely a Steve Reich / Philip Glass influence at work in their hypnotic repetitiveness – but I feel great folk music leans heavily on that too.
There's a lot of frustration, swearing and darkness on this record. What is making you angry in 2023?
Let's say the songs are a conduit for the evident anxieties out there in society, though I harbour a few myself, alright. I try not to let things get too heavy within the songs, not to avoid the darker elements but to try to make them somewhat droll, à la Kurt Vonnegut.
Tell us about the trip to Spacebomb Studios. Why did you want to go all the way to Virginia?
It was part circumstance, part a desire to push myself – and the music – beyond a comfort zone. A session band felt like the most efficient and least disruptive way of bringing the songs to life.
What was it like recording with a 'house band' – does going in cold with musicians a challenging prospect?
Preparation was key. Daily itinerary, arrangements, instrumentation etc. But, importantly, leaving certain elements to chance during the recording itself ­– and the band heard nothing of the demos until Day 1 in the studio. But they are supremely talented players and you soon realise that a great musician's approach to creativity is similar everywhere you go. Based on energy and feel, a tacit knowledge of what a song needs and doesn't need.
(This review is extracted from the print Issue 10 of Dig With It magazine, out April 20. See our online shop.)