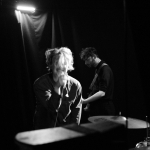 "More strobe!" Ross shouts, as the anxiety levels rise, the beats collide and the Chalk experience jabs at the retinas and the ear canals. The Black Box is fittingly, as black as it's ever been. We've been removed from the usual LED colours – that vapid wash of cyan, magenta and yellow. The Chalk method is to let it glare and keep it cranked.
They dress in utility black, like three Orwellian figures, on the lam from the Ministry of Truth. The event feels a bit furtive, the kind of thing that National Conservatives will try to outlaw, soon enough. So this feels disobedient, an alternative to the season of funerals, coronations and coercion. Chalk get their request for excess strobes and the disturbance continues.
The audience is a willing accessory. It gets intense at the front and even though it's the band's second show in Belfast, we suppose that it will be fraught and memorable. And sure enough it is. By the time we hear 'Them', with those screech frequencies (let's say, Bernard Herrmann scores Public Enemy), the Black Box has become messy and engaged.
The hurtling breakdowns are taken from the EDM handbook and the discord is part of a tradition that runs through the Chemical Brothers, Death in Vegas and Primal Scream's XTRMNTR. The ancestral line may also include the Jesus and Mary Chain (vicious strobe merchants on the Psycho Candy tour) and of course Lou Reed, strapped down in the hospital bed for actual shock therapy, the white light and the white heat.
Chalk might simply be three blokes with discerning music collections but the live show goes further. This is fierce, responsive art. It achieves the jolt we may require. They work it immediately with the openers, 'Asking' and 'Static'. But in the middle part of the show, the beats vanish and the voice just hangs there, lost and fragile. There's another strange interlude when a friend, Ciaran, steps up to play saxophone on 'Velodrome' and finally things attain a sad grace around 'Conditions', a late-night meander, full of fear, patricide and a mythical encounter.
Chalk write it thus. It feels like it matters. Are you ready to be limestoned?
Stuart Bailie