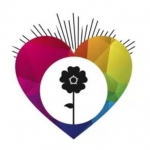 Colour us pink and consider us delighted. The sun is brilliantly over the Roe Valley, a few thousand people are steering into Stendhal Festival and here's Joshua Burnside with Laura Quirke, singing so well. Is this a certifiable, pinch-me moment? We approach the Annan's Arch stage as the music lifts and we think: yes, absolutely.
Joshua is also joined by brother Conor and he's enjoying the rich confusion. "No hugging!" he shouts to the people in this grassy bower. They're not so close as they might have been in 2019 but for now, this is music community, sharing a moment. And of course, that exchange of smiles and empathy is the precious thing. Musicians knowing that you like the tune. And those players revving up because they can sense their value in the story. Remember all that?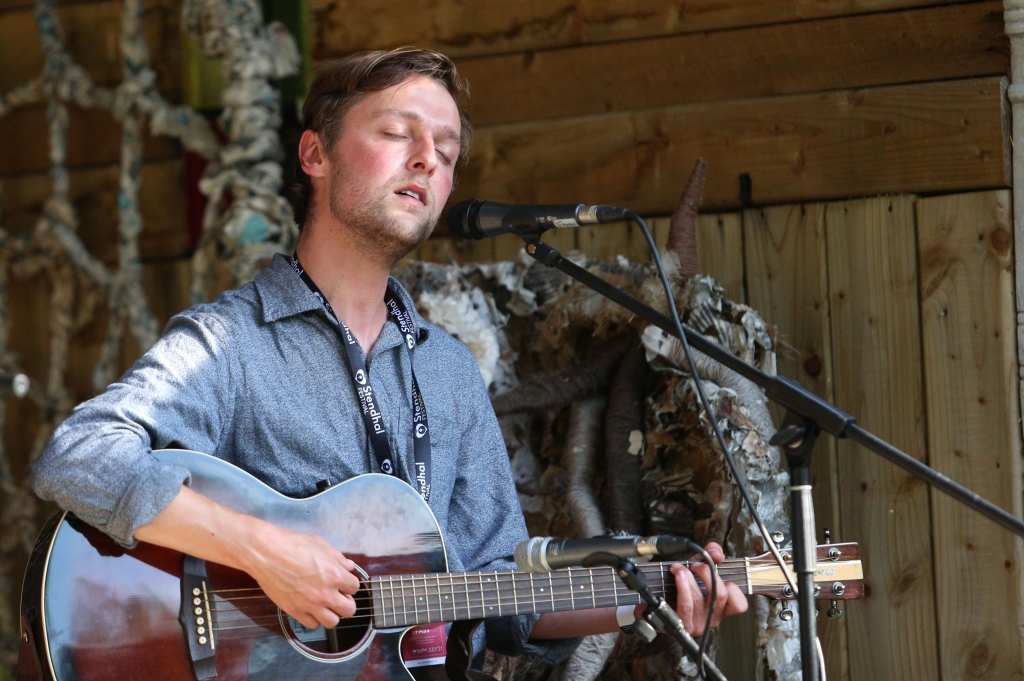 "Don't drink too much," the singer quips. "Unless you want to drink too much." And then himself and Laura are singing 'Far Away The Hills Are Green'. The title borrows from an old hymn but the theme is cultural tourism, from California to Ireland. It's a search for meaning, about received ideas of ancient wisdom, set against a vapid life in the west. We feel moved. We want more.
But Joshua and Laura only have a few tunes and they've done the lot. Still there is clamour and he relents by playing 'Whiskey Whiskey'. Someone sitting close to me is ecstatic. "I manifested that!" he squeals. And so we enjoy a song about lightning bolts and a fear of flying. Dear Stendhal passengers, we are now gaining altitude. Respect your mid-term pandemic bubbles if you will, but hey, this will be exceptional.
In the lower reaches of Ballymully Cottage Farm there are men in kilts, women dressed as giant bees and a gun-slinger on stilts. Children chase after bubbles while a hen party has chosen to rock a Pre-Raphaelite dress code. The aroma of catering van has returned. Generators throb. Birthday blokes are wearing pointy hats and altogether it's a joy.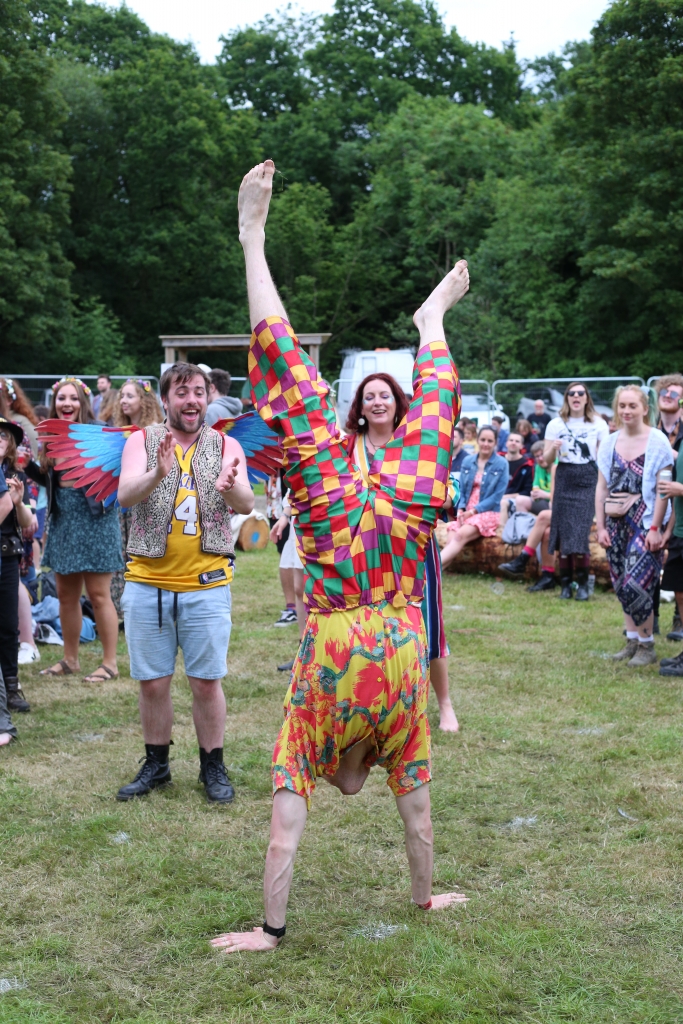 Rebekah Fitch is singing about separation anxiety and encouraging her listeners to share the stresses of the age. 'Need to Feel' is a picture of the alternative – repression, numb relations and a twisted family life. We understand. There's an accord.
Ciaran Lavery wants to know what we all got for Christmas. But first he's going to sing the Charlie Chaplin tune 'Smile'. No music, just the voice and the deeps of sentiment. He wears a navy boiler suit and white Adidas sneakers. Utility-sharp, Orwellian. We hear an interview snatch of Mary Anne Hobbs discussing true happiness, possibly with Henry Rollins. Whatever, the quest will be elusive.
He sings about social media constructs, panic attacks and an ugly, inner life. He moves his hands precisely, like a Kabuki actor. 'October' is the self-help song that doesn't actually help. Abstinence is a kind of torment. Danny Ball plays along. It's mesmeric.
He mentions the constraints of the songwriter role and he's clearly way beyond that now. 'Okkervil River' is a throwback to a previous kind of melancholia and a younger artist. Fifteen, shy and green, he had everything. Now there's the new, towering issue of 'I Love the Inevitability of Death'. A Buddhist fire sermon with doo-wop affinities. Preach it.
Brand New Friend are magnificently hepped up and the electrical generator is almost redundant. They play 'She Always Comes up Smiling' and thus we power up. The Johnson family is motivational by nature and it takes mere minutes to resume the style. Taylor in lockdown was a paradox. Now he's actively at work, ever-keen, over-reaching and so very pleased.
So the old tunes like 'Seatbelts for Aeroplanes' are fetched up in all their wonky charm. But importantly a series of new tunes also appear. There's a bit of nuance and change. In Nordy terms it's the difference between 'Teenage Kicks' and 'Wednesday Week'. Some growing up, some extra finesse and in the case of 'Stars Bleed', it's a great, swelling report, the voices strongly matched.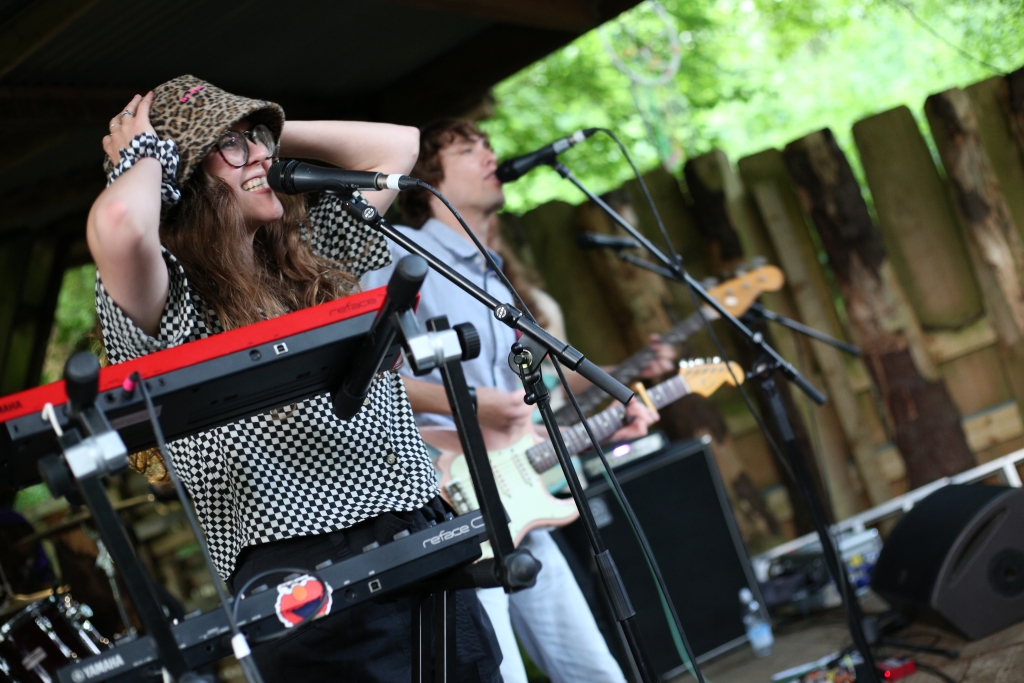 Lauren has just written 'Talk It Out' and the ache is present – another bit of solace from an act that deals with the vulnerable stuff. And so the moods flit between the fraught and the glad. 'Girl' begins with a snatch of The Cure's 'Just Like Heaven' and the gathering at the Wooly Woodland Stage collectively loses it. Brand New Friend leave us with another fresh edition. 'Lucky' has a fond sway but as with the Radiohead namesake, there are perils below.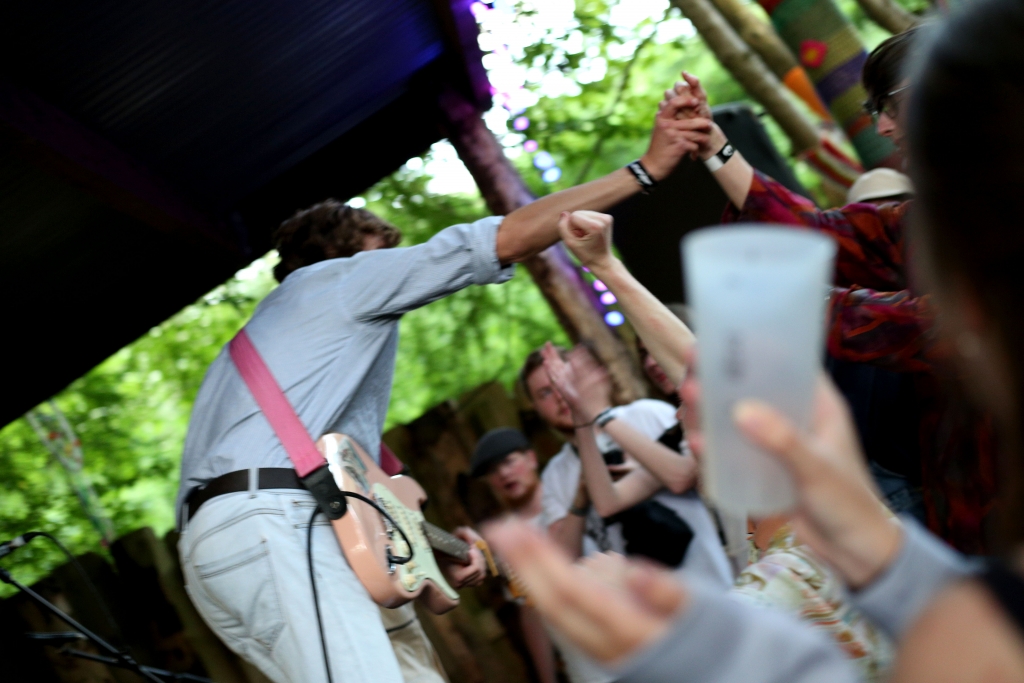 Schedule times mean that we're roaming the site and catching snatches of noise. Lyra is up on the Karma Valley stage and blethering to the crowd likes she's in a lounge bar in Cork. Up the hill and ROE makes her second Stendhal appearance (after the June 5 trial event) and closes her set with a very compliant singalong.
Enola Gay are smart, seditious and wily. They start with 'Sofa Surfing', a song about self-harm and inner loathing. Fionn Reilly has one arm in a sling. Still, he manages to cradle a can of beer as he moves, strangely. I think of Johnny Rotten. Then I remember how the Sex Pistols vocalist based his style on Shakespeare's Richard III ("deformed, unfinished") and it makes better sense.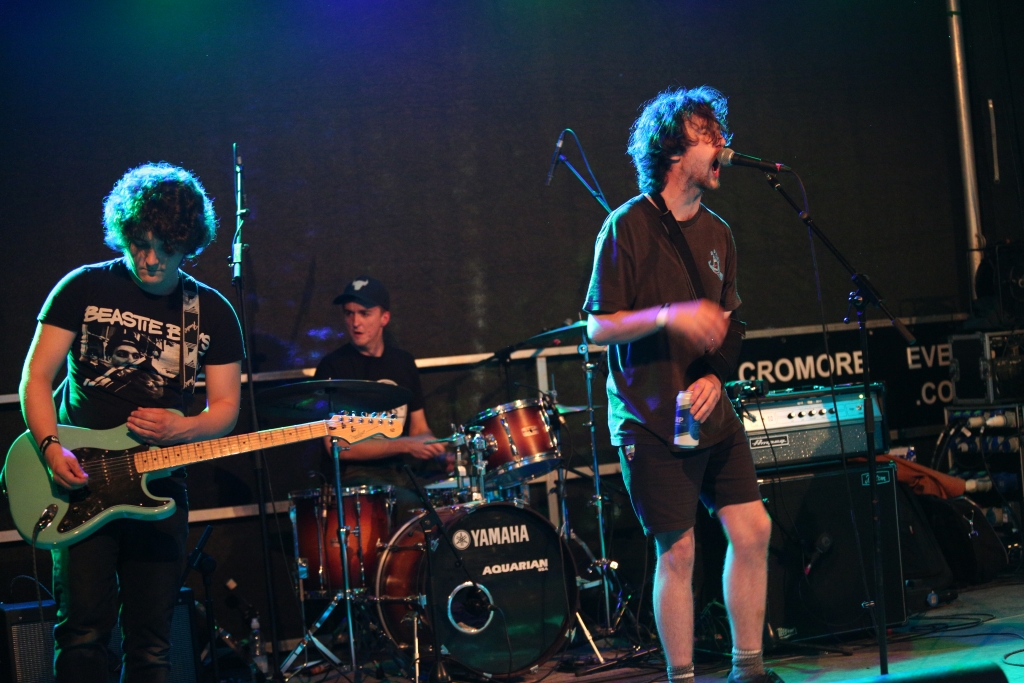 This is brute, lurching stuff. Joe McVeigh plays guitar but he also works his effects pedals like a sonic malevolent. Squalls, feedback and abstract shriekings from the playbooks of The Prodigy and Public Enemy. Which all fits with the taunting barrage of 'Birth of a Nation'. Enola Gay signal disgust with the police clampdown on the Black Lives Matter protest in Belfast last summer. Their contempt is undiminished. They mention Kneecap and the Six Counties. It gets visceral and the crowd is increasingly twitchy.
At some point, Fionn sings lines from the Toni Basil tune, 'Hey Mickey'. The significance is lost to us but we suspect some kind of splenetic attack. There's a moment during 'Man About a Dog' when he simply barks into the evening air.
No dog whistles, then. Enola Gay are blatantly about conflict. Some excitable listeners want to jump into the pit to dance and festival security are understandably keen to stop this. And it finishes with another WTF moment when a Bible is hurled onstage. Fionn pick it up and starts snarling about the church. Joe is at the Buckfast and Finn washes his words down with Harp lager. It's like some kind of blasphemous mass, a fierce ceremony.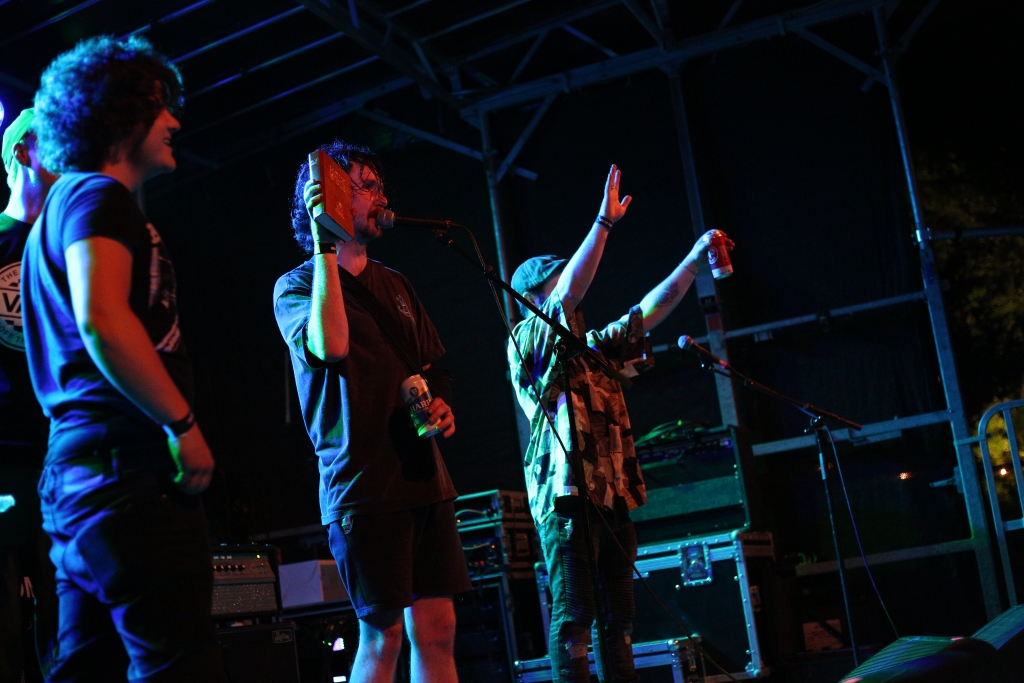 On the field above, Ports are causing hearts to fill with 'The Few and Far Between'. Later Kila will induce ructions with trance, trad and the primary power of the bodhran. That's the end of your first proper festival day in two years and cheers Stendhal, it's been immense.
Stuart Bailie
photos by Stuart Bailie
Read the review of Stendhal Festival, Saturday July 10 here.