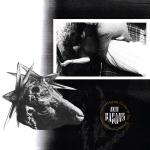 Some albums come with a view. They have the power to place you in a landscape that is vivid in the mind's eye. There's something about New Pagans' second full-length LP that puts me alone in a car that I cannot drive (no license), cruising nonetheless down a road that resembles a weirdly pristine rendering of the Wild Atlantic Way. I feel a breeze and the summer sun on my back – it's a scene to roll credits to. This landscape comes with a mindset, too: I'm laboriously leaving something, whilst chasing the unknown.
Neither entirely occupied with the running away, nor the running towards, Making Circles of Our Own feels reflective, urgent and hopeful all at once. New Pagans take on the exhausting but necessary task of contemplating relationships with the self and others. It brings a lucidity to leaving the past or moving towards what is new. All is put to music that leaves you on knife's edge whilst maintaining a certain tenderness.
'Better People' may be a standout of the record in this regard. Guitars wail and glisten throughout, creating sonic white heat and a roaring-out-of-the-gate album opener. Then it also carries a flushed optimism: "fixing when we do it wrong, working together makes us strong/ appearing with our biggest smiles, keep holding on". There's a comparison to be made to Husker Dü in their New Day Rising era on this one.
Then there's 'A Process of Becoming', which captures a euphoria that is hard to explain. Perhaps it is to do with the euphoria of 'becoming', the bravery and comradery associated with it, which is the message at the heart of this track. The music itself asks a question during the verse and imparts hesitancy about the self without itself sounding hesitant.
You can sense a build. The drums are simmering and waiting to explode, then everything erupts with a chorus time change and a wall of sound. It's a response, an affirmation. "Everything I really should be in your own time, I can't hide it. It's better if you come with me, forcing us to be seen." It's clearly liberation, too.
The album takes inspiration from visual artists such as Karin Bergöö Larsson on 'Karin was Not a Rebel' and Derek Jarman, using a quote of his for the title of 'Here We Are John'. Vocalist Lyndsey McDougall notes that the album feels quite autobiographical, but it's taking from other people's stories and using that in the songs, too. It result in tracks that deal with the idea of feeling overlooked and in the shadows, as well as the joys of creating something beautiful amongst the bleak.
McDougall is versatile as the tone changes. Take the whimsy of her whoops in the chorus of 'A Process of Becoming'. Or the spoken word on 'Find Fault'. For those who worship at the altar of Kim Gordon, this will be reminiscent of Gordon's vocal stylings with Sonic Youth on Goo in particular.
There's even a hint of Corin Tucker of Sleater-Kinney in the urgency of the vocals can be heard at times, which also extends to the guitar work. 'There We Are John' kicks into gear with some siren-esque guitar hooks, and the blistering solo on 'Bigger Homes' is the part where you start to mosh and chant as if newly indoctrinated into a post-punk cult.
Making Circles of Our Own is methodical chaos. Much like Dinosaur Jr, New Pagans lay down a warm, exciting and inviting soundscape upon which to muse about the frantic nature of the here and now. This album needs to be heard on full blast by all who feel they are crawling into spring and towards the promise of summer, towards a future where maybe some of us will live out my visual landscape. I personally will have to enlist someone else to drive, though.
Eleanor Gilmore
 
Q&A With Lyndsey McDougall
With Stuart Bailie
New Pagans lyrics are often portals into great stories. On the song 'Karin Was Not a Rebel' you namecheck Karin Bergöö Larsson, one of the pioneers of Swedish modern design…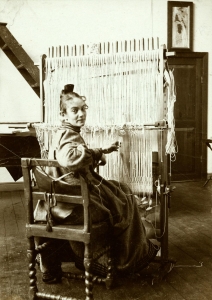 I suppose it was my own PhD research, looking into textiles. I discovered her a couple of years ago. I thought she was really interesting. She's relatively unknown. IKEA have sometimes quoted her in the past as being one of their people of influence. There was an exhibition at the V&A in the 90s. It was called Carl and Karin Larsson: Creators of the Swedish Style.
Carl would be the more famous one, particularly within Sweden, for his paintings. But it was her interiors within his pictures, that helped to propel him. So, it's such an interesting narrative, especially from a feminist point-of-view. They were a team essentially, and for quite a long time, he was the one that was revered more than her. So it's a nod to her, an overlooked person.
The late artist Derek Jarman is the subject of 'Here We Are John'. His famous home, Prospect Cottage on the shingle beach at Dungeness, is a place of wonder. Definitely a visit for the bucket list. 
Me too! It's so bleak. It was his garden, I was interested in. I found images of it. I came across Prospect Cottage and I thought, who is this by? Then I learnt a bit more about his life. It's such a beautiful garden. It's that hopefulness, that I love about it. It's so bleak, that area. We live in a coastal area now, so I know how windy and harsh it can be on the landscape. So, to be able to create something that's so beautiful, that's being treasured and has become a place of pilgrimage for artists. It's on my list too.
The line, "there we are John" is quite famous (it was his final, filmed interview with John Cartwright in 1993). It's the last thing he said in the interview. It's just the way he said it. I was crying at the end of the interview.
I find somebody, like an artist's work, and then I do a deep dive into anything I can get my hands on. I think a lot of people do that. I was in tears. It was such an important period of history as well. You forget how people were treated in that time, when they had AIDS. He's such a pioneer, such a strong force and very outspoken and open and honest person. Definitely a lot of things to be admired.
On the track 'Fresh Young Overlook', you seem to confront the demands of the music industry.
I'm 40 in November. I'm thinking of it from the perspective of… you're not meant to be doing this at this age. At least that's what you're told, even if it's not in words. So that idea of, 'do things when you want to do them', you know. If it feels right at 39, it's fine. It's a song about ageism, a song about women in the music industry. It's still very prevalent.
The last track on the album 'The State of my Love's Desires' is amazing. Who's that sharing the vocals with you?
That is David Line from Seafood, one of the bands I loved listening to when I was a teenager. And Cahir had filled in with Seafood on bass, years ago. When we wrote it, I thought Dave Line would be perfect. So we got him over to Donegal and he did his bit. Then we asked Matt Nasir, who plays in The Sleeping Souls with Frank Turner to do the string arrangement for us. It was his partner Anna Jenkins (viola and violin) and George Shilling (cello) who played on it. It was such a privilege to be able work with them.
The album seems to refer to senses of belonging and nurturing environments, places where you can be yourself.  
This record feels very much where I am right now. Maybe the first felt a bit more like teenage, early 20s, Lindsey. There was a lot of stuff that came out from the past. But this feels very much of the moment. I think it actually is still quite autobiographical but it's taking from other people's stories and using that in the songs, rather than being as literal as I was in the past.
(New Pagans, Making Circles of Our Own is released February 17 on Big Scary Monsters.)