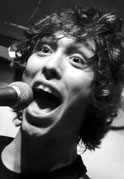 The mission is to play three sold-out gigs on consecutive nights in Belfast, to pitch energy, smiles and exceptional cheer into a torpid season. Brand New Friend already prevailed in the summer festivals of 2018 and carried it through the later months when they piggy-backed arena shows with Snow Patrol and closed the year onstage with Ash, singing Wizzard and wearing the Santa hats. But would January tolerate another refreshment offer from Taylor Johnson?
The American Bar retains some of the hearty dinge of old Sailortown. Small enough to create a sense of heat and the measure of faithful souls. Happily the gig tickets are all cashed-up and once BNF have installed their gear (after mistakenly loading into McKenna's Bar nearby) they hail support act, the tune-slinging Mannerly Hoods. All is expectantly prepped.
The older songs have a swish and the assurance that comes with last year's expeditionary work. Taylor loads up on charisma and is content to bash out 'American Wives' on a tiny stage. The best songs have a hit of insecurity and a bid to steady the nerves against awful odds. Most times they win and camaraderie is enough. Lauren rocks the Matthew Perry T-shirt and they sing 'Monica Geller 4 Me'. Possibly a tonic if your job's a joke, your broke and your love life's D.O.A.
'Stop The Days' has the harmonic roll of earlier songs but 'Bear' indicates a more subtle aspect to the new writing. It builds rather than hurtles, but by the end it has the puppy charm of early Foo Fighters, resilient when it shouldn't be. Thus, the New Year blues are banished.
On a literal level, this is a small gig in a provincial bar on a wet Thursday after blue Monday. But as a mark of intention it witnesses Taylor and the gang hooting and fizzing around 'I Was An Astronaut', assuming that the greatness in their heads will be a reality soon enough. It's gonna be their week, their month, or even their year.
Stuart Bailie
Brand New Friend, American Bar, Belfast, 24.01.19