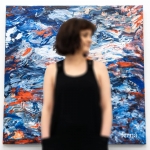 Ferna's debut album Understudy makes you flinch.
At its core, the record feels like it's reaching out in a gentle, or sometimes rivetingly forceful, way to shake you out of disconnection or a self-imposed detachment. "Open your mouth wide," she commands on the opening track 'Open Up'. With our jaws agape, Ferna breathes life into what lurks beneath the surface of our being, that which we often find too painful to touch.
Understudy finds its feet in the unraveling of things. 'Wasting' is a track that is driven by some throbbing bass, crashing cymbals and more questions than answers about liberating yourself of a love you want to give but can't bring yourself to. The last section of the track rips all of that apart, as some glitchy synths signal inner turmoil. Ferna's now-distorted vocals that lurk low in the mix trail off, giving the feeling she will continue to ponder answers to the questions she asks for a long time.
'Morning After' and 'River' are true standouts on the record. The stripped back production, courtesy of Stu Reid, makes room for the fragility of the song's lyrics to shine through. Ferna's words are intelligent, poetic and nuanced. In 'Morning After', the guitars float in and out of comfort from warm Linda Perhacs-type guitar lines, to some eerie-sounding chords mixed into the fray to build towards a sonic chaos at the end of the track. "You need some rest from your sleep", "the sun it rose, my bones got cold". There is something terrifying about that which sustains life draining it from you instead… having the world feel entirely confusing and contradictory. It's also an entirely universal experience.
"Foaming at the mouth like the Atlantic Sea/It breaks and I breathe", Ferna invokes the feeling of needing the dam to burst on 'River'. With some beautifully bright acoustic guitar as the backdrop, this song feels lapped up in nature, in the need to return to the bare bones of yourself when someone else proves to be unreachable.
Understudy is an album that asks you to search. Search within others, within yourself, and see what you find. Otherwise, you're the stand-in for your own life, never knowing what part you're really playing. Ferna's soaring vocals and her clear attention to the minutiae of every second of each song don't go amiss in making this message less scary, and more inviting.
Eleanor Gilmore
Ferna plays the Empire Music Hall, Belfast, May 4, part of the Cathedral Quarter Arts Festival.
(This review is extracted from Issue 10 of Dig With It magazine, out April 20. See our online shop.)