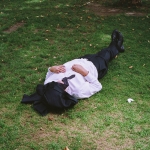 Chris W Ryan is wearing a baby pink jacket and sunglasses. He is every inch the charismatic conductor of the softly-spoken storm around him. Chris is Robocobra's spokesperson, drummer and principal songwriter. Thibo and Tom play saxophone (soprano and tenor respectively). If Robocobra Quartet were a title-chasing football team, these two would play on the wings, providing crosses for their drummer to score. Their insight is polite, considered and often hilarious.
Then we have Nathan and Ryan, the bass boys. Their complex rhythms and dynamism behind their instruments (Ryan also plays keys), give Robocobra a rumbling bite to their new sound. (see 'Wellness' – live From The Shacklewell Arms for proof.)
The moment before Chris unleashes one of his coruscating world views, he takes a second to look into the sky. As if consulting the birds. Although it's no surprise that his band hangs off his every word, this doesn't mean Robocobra Quartet don't rip the piss out of each other at every opportunity.
"Writing songs, it's a lot like picking cards… I don't know, the club of diamonds for example."
"The club of diamonds?" says Ryan.
"This guy's a card shark!", chips in Tom.
Robocobra Quartet are in stitches of laughter, and they remain so for most of our interview.
"What I mean is, random things started happening when we were writing this album. We'll do something and then afterwards be like, 'oh this is what this is!'. Then it makes sense, afterwards."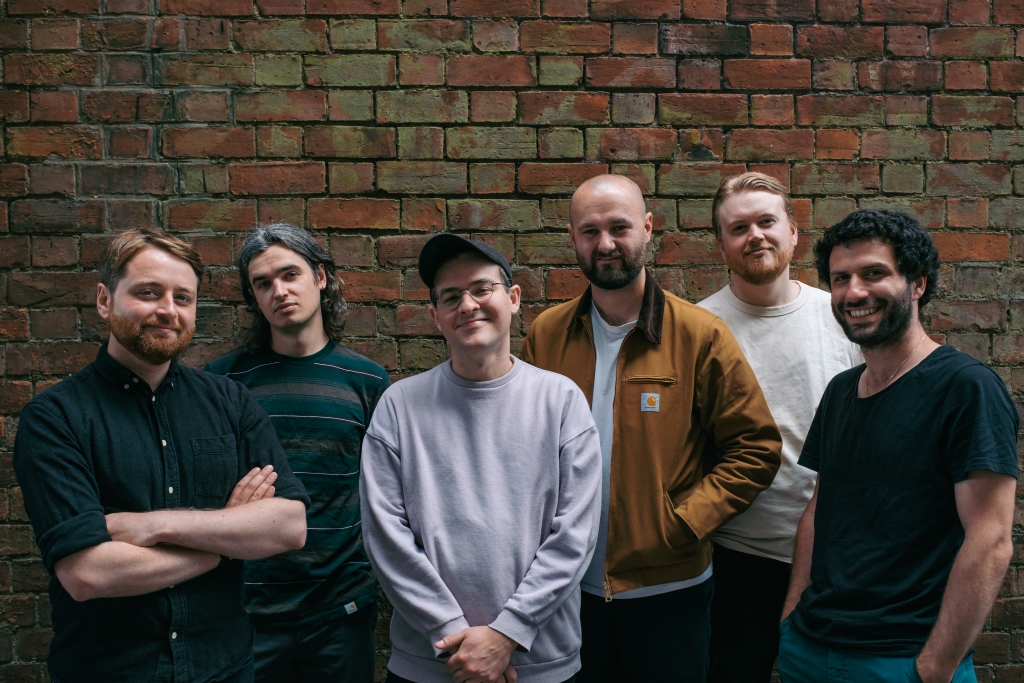 The band was in a harmonious mood when creating new album, Living Isn't Easy, and I was intrigued to see where the songwriting seeds were planted. Chris continues.
"We were together in a room for this record, which in itself is quite unusual. For the first two records, it's my brain, filtering out to individual people. This is different, because we wanted everything to be more succinct and direct. I wanted the vocals to be connected to the lyrics way more, for example in the song 'Kilmore Close'. When we wrote it, Nathan kept doing these spy moves, as if it was an action movie. So I had this idea of a fictionalised, Trainspotting kind of story. I loved the idea of this guy going to grab his bag from the overhead compartment of a train. He's doing an undercover job, a big job, and muttering to himself, 'I'm gonna do this one more fucking time, then never again!'".
I bring out a copy of the Northern Irish writer Wendy Erskine's new book, Dance Move. The narrative voice in many of Wendy's stories reminds me of Chris' writing style, particularly on 'Living Isn't Easy'. Wendy writes stories set in the same streets that the band practices and lives on. Nathan jumps in, with a fake Boston accent.
"Wendy Erskine, she's my Mother! How did you find this!? This has been out of print for years!"
For all the brooding intensity of their music, and despite everything that logic dictates a jazz-art-punk band should be, Robocobra Quartet are funny bastards.
"I've actually never read any of Wendy Erskine's stuff, but that's really interesting. Maybe there's elements of these streets that have seeped into our record, who knows? We could subconsciously be inspired by the same things. There could be something intangible, there's so much in life that you can't explain. Maybe we both went for walks around this very park, it could be connected. This record is about specific people, in the same way that Dance Move probably is as well. Personally, I'm more motivated to write by interviews and conversations. That's massive fuel for me."
They have an ease amongst themselves that can only come through years of playing together. Over the last several years, the band have released two studio albums: Music For All Occasions (2016) and the Mountain Goats-inspired, Plays Hard To Get (2018). Living Isn't Easy has a more uniformed sound, with clearer, brighter and bolder definitions. I wonder if this was deliberate, and how this happened?
Thibo: "It's been a process of playing with each other, and I don't even mean playing music together. It's more like dogs playing with each other. We have been trying silly ideas. Throwing things around, seeing what works, which we never did before."
Chris: "I've spent a lot of time recording other bands, and I must say I've learned a lot from that. Time and time again, I'll watch a band be heavily micromanaged by one member particularly, and then the band play like shit. I've been guilty of that before, but now I've witnessed it from the outside, I can see what harm that does. I can't be too specific about things anymore, we have to just let the band, be a band."
Thibo: "We took a lot longer to actually hit the studio on this record as well. We played the songs live for about a year beforehand. We've allowed them to progress and reach their final form. They have density. The name of the album and the visuals were very direct."
Ryan: "We recorded it live as well. We know we're best when we're fucking cooking on stage, all together, in your face. We had a small gripe with the last album that we'd be playing a song from that record live and know we had finally mastered it… if only we hadn't already recorded it two years ago! We didn't want to do that this time. "
Thibo: "The palette was a big thing. The first record was bare bones, the second had a string quartet, this one had the final decisions made long ago. Even down to the colours, what this album looked like, as well as sounded like. If something didn't match the palette, it was gone!"
Chris: "That came from a strange place. We'd be making merch for Bandcamp Friday, over the lockdown. One of the things was a cap that said 'RQ' on it. We talked about what colour it should be, the typeface, everything. There's something called the 'Zorn' palette. Have you heard of it?".
I confirm that I have not.
"Well, It's something for portraits, four or five colours normally. Black, blueish grey, red ochre and a yellow ochre. It's the idea that this limited palette can force you to work creatively within a small template. We decided to do that musically as well. For example, on a keyboard you have all these fucking sounds (Chris makes the sound of a keyboard malfunctioning), but we decided to be ultra-specific with that. We picked a Fender Rhodes keyboard that was in the palette. So we booked a studio that had one of those. No other keyboards. See what I mean? The palette is important."
The title also holds significance.
Chris: "I think titles are so powerful. We spent a lot of time talking about this, the top ones were Moderning and then, Living Isn't Easy.
Ryan: "I think I wanted Moderning, I'm so glad we changed it!".
Chris: "The lyric that became our title is in the first song, 'Flew Close'. A lot of the songs hint at the thought that we're always trying to aspire to more. Humans are aspirational beings, we always want to keep achieving. This whole record is about this. Home ownership and renting, all that crazy capitalism shit. Having kids, or a family. There's a lyric about maybe going to Disneyland. There's also a little place off the motorway, an interior decorating place, called E-Z Living, and I've wondered many times if there's something there, you know? We get sold this dream all the time. 'Buy this IKEA mattress, it's easy living!' But living isn't easy."
So what of Robocobra Quartet's ambitions?
Thibo: "Fifty thousand followers, that's all we want! Only joking, we just want to go on tour and have a lovely time together in some beautiful places. Have a loaf of bread near a lake."
Nathan: "Let's do another record."
Ryan: "Can we please just keep making music?"
Nathan: "I want to try and work part time, have the band carry most of our income."
Chris: "It's pretty simple really. We're not a mysterious band, we're very real. We're just who we are."
Tom: "We have fun."
Chris: "Our mantra is to take the music seriously, but never take ourselves seriously."
Ryan: "If people saw us playing our type of music, and we were very serious between songs, the audience would think 'fuck these guys!'"
Chris: "It's not turtleneck music. There's an assumption of pretention with spoken word music, but that's not our thing."
Nathan: "I don't even know notes."
Chris: "Nathan is an idiot."
Tom: "Chris doesn't even read books."
By Taylor Johnson
(Robocobra Quartet and Living Isn't Easy won the NI Music Prize, 2022. This profile by Taylor is extracted from Issue 8 of Dig With It. See here for online magazine orders.)